Cookie Dough Balls coming atcha!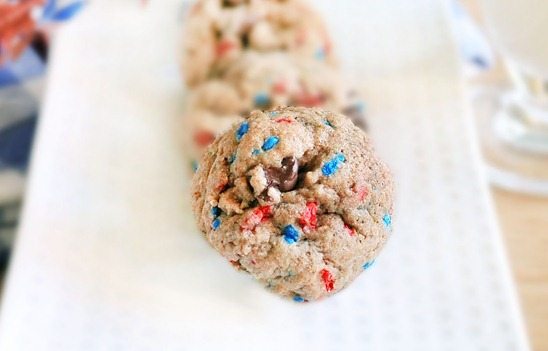 Full speed ahead.
Wheeeeeeeeeeeeeeeeeeeeeeee!
Chefs in Training
Last Friday, I once again babysat for the two little girls I mentioned a few posts back. I love babysitting for them, and I never thought I'd say that because babysitting has never been my favorite thing. But these girls are just so much fun. It's not like work at all; it's more like hanging out with my friends.
On Friday night, we made Cookie Dough Balls.
The recipe is so simple that I was curious as to just how much time it takes, from start to finish. So I set a timer. Including baking time, the cookies were done in ten minutes flat! Of course, I did have two of the world's greatest helpers. Yesterday, the girls' mom informed me that I've created a monster (or rather two monsters). Apparently they spent all day in the kitchen, making cookie dough balls!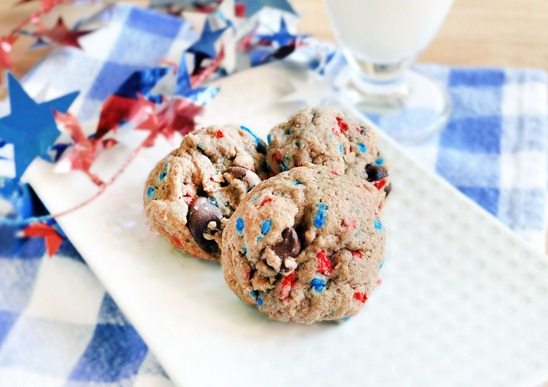 The recipe is the same as my Funfetti cookie dough balls. But I'm posting it again below for your convenience, so you don't have to click over.
Patriotic Cookie Dough Balls
Based off the recipe for Single-Lady Cookies.
5 level teaspoons oat flour or white flour (18g)
scant 1/16th tsp baking soda
1/16th tsp salt (less if using margarine)
2 tsp oil or pre-melted margarine (can do a fat-free version, but they'll be cake-ier)
1/4 tsp pure vanilla extract
1-2 tsp sprinkles
12 or so chocolate chips (or raisins, nuts, etc)
sweetener (My testers liked 1 tsp brown + 1 tsp white sugar. Xylitol works too.)
1 tsp milk of choice, or as needed (Don't use water.)
Preheat the oven to 350 degrees. Combine dry ingredients, then add wet and mix with a fork. Form into three little balls (Do not smush.) Cook for 8-9 minutes. (Take out when still a bit undercooked, so they don't get hard.) If not eating right away, store in a lidded plastic container to keep soft.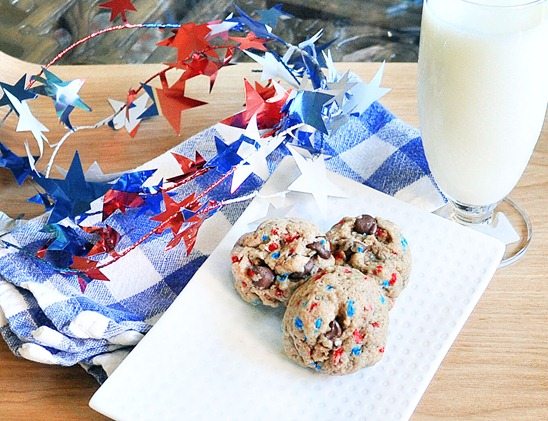 Question of the Day:
Did you like to cook when you were a kid?
I did! One of the first "recipes" I ever created was some type of bean soup. My poor family… I made them eat multiple bowls of my soup every day.
I also liked making: 3 Ingredient Peanut Butter Balls.