It is so hot here!
Can someone please invent the Ice Cream Diet?
Where you eat ice cream for breakfast, lunch, and dinner? A few of you told me there already is an ice cream diet. Why am I surprised? After all, there's a grapefruit diet, a cabbage soup diet, even a No White Foods diet. So why not ice cream?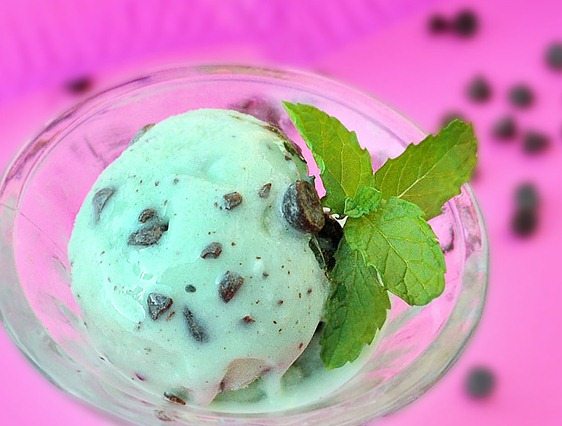 Why not, indeed.
Hey, it can still be a healthy diet.
After all, there's always this: Spinach Ice Cream.
Yay! We can now follow an ice cream diet and be healthy at the same time. So go ahead and embrace your new healthy ice cream diet right away, by devouring a gigantic serving of the following recipe for healthy mint chocolate chip ice cream. I guarantee that, by the time you finish your serving, you won't feel hot anymore.
And if it happens to be cold where you live… please send some of your cold weather to me in Texas. I'll happily mail you our hot weather in return!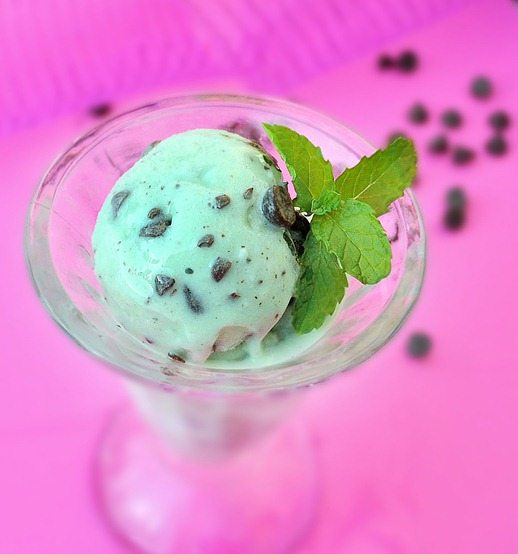 Maybe I wouldn't want to be on an all-ice-cream diet. I'd miss my pancakes and oatmeal too much! Not to mention salads, beans, and even spaghetti. But if I were to eat ice cream all the time, mint chocolate chip—my favorite, as a kid–would probably be the flavor I'd consume most often.
Healthy Mint Chocolate Chip Ice Cream
(Makes 1 huge serving)
1/4 tsp pure vanilla extract
scant 1/16 tsp salt – don't omit
pinch uncut stevia OR 1 tbsp sugar of choice
1 cup milk of choice – See note below
2 tbsp chocolate chips OR sugar-free chocolate chips (recipe on page 199 in the book)
3-6 drops pure peppermint extract, or as desired
optional, I like to add 1 tsp cocoa powder
optional pinch spirulina or natural food coloring
*This ice cream has a very light texture when made with almond milk. For a creamier texture that's more like real ice cream, use coconut milk–the kind that is full-fat and comes in a can, not a carton–or cashew cream. To make it look like real ice cream, scoop out with an ice cream scoop.
Mix the ingredients together, and pour into ice cube trays or 2 shallow containers. Freeze. Once frozen, pop the blocks out of the container and blend in your Vitamix. (If you don't have a vitamix for vitamix ice cream, you'll probably have to thaw longer, but you can still get a yummy ice milk. Or try this healthy ice cream in your ice-cream maker.) Feel free to add more chocolate chips, post-blending. But be sure to add the 1-2 tbsp before blending!
View Mint Ice Cream Nutrition Facts
Serving suggestion: Serve with a side of fresh mint. And…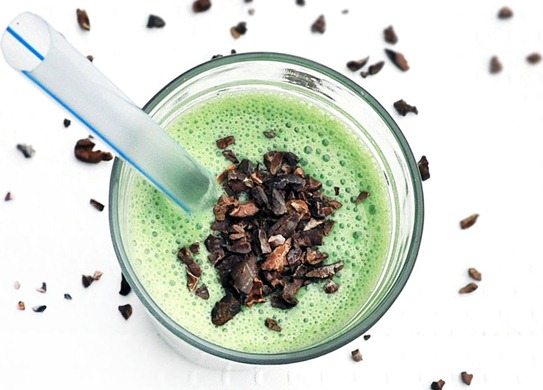 Accompany it with this recipe: Healthy Shamrock Shakes.
Milkshakes are allowed on the Ice Cream Diet, right? There's spinach in this milkshake too!