These healthy treats taste like eating peanut butter cookie dough!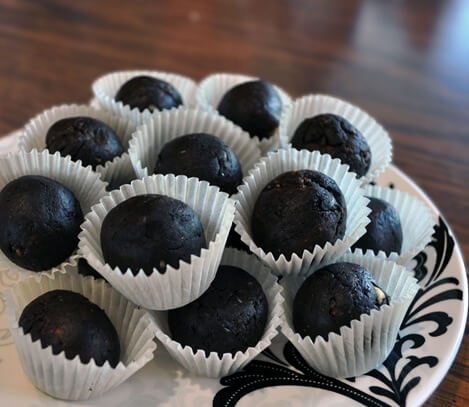 (Above, chocolate peanut butter babies)
Peanut Butter Babies
(Makes 120 grams, which is a tiny bit more than the size of two Larabars)
1/4 cup roasted, salted peanuts (30g) (I use roasted-unsalted, and I add about 1/8 tsp plus 1/16th tsp salt.)
scant 2/3c dates (80g) (I use SunMaid, because they're super-soft.)
1/8 tsp pure vanilla extract
Optional: chocolate chips or cocoa powder
Blend the ingredients in your food processor (I used a Magic Bullet short cup).  Smush into bars, roll into balls, or use cookie cutters!  These peanut butter fudge baby bars taste divine warmed up a little in the microwave.  Oh who am I kidding?  They taste divine ANY way you choose to eat them.
Pb's brothers and sisters:
Add dried banana for Elvis Babies
Dip in chocolate for Buckeye Babies
Other dried fruit for Pb&J Babies
Add chocolate chips or cocoa for Chocolate PB Babies
Click to see all of my Homemade Larabar Recipes.