To say I'm excited about Halloween would be an understatement.
How can one not get excited when thinking about Halloween Cupcakes, cute black cats, jack-o-lanterns, and (the best part!) dressing up? During this time, nothing is exempt from my little Halloween-happy fingers. Nothing, not even my oatmeal.
So this morning, for my post-run breakfast, I celebrated the holiday a bit early… with ghoulishly-good chocolate mudslide oatmeal.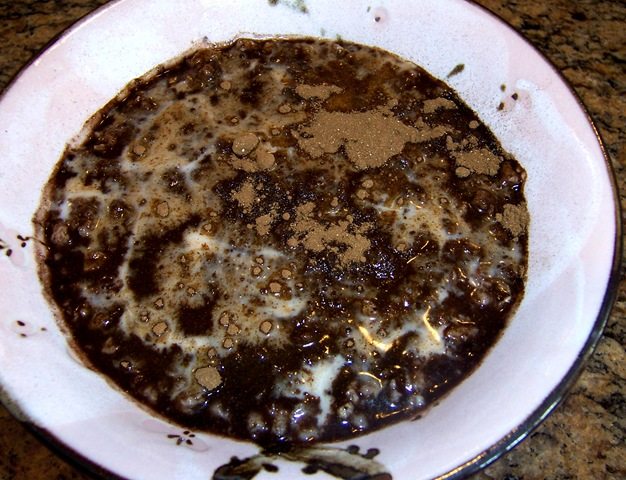 Dark and scary … it's like something straight out of Tim Burton's The Nightmare Before Christmas.
Chocolate Mudslide Oatmeal
(serves 1)
1/2 cup rolled oats
1/4 tsp pure vanilla extract
1 cup milk of choice
scant 1/4 tsp salt
sweetener of choice
1 tbsp Dutch cocoa powder (It has a completely different taste from regular cocoa powder)
optional, Amazing Grass chocolate powder
Cook up a serving of oatmeal with the  milk and the salt.  (I like to cook the oats the day before so that I can throw breakfast together more quickly.) Add the vanilla, cocoa, and more salt and sweetener to taste.  I also add a little more milk of choice, as some will evaporate if you leave the cooked oatmeal in the fridge overnight. Optional: Right before I eat it, I sprinkle on about 1/2 a little packet of the chocolate super food powder.  Then I drizzle on about 1/8 cup almond milk.  I don't stir either of these things in.  I love the unstirred, powdery texture.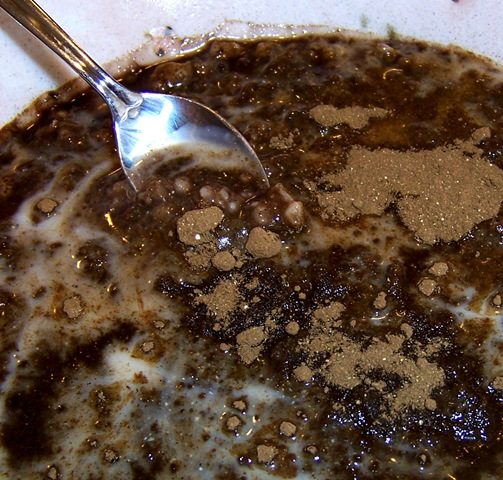 A swampy concoction, fit for a Monster.
This recipe works very well with the Voluminous Oatmeal Trick.
What lurks in your oatmeal?