But first: Thank You!
Truly, heartfelt thanks for your sweet comments on my photo yesterday.
Your compliments mean so much to me. No, not because I'm vain; because I'm self-conscious! It's terrifying, posting photos of myself on the blog! I'm guessing a lot of y'all probably feel the same way.
And now, big news for pizzerts: Some of y'all have found that your Breakfast Pizzerts, if made the fat-free way, tend to experience separation anxiety when you remove them from the pan. In other words, they stick (or crumble).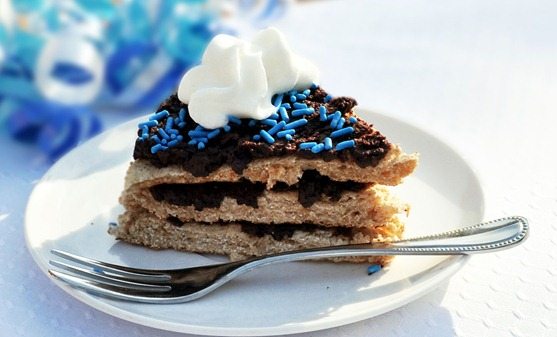 This is especially true with the Gluten-Free Pizzert.
Luckily, I found a remedy for this issue: instead of cooking the pizzert in a cake pan, roll the mixture out onto a cookie sheet (lightly sprayed or coated with oil). Separation anxiety cured!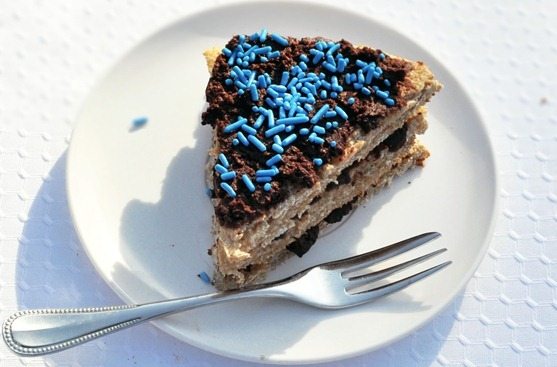 Using this new method, I made the above pizzert cake for the little sister of a friend. It's a spelt-and-coconut-flour pizzert half, stacked to look like a cake.
For the icing, I used my incredible Fudge Frosting.
I'd planned on adding sliced strawberries, but the cutie-pie customer insisted: "Spwinkles! Spwinkles!" And since the customer is always right, spwinkles it was. Hey, it's still healthier than a Dairy Queen blizzard, one of my snacks-of-choice, growing up. (And I turned out ok!)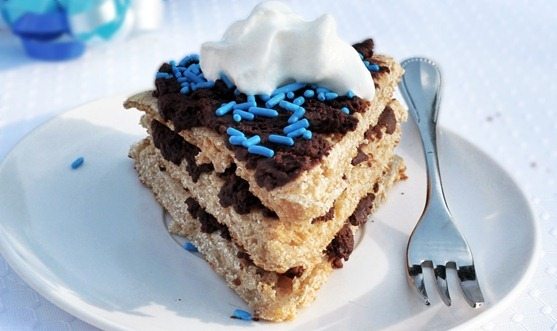 In-your-face pizzert with the Coconut Fudge Frosting.
Rule of thirds? What's that?
Did you mispronounce any words when you were little?
I think it's so cute how my friend's sister says "spwinkles." When I was little, I'd tell you my favorite color was "tur-toise" and my favorite food was "brocci." And my sister would tell you my name was Tatie. We'd have her practice the K sound, but she'd just go like this: K-K-K…Tatie.