For a work meeting yesterday, my roommate decided to bring a banana bread recipe she'd seen on my blog.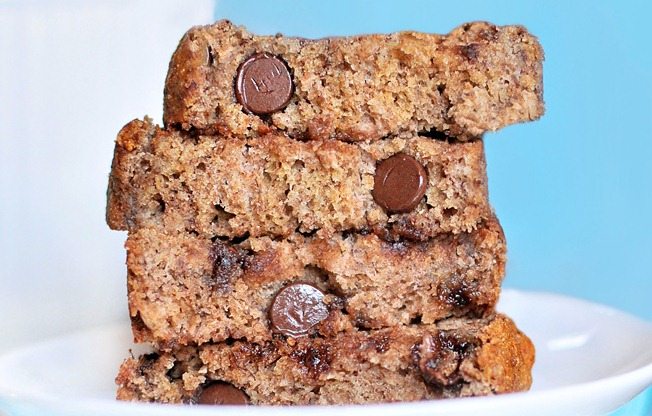 I told her we should definitely make two, because banana bread makes the house smell so delicious…
And if the house is going to start smelling so delicious it has me thinking about running to the oven and sticking my head inside, there is NO WAY I'm giving up that bread when it comes out.
You'd have to pry it from my (tightly-shut) teeth.
So we made two loaves.
It was so good, we should've made three.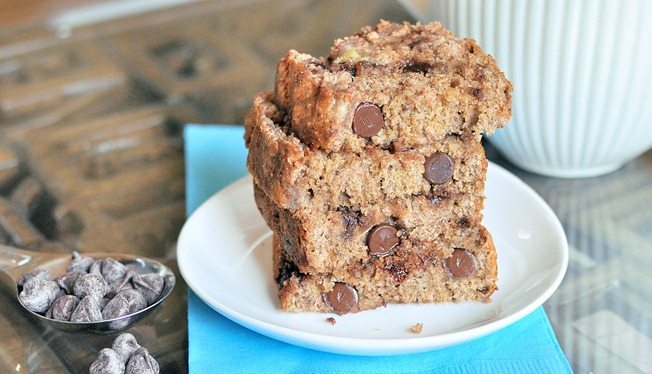 With Chocolate polka dots.
Lots and lots of chocolate polka dots.
The best kind of polka dots.
Chocolate Chips: best things ever invented? Do you ever eat them plain, straight out of the bag?
I like to do that with Ghirardelli 100% baking discs. Or Whole Foods dark chocolate mini chunks. Or… basically I've never met a vegan chocolate chip I didn't like.
This gooey and delicious recipe is very similar to my other banana bread recipe… but better, because it has chocolate chips!
I know a lot of you find it easier if I don't make you click links, so here's the recipe for the chocolate version: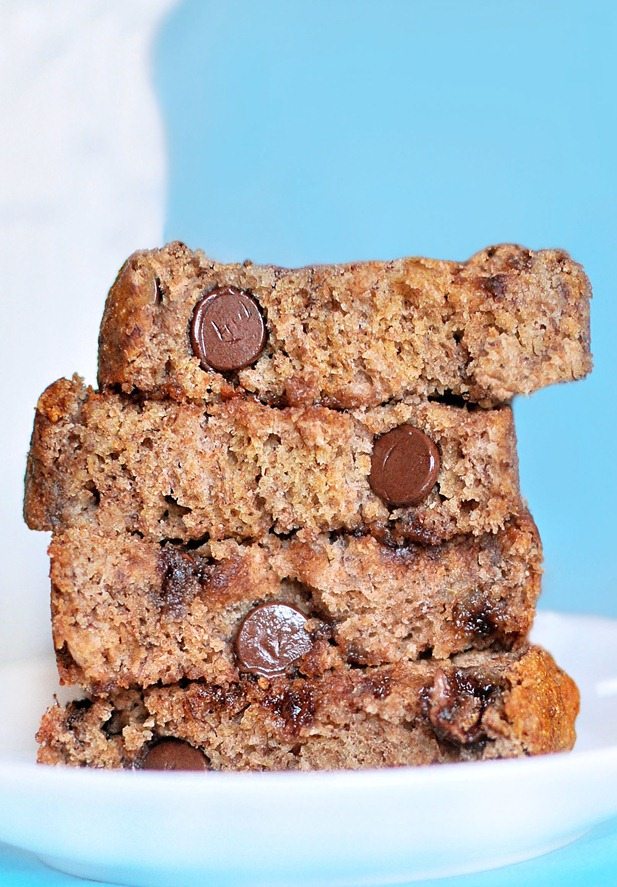 Chocolate Chip Banana Bread
(Polka Dot Banana Bread)
2 c spelt flour (or white flour or Arrowhead Mills gf)
1 tsp baking soda
1/2 tsp cinnamon
3/4 tsp baking powder
3/4 tsp salt
1/3 c oil OR milk of choice
1 and 1/2 tsp pure vanilla extract
1/2 c agave or pure maple syrup or honey
1 and 1/2 tbsp lemon juice
pinch uncut stevia OR 1 tbsp more agave or sweetener of choice
2 c tightly-packed, mashed banana, measured after mashing
1/3 to 2/3 c chocolate chips
Preheat oven to 350 F. Combine dry ingredients, and mix well. In a separate bowl, combine wet ingredients and mix into dry. (Mix by hand, and don't overmix.) Pour into a greased loaf pan and cook 35-50 minutes, depending on how gooey you want it. (Tip: If the top is cooked but the inside is still gooey, put tin foil over the top and continue to cook.) After removing from the oven, let cool for ten minutes before slicing. After the first day, this bread is best stored in the fridge. Or cut it into slices and freeze for later.
See original recipe for Banana Bread Calories & Nutrition Facts.
Link Of The Day: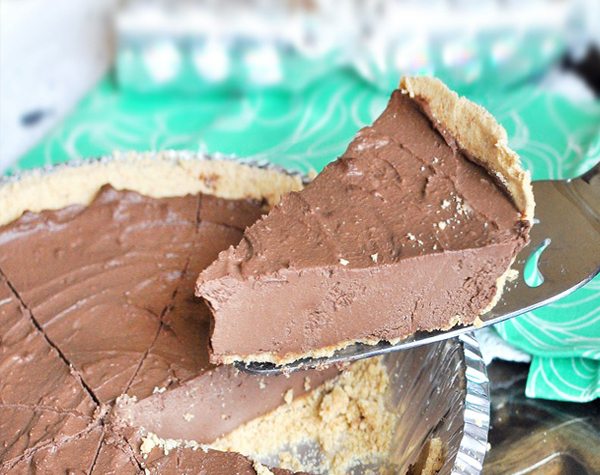 The Ultimate Chocolate Fudge Pie