Healthy Graham Crackers… perfect for s'mores!
The first time I ever heard of a s'more was during a girl-scout camping trip. The troop leaders handed us each a skewered marshmallow and told us to have at it.
"What? You actually want me to stick the marshmallow into the white-hot flames?"
Yes, yes they did. And it was glorious. I especially loved when the marshmallows would catch fire and burn to a gorgeous black crisp. Of course the burnt mallows didn't yield the tastiest results, but most of the fun of s'mores is making them.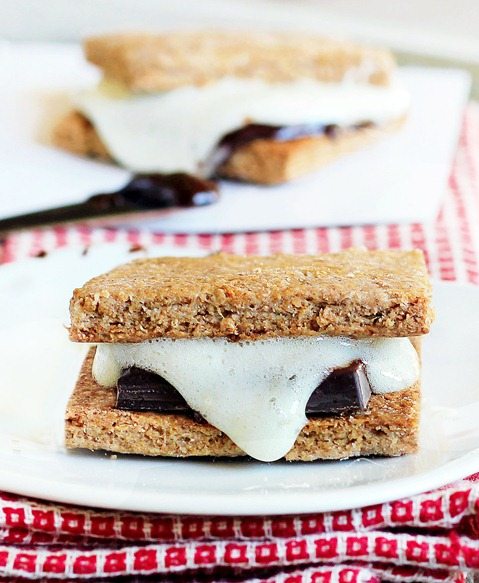 These homemade & healthy graham crackers are so delicious they almost steal the show from the ooey-gooey filling. Almost. Once you try this homemade version, you'll never want to go back to Nabisco again.
Have you ever made a s'more? S'mores remind me of cozy, warm campfires and singing silly songs while eating girl scout cookies and burning more marshmallows than we ever actually consumed.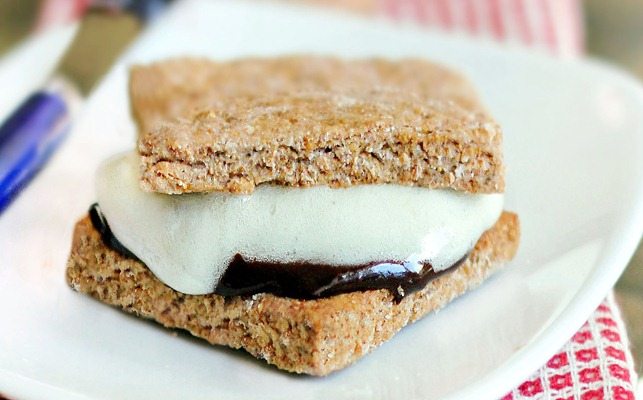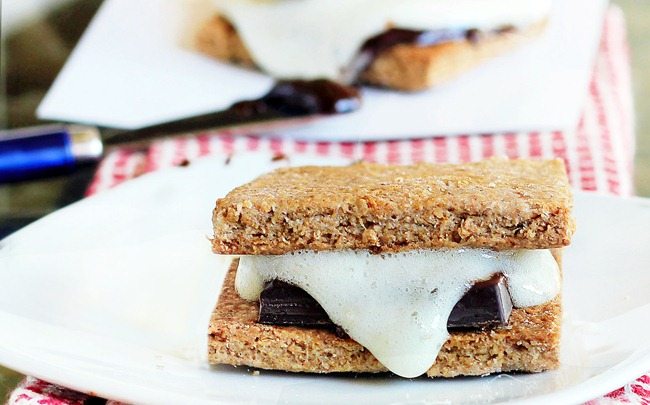 Healthy Graham Crackers
1 cup + 2 tbsp white, whole wheat, or oat flour
1/2 tsp cinnamon
1/4 tsp + 1/8 tsp baking soda
1/4 tsp + 1/8 tsp salt
2 to 3 tbsp sucanat or regular sugar
1/8 tsp uncut stevia OR 2 more tbsp sugar
1 tsp pure vanilla extract
2 tbsp pure maple syrup, honey, or agave
1/4 cup oil (See link for a lower-fat version. Also, I highly recommend unrefined coconut oil for this recipe, but I think vegetable oil would be fine.)
2 tbsp water
Combine dry ingredients. Combine wet in a separate bowl, then mix together. Form a ball with your hands (or, if you don't want to get your hands dirty, put the mixture in a plastic bag and squish into a ball). Place the ball on a piece of wax paper, then place another sheet on top and use a rolling pin to flatten the dough into very thin (graham-cracker) width. Cut into squares or cookie-cuttered shapes, and place on a cookie sheet. Bake at 350 for 12-15 minutes, depending on whether you like your graham crackers super-soft or crispy. For vegan marshmallows: Trader Joes and Dandies brands both make vegan marshmallows, or Ricemellow Cream (in the photos) and even Smuckers marshmallow fluff are also vegan.
If desired, top with chocolate or Hot Chocolate Butter.
Link Of The Day: