Roar.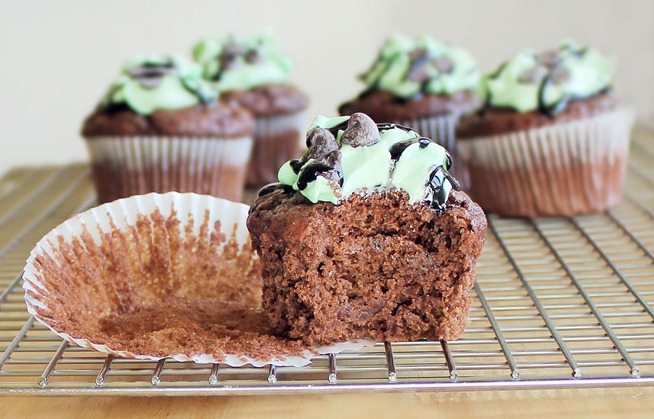 My husband, the monster:
Did you know I was once married to Frankenstein? It's true! Long before Bella Swan made it fashionable to marry a ghoul, Frankie and I had a one-night stand. I dressed up as the Bride of Frankenstein for Halloween and created a stuffed monster "husband" to carry around all night.
In case you're curious, here's a photo of us.
Although we didn't stay married long (irreconcilable differences), I think Frankenstein would approve of the following mint-chocolate cupcake recipe. Whole-grain, and lower in fat and sugar, these are much healthier than your average cupcakes. And yet, they taste just as delicious.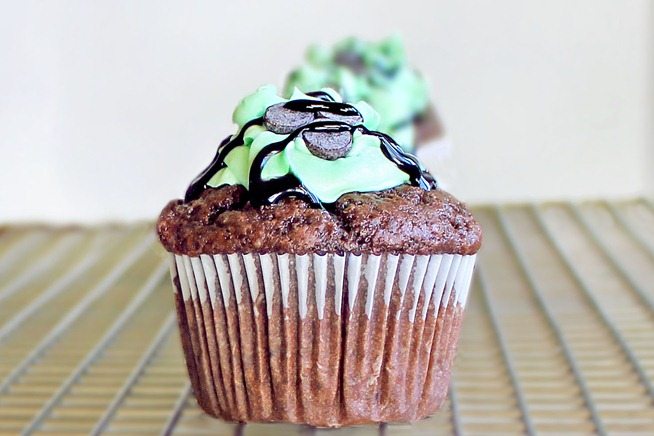 As I said in yesterday's post, these cupcakes were made for a good friend's kindergarten class. I so wanted to throw some spinach in them, to see how they'd turn out. But I didn't have enough time to make a second batch if the experiment failed.
If anyone is feeling adventurous, please do try adding spinach… and let me know how it goes!!
Monster Mint-Chocolate Cupcakes
(Makes 12 cupcakes)
1/4 cup cocoa powder (regular or dutch)
1 cup flour (I used white-whole-wheat. You can use all-purpose, spelt, or even ww pastry.)
3/4 tsp baking powder
1/2 tsp baking soda
1/2 tsp salt
3/4 cup sugar or evaporated cane juice
1 and 1/2 tbsp cornstarch
1 and 1/2 tsp pure vanilla extract
1 tsp pure peppermint extract (or 1/2 tsp, if you only want a very-slight mint taste)
1/2 cup vanilla yogurt of choice (such as SoDelicious)
1/4 cup applesauce
3 tbsp oil (coconut or veg or canola oil)
optional: add a few handfuls chocolate chips to the batter!
1/2 cup milk of choice
Directions: Preheat oven to 350 degrees. Mix dry ingredients, then add wet. Don't overmix. Pour into cupcake liners or tins, and bake for 18-20 minutes. (Mine took 19 minutes.) Nutrition Facts per cupcake: Each cupcake will have around 130 calories and three grams of fat, depending on what yogurt you use.
Cupcakes in the photos are topped with this recipe: Mint Chocolate Chip Frosting.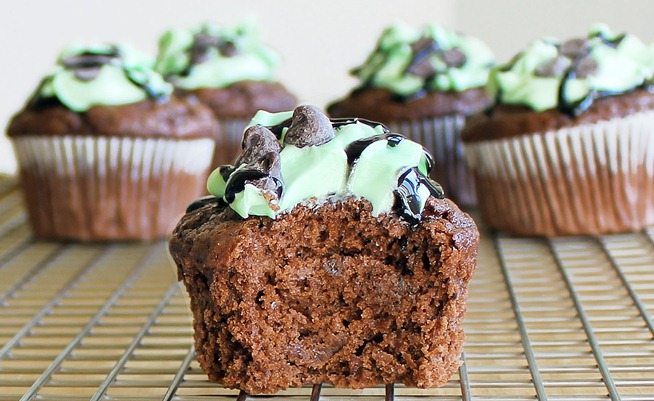 For a Mint-Chocolate Parfait:
Try crumbling this over Mint-Chocolate-Chip Ice Milk.
Or skip the parfait idea and just cover these babies in devilishly-delicious green frosting. With chocolate chips. Don't forget the chocolate chips.
Question of the Day:
Do you remember any of your childhood Halloween costumes?
Some of mine: a Martian beauty queen, devil in a blue dress, purple-people-eater, monster chef, dust bunny (French maid with bunny ears), sand witch (sandwich), and "Indecisive" (where I wore a little bit of everything I could find. That one was really fun). I always hope that one of my friends will throw a party, so I have an excuse to still dress up even though I'm obviously way too old for trick-or-treating. I still have no idea what I'm going to wear to this year's Halloween party.