Bake these soft, sweet, and delicious homemade banana muffins for a healthy snack or breakfast recipe the entire family will love!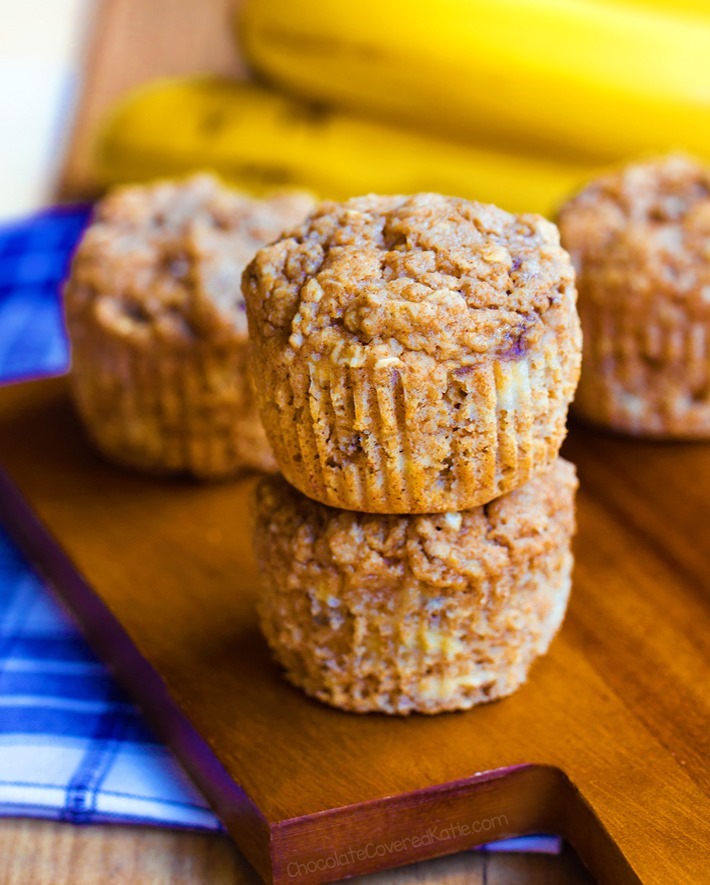 Super healthy banana muffins
Pack them in a lunch box
Serve as a healthy breakfast
Take on the go
It's the perfect after school snack!
These light, moist banana muffins are a great option for both kids and adults.
They are quick and easy to whip up with pantry staple ingredients. And the simple recipe is packed with whole grains, fiber, potassium, and nutrition.
The muffins are also a good choice any time you find yourself with unexpected guests. Throw a batch into the oven, and it tastes like they came straight from the bakery!
You may also like these Applesauce Muffins
Above, watch the step-by-step banana muffin recipe video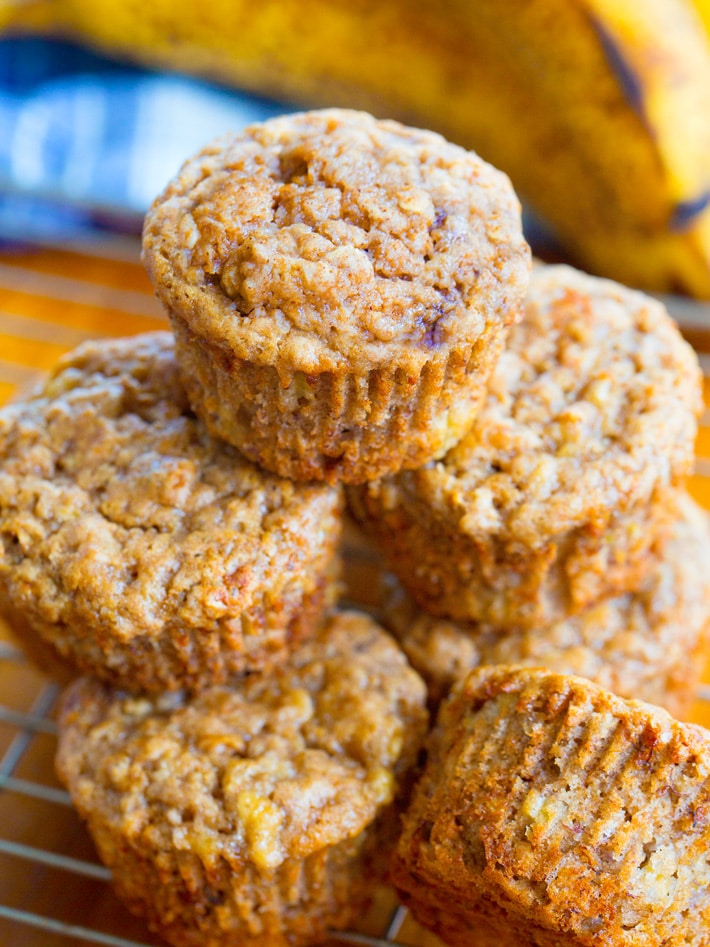 An easy wholesome breakfast or snack
People go crazy for these fluffy banana muffins every time I serve them.
With an irresistible flavor and bakery style texture, they are everything you could ever want in a banana muffin recipe.
The muffins can also be easily adapted to suit various special diets, including vegan, gluten free, soy free, egg free, oil free, dairy free, low fat, and nut free.
Everyone should have a basic muffin recipe in their repertoire, and these are the best banana muffins I've ever made in my life.
I hope you love them as much as we do!
Readers also love this Chocolate Banana Bread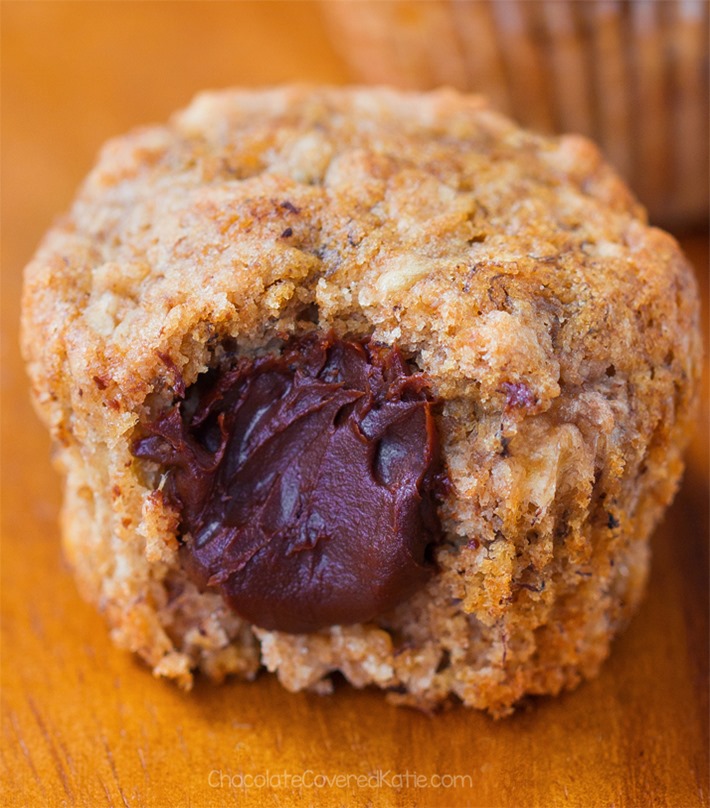 Try the muffins with Homemade Nutella or my Chocolate Cream Cheese Frosting
Banana muffin recipe ingredients
The recipe calls for mashed banana, pure vanilla extract, white or apple cider vinegar, optional oil, flour, salt, sugar, baking soda, and baking powder.
Types of flour that work include spelt flour, oat flour, and gluten free or white all purpose flour. I have not tried almond flour, whole wheat flour, or coconut flour here. Be sure to report back if you experiment with one of those options.
When combined with the liquid ingredients, the white vinegar or apple cider vinegar acts like a homemade buttermilk substitute.
Almost any all purpose granulated sweetener can be substituted for the sugar, including unrefined coconut sugar or date sugar, raw cane sugar, or xylitol or granular erythritol for added sugar free banana muffins.
To make muffins without oil, you can replace the three tablespoons with an equal amount of additional banana, Greek yogurt, or roasted mashed sweet potato.
For chocolate chip banana muffins: stir half a cup of regular or mini chocolate chips in with the dry ingredients. Press a few additional chips into the top of each muffin for presentation, just before baking.
You can also stir half a teaspoon of cinnamon and up to half a cup of crushed walnuts, almonds, or pecans into the batter before baking the muffins.
For a blueberry version, make Healthy Blueberry Muffins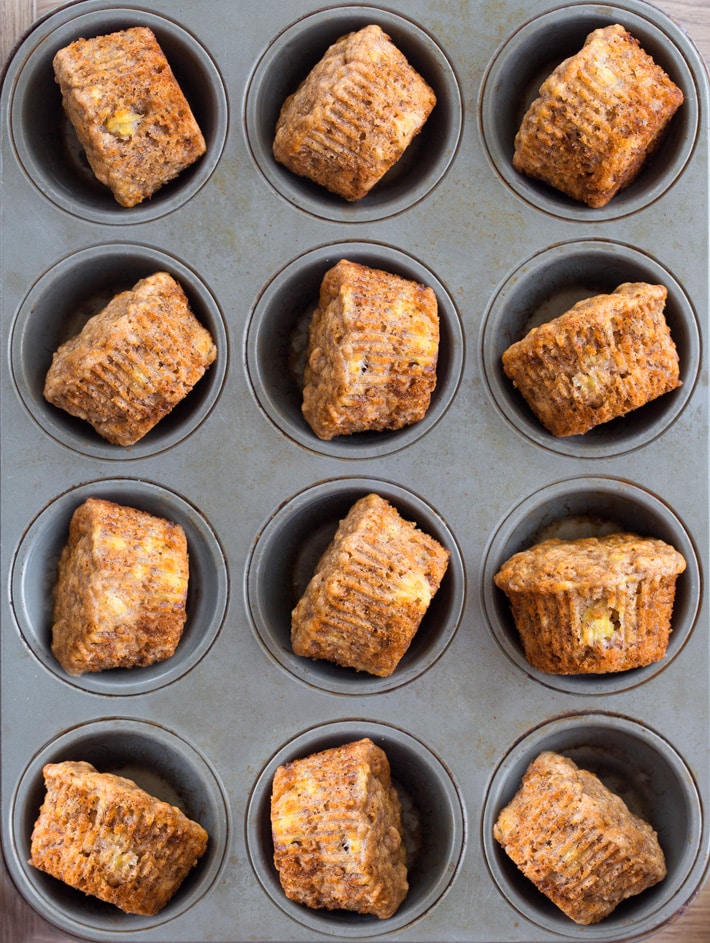 Serving suggestions
Thanks to their natural sweetness, the muffins are delicious hot out of the oven, without needing any butter or frosting.
They are also really great if you want to add a little of cinnamon to the batter and eat them with melted coconut butter or vegan cream cheese.
It almost makes them taste like eating a frosted banana cinnamon roll, and you will completely forget they're actually good for you!
Or top the baked banana treats with peanut butter, almond butter, cashew butter, apple butter, or pumpkin butter.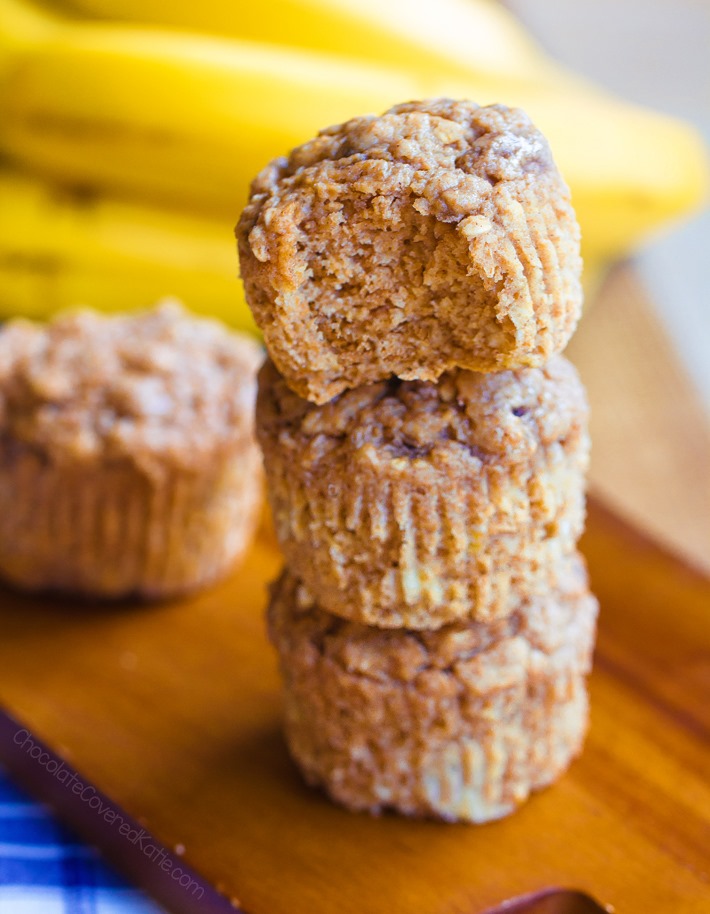 How to make the best banana muffins
Whisk all of the liquid ingredients, including the banana, in a large bowl.
Preheat the oven to 350 degrees Fahrenheit, and line a muffin tin with liners.
Add all remaining ingredients, and stir until just evenly mixed. Smooth the muffin batter into the liners, and bake on the oven's center rack for 20 minutes.
The muffins should be domed, and a toothpick inserted into the center of a muffin should come out mostly clean.
Once cooled, the liners should peel off easily from muffins with oil. Even if you make the fat free version, I've found that the liners still peel off easily the next day if you let the muffins sit loosely covered on the counter or in the refrigerator overnight.
Leftovers can be stored for a day loosely covered with a towel on the counter. For freshness, I recommend refrigerating any leftover banana muffins after this time. They can also be frozen for up to a month or two.
While the oven is hot, bake a Chocolate Mug Cake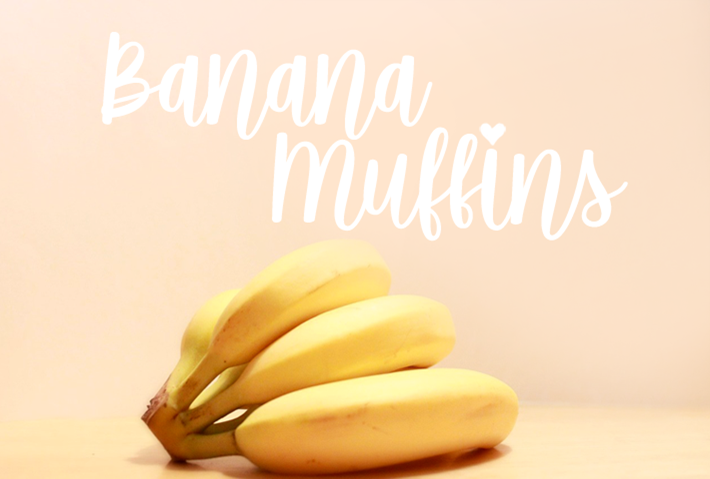 Banana mini muffins
If you wish to turn this into a mini muffin recipe, follow the baking instructions above, using a mini muffin pan instead of a regular size pan.
Bake the homemade banana mini muffins for twelve minutes, then let cool on the counter before removing the liners.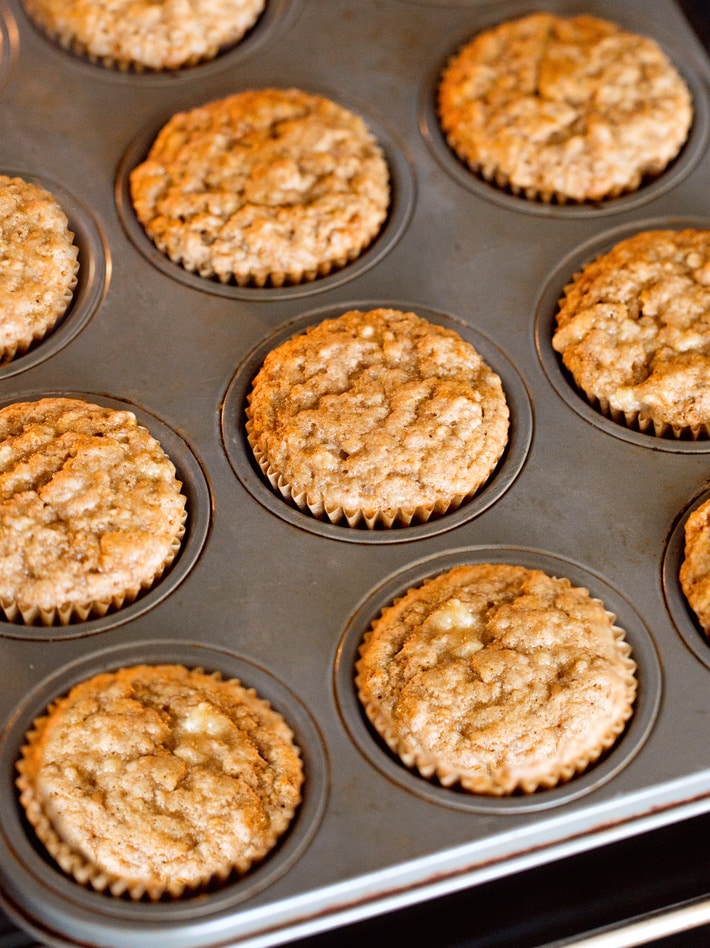 Converting banana muffins to gram measurements
If you prefer to use a food scale instead of cups for precise baking, use the following metric measurements.
240 grams mashed banana, 30 grams water, 10 grams each of pure vanilla extract and vinegar, 36 grams of oil, 130 grams of flour, 65 grams of sugar. Add all of these along with the salt, baking powder, and baking soda.
Note: One cup of mashed banana is usually equal to about two large bananas.
Use leftover bananas to make Banana Ice Cream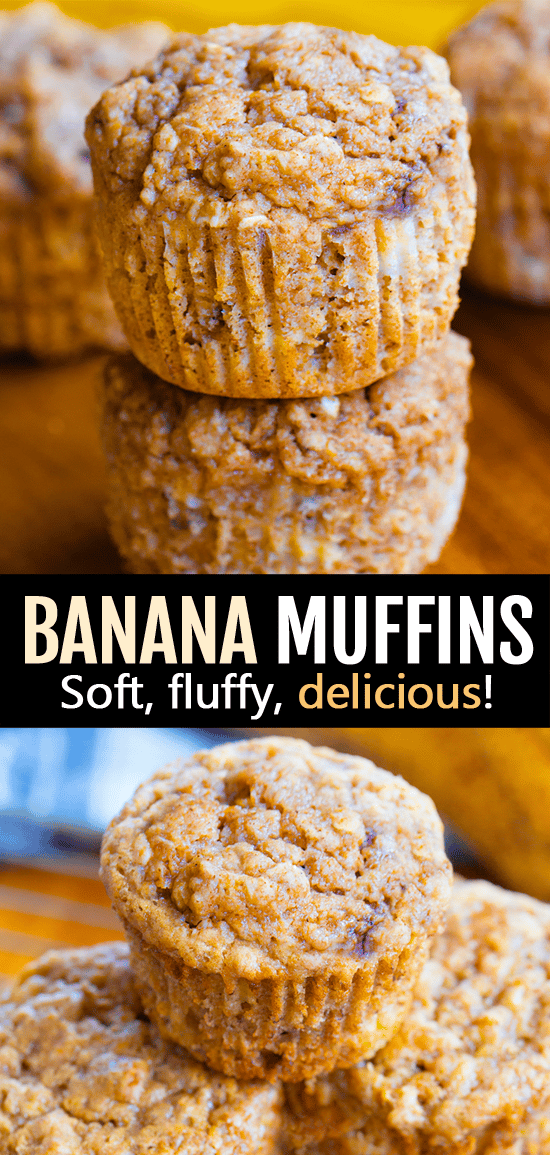 Banana Muffins
These soft and moist banana muffins are a delicious healthy breakfast recipe!
Ingredients
1

cup

mashed banana

2

tbsp

water

2

tsp

pure vanilla extract

2

tsp

white or cider vinegar

3

tbsp

oil or nut butter,

or 3 tbsp banana for fat free

1

cup

spelt,

white, or oat flour (for flourless, try these Keto Muffins)

1/2

tsp

salt

1/2

tsp

each: baking soda and baking powder

1/3

cup

sugar,

unrefined if desired

optional 1/2 tsp cinnamon
Instructions
Whisk first 5 ingredients in a large bowl, and set aside for 10 minutes. Preheat oven to 350 F, and line a muffin tin. In a new bowl, stir together all remaining ingredients. Feel free to add 1/4 tsp cinnamon if you wish. Pour dry into wet, and stir until just evenly mixed. Portion into the muffin liners. Bake on the center rack, 19-20 minutes or until muffins have domed and a toothpick inserted into the center of a muffin comes out mostly clean. Let cool. (I've found that if you loosely cover overnight—either on the counter or refrigerated—the liners then peel off easily, and flavor and texture are even better too!)

View Nutrition Facts
More Healthy Snack Recipes