Take your cobbler to-go!
I created these to compliment the Deep-Dish Cookie Pie at our Memorial Day party.
Put in charge of dessert, I figured people wouldn't want two chocolate selections. (Silly people. Don't they realize two chocolate desserts are better than one?)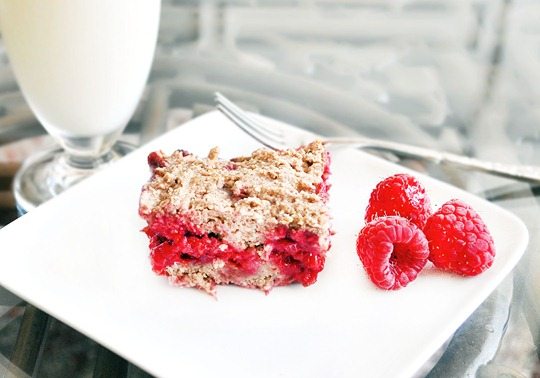 Thanks to their portability, these bars make really good breakfast bars, too.
Raspberry Cobbler Bars
(makes 8-14 bars)
1.5 cups spelt flour or oat flour (to make oat flour, you can grind oats in a food processor)
1/2 tsp baking powder
1/4 tsp salt
1/2 cup applesauce (see notes, below)
1 and 1/2 tsp cinnamon
1/3 cup brown sugar (see notes, below)
2 cups (8oz) fresh or frozen berries
2 T maple syrup or agave
2 tsp cornstarch
1 tsp pure vanilla extract
Stir together the first six ingredients. Scoop half of the dough into a small, oiled glass dish (or any small pan). In a separate bowl, stir together the other ingredients. Layer them into the pan, then top with the rest of the dough from the first pan. Bake for 35 minutes at 350F, then cool before cutting.
See the following page for the Calorie Information.
Fat and Sugar Notes:
These bars are fat-free. If you're not a fan of fat-free baked goods (or just want a deeper, more buttery taste), I recommend replacing some or all of the applesauce with margarine or shortening. As for sugar, the subtly-sweet bars have the perfect sweetness if you're eating them for breakfast, if you're planning to top them with vegan ice cream or whipped cream, or if you don't have much of a sweet tooth. If, however, you're looking for more of a dessert-like (super-sweet) bar, you can increase the sugar to 1/2 cup and double the maple syrup. (Of course, you can also use stevia if you wish.) Personally, I really like these without any added sugar (except the maple syrup), and with coconut butter in place of half the applesauce. But try that version at your own risk!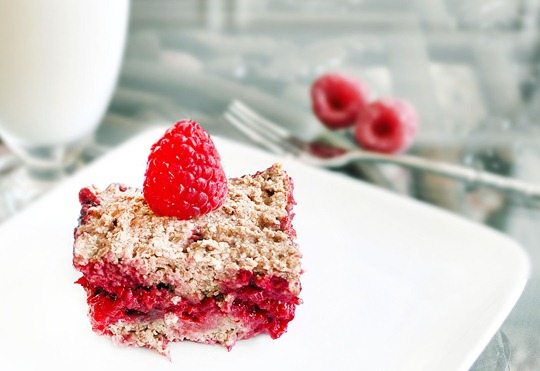 Question of the Day:
What are your favorite snacks that don't have chocolate?
Peanut butter? Pumpkin? Currently, I love Snickerdoodle Dip.
My favorite non-chocolate desserts usually include either coconut butter or a carrot-cake theme. But honestly? Most of my favorite desserts have chocolate! (Ooh, just thought of something: You can add chocolate chips to these bars!)