What's black and white…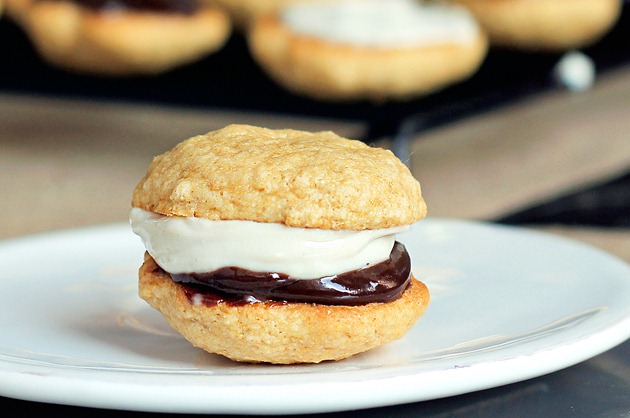 And smothered in gooey marshmallow fluff?
S'mores Whoopie Pies!
A few weeks ago, my first attempt at s'mores whoopie pies went terribly awry. So terribly awry that I won't even post a photo. Let's just say they looked more like whoopie pancakes than pies. I wanted to give the experiment another go for Sunday's Oscars party.
If it didn't work, I had a backup: Secret Peanut Butter Cookies.
But I really wanted it to work!
The whoopie pies were perfect to represent the black-and-white theme of The Artist. Luckily, my second try was a big, fat (literally) success. And, as it turns out, I picked a great dessert for the night; The Artist won Best Picture!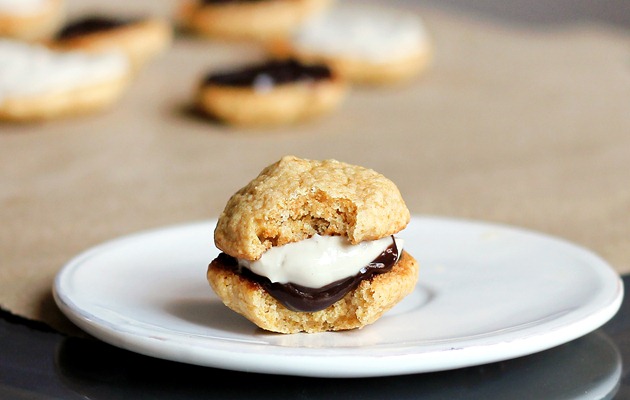 The whoopie pies definitely won Best Dressed.
And best taste.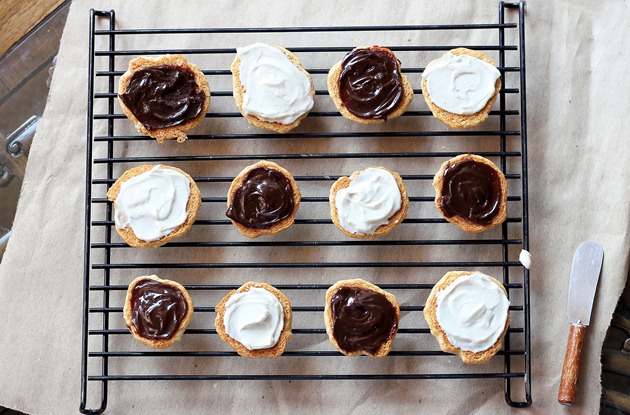 But they are chocolate, after all. So really, it was no competition.
S'mores Whoopie Pies
(makes 12 circles)
Categorized here: Cookies and Bars.
1/4 cup milk of choice
scant 1 tsp vinegar
1/2 cup whole-wheat pastry flour (or white flour)
1/4 tsp baking soda
1 tsp baking powder
just over 1/8 tsp salt
1/4 cup evaporated cane juice (or white sugar)
1 1/2 tablespoons applesauce
1 tablespoon water
1 1/2 tablespoons oil (coconut or canola/veg)
1/4 tsp pure vanilla extract
Preheat oven to 375 F. Mix vinegar into milk, and set aside. In a separate bowl, combine dry ingredients and mix very well. Then put all the other liquid ingredients into the vinegar mixture and stir. Pour wet into dry, and stir to combine. Drop tiny circles (a little over the size of a silver dollar) onto 1 or 2 cookie trays. (Or, if you have a whoopie pie maker, you can use that! I don't have one.) Bake around 8 minutes.
Marshmallow Cream:
If you don't want to use this recipe, or if you can't find marshmallow flavoring, you can use Ricemellow Cream or Smuckers marshmallow fluff instead. Both are vegan.)
2/3 cup Mori-Nu silken-firm tofu (140 g) (I'm sure soft-silken would work too!)
6 tablespoons coconut butter or raw cashew butter
scant 1/8th tsp salt
8-10 drops marshmallow flavoring (like this one)
1/2 tsp pure vanilla extract
sweetener to taste (stevia, agave, sugar, etc.)
Blend everything in a blender, food processor, or Magic Bullet cup. This frosting is thicker when cold, so it's a good idea to make it up ahead of time. But don't frost the whoopie pies until just before serving (or frost them and then store in the fridge).
**For a soy-free frosting, add the vanilla and marshmallow extracts to the following recipe (and sub the pb for coconut butter or raw cashew butter): Soy-Free Option.
And, of course, the chocolate…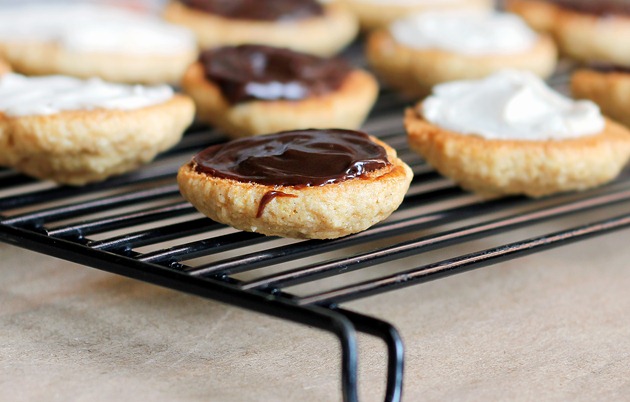 I used my favorite chocolate recipe: Hot Chocolate Butter.
If you prefer, feel free to use your favorite hot fudge sauce, chocolate frosting, or melted chocolate chips. Just be sure to add chocolate in some form. This recipe (well, any recipe!) is nothing without chocolate

.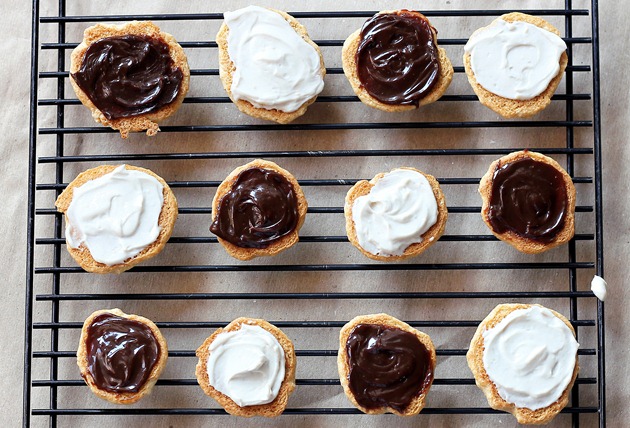 Question of the Day:
What whoopie pie flavors would you like to see?
Now that I have a successful base recipe, I'm excited to experiment with new flavors: What about red velvet, or chocolate chip cookie dough, or cinnamon roll pies…
Or maybe whoopie pies from my Pumpkin Cream Cheese Bars.