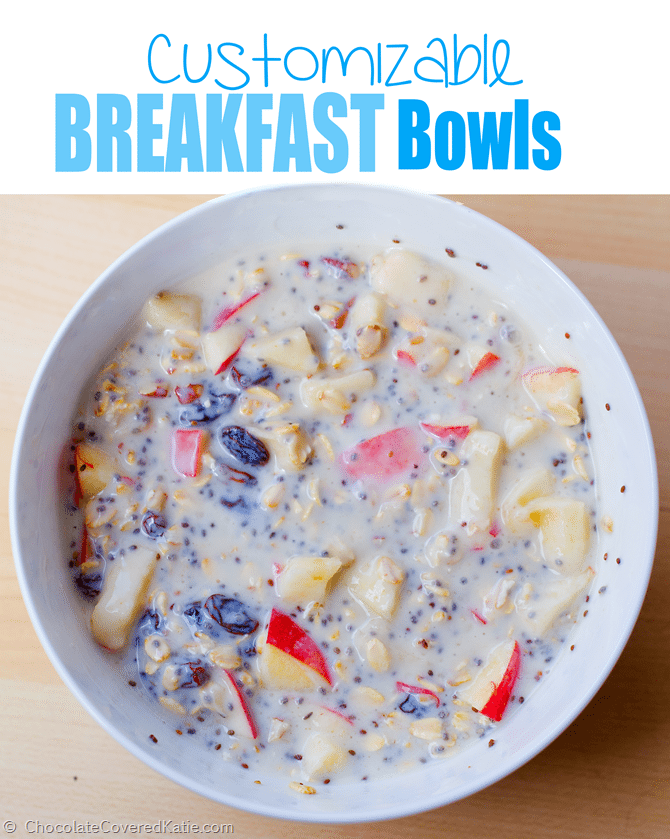 With this one recipe, you can have a new breakfast every day:
The creamy and filling breakfast bowl keeps you satisfied until well past lunchtime, with healthy and all-natural delicious ingredients – nothing processed or artificial.
You can make it your own by changing up the ingredients for endless healthy breakfast options. The recipe is based on a popular European breakfast known as bircher muesli, which is traditionally made up of raw oats, fruit, nuts, and seeds soaked in milk and yogurt overnight; and it's not much different from what Americans know as "overnight oatmeal."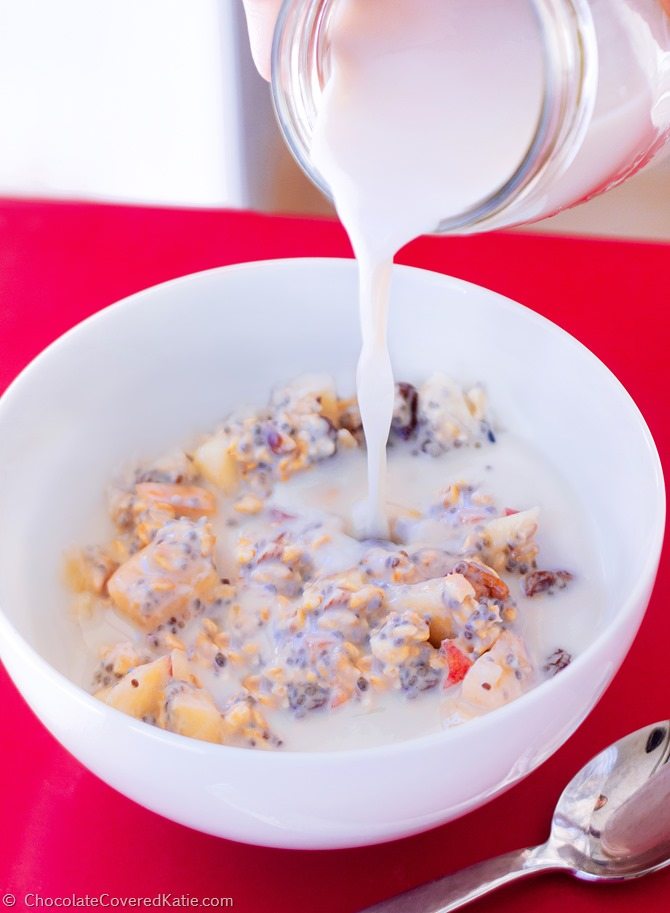 Fittingly, the first time I ever tried real Swiss muesli was many years ago in Europe.
Having arrived at the hotel early in the morning after an overnight flight, my parents immediately went back to sleep while my younger sister and I—bounding with the excitement of being in a new place—tried to entertain ourselves quietly within the confines of the room.
After flipping through the foreign television channels again and again, we finally transferred our waning attention towards the room service menu. Breakfast sounded like the perfect antidote to our boredom. My sister chose scambled eggs and toast; but I was feeling more adventurous and therefore settled on something of which I'd never heard before: Bircher Muesli.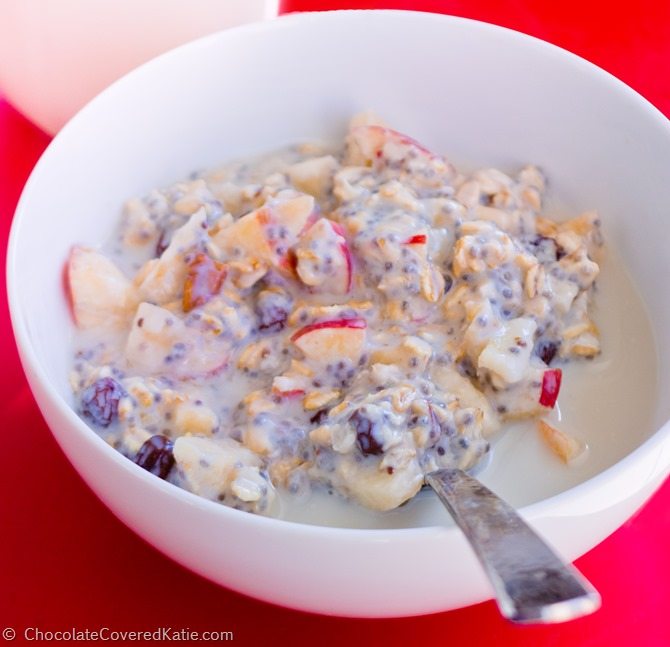 Customizable Muesli Breakfast Bowls
(serves 2-3)
Adapted from: Chocolate Chip Cookie Overnight Oats
1 cup rolled oats (80g)
1/4 tsp salt
1 very small apple or pear, diced
1/4 cup raisins or dried fruit of choice
2 tbsp chia seeds
2-3 tbsp chopped nuts (or more dried fruit or seeds)
1 cup milk of choice
1 cup yogurt, such as Wholesoy or So Delicious
optional squeeze of lemon
optional shredded coconut, sweetener of choice, banana, chocolate chips, etc.
Stir together all dry ingredients in a bowl. Stir in the yogurt and milk, cover, and refrigerate overnight. It will get thick during this time. When ready to eat, sweeten if desired, and add more milk of choice if desired. Traditionally, muesli is eaten chilled; however you may warm it up if you'd prefer. Leftovers can be eaten the next day if desired.
View Swiss Muesli Nutrition Facts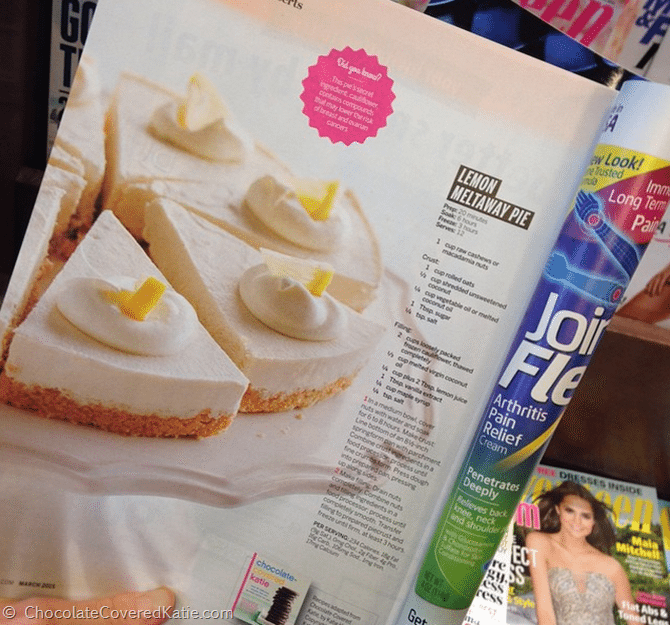 Finally, I wanted to take a second to thank you…
I worry I might not say it enough. This past past month, The Chocolate Covered Katie Cookbook was featured by Oprah, Cosmo, Parade, The Dallas Morning News, The New York Post, The Washington Post, Sirius XM, Newsday, Health Magazine, and by Amazon as one of their top ten cookbooks to watch… and none of this would have ever happened without your overwhelming support in buying the book or mentioning the site to friends.
Without question, the most exciting part of this entire three-year cookbook process for me has been the incredible response from readers, and I'd like to return some of that happiness. If you have a recipe you've made, either from the cookbook or the blog, please feel free to share a photo either on my facebook page or instagram (@chocolatecoveredkatie), and I'll feature some of your photos on the blog in the next coming weeks. ♥