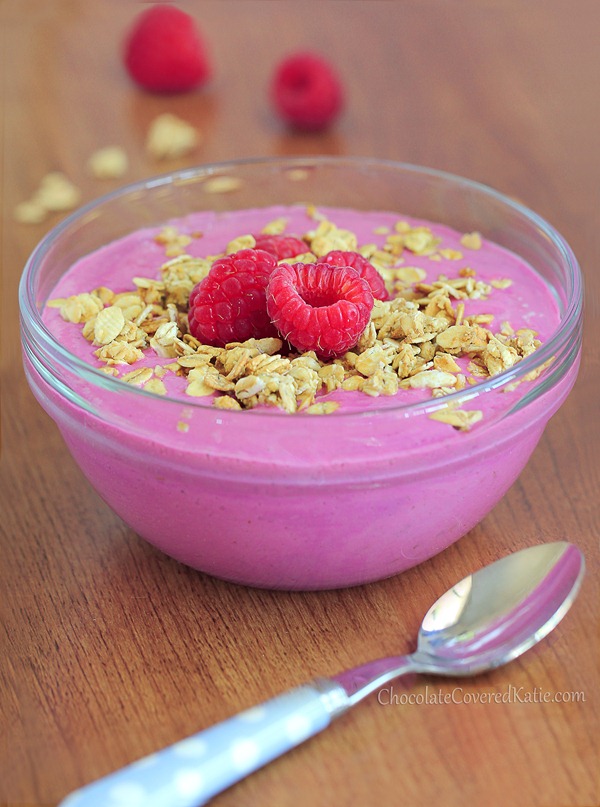 A super easy breakfast recipe!
I laugh when people leave angry comments on my blog, complaining my recipes are too simple, like this is a bad thing. In reality, it's my goal to offer ideas and recipes that don't require a Ph.D or a bunch of obscure ingredients. I want the recipes to be as simple as possible, and I sometimes even remake ones I think are too complicated, before posting them on the blog.
We grow up in a society that emphasizes the notion: more is more; and the laundry lists of ingredients on our packaged foods grow longer by the minute. With so much being thrown at us, it's beneficial to work at taking specific steps to simplify our lives as much as possible. For example, why make a recipe with twenty ingredients when something with five can taste just as delicious? Today's yogurt bowl is one of my favorite healthy breakfast recipes, with just three ingredients.
No expensive protein powders, superfood berries, or wheatgrass… just yogurt, milk, and fresh fruit!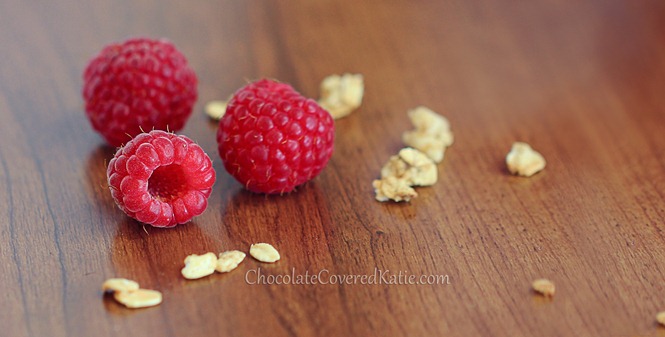 The Yogurt Breakfast Bowl
(serves 1)
1 cup frozen raspberries (110g)
1/3 to 1/2 cup milk of choice (120g) (depending on desired thickness)
6 oz plain or vanilla yogurt of choice (I like Wholesoy.)
Especially if using an unsweetened milk, you'll probably wish to add a little sweetener of choice
Blend all ingredients in a blender or magic bullet until smooth. Pour into a bowl. On really hot days, I like to now put the bowl in the freezer for up to an hour. Top with your favorite granola, fresh fruit, etc. (My favorite summer breakfast: this yogurt recipe, extra raspberries on top, and peanut butter slathered on some fresh HSH chia bread from Whole Foods.)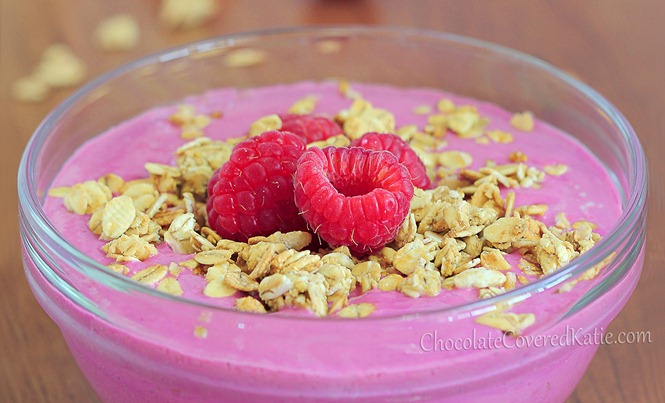 Question of the Day:
Is your life complicated, with people and obligations pulling you in all different directions?
Sometimes when things get really stressful, I fantasize about moving to Hawaii… and not bringing my computer or cell phone. Just me, a beach blanket, and a giant coconut filled with fresh coconut water, lounging under the sun. All day, every day. How amazing does that sound?
Link of the Day: