This secretly vegan chocolate mousse is quite possibly the richest and creamiest chocolate mousse you will ever eat, vegan or not!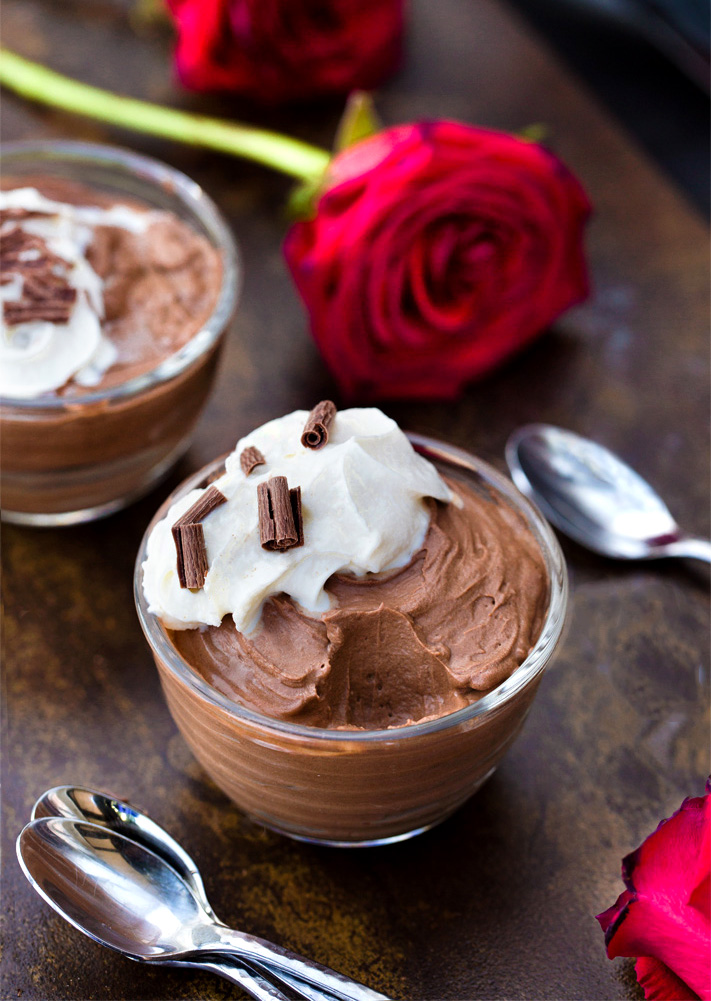 Soy Free
Dairy Free
Vegan
Keto Friendly
No Heavy Cream
A simple and silky-smooth chocolate mousse you can whip up in minutes, no stove required!
You May Also Like: Buffalo Cauliflower Wings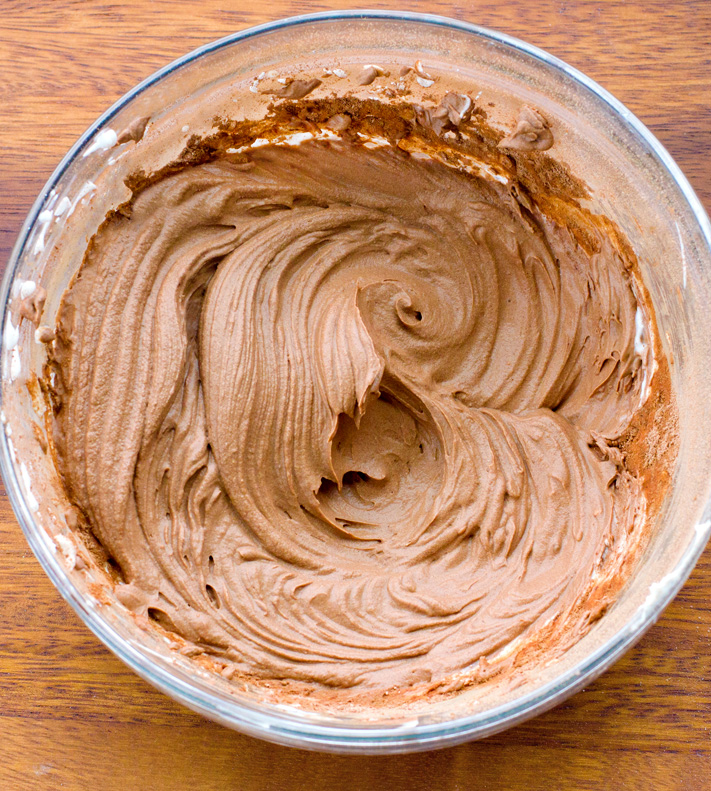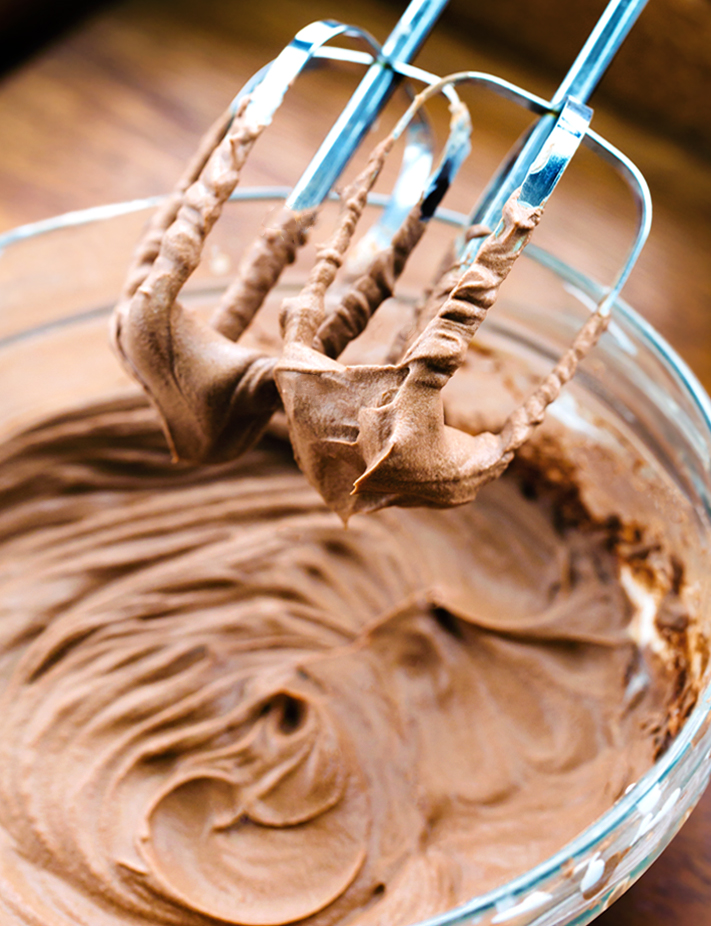 This tastes like fancy-restaurant chocolate mousse.
Like I-should-put-on-makeup-and-heels chocolate mousse.
Or I-totally-went-to-culinary-school-in-France chocolate mousse.
Serve it to guests, and they will think you spent hours preparing the luxuriously smooth and velvety chocolate dessert.
But there's no need to dress up, and you definitely don't need a culinary degree, because the recipe is deceptively easy to make!
Also Try This Blueberry Crisp – The Best Easy Recipe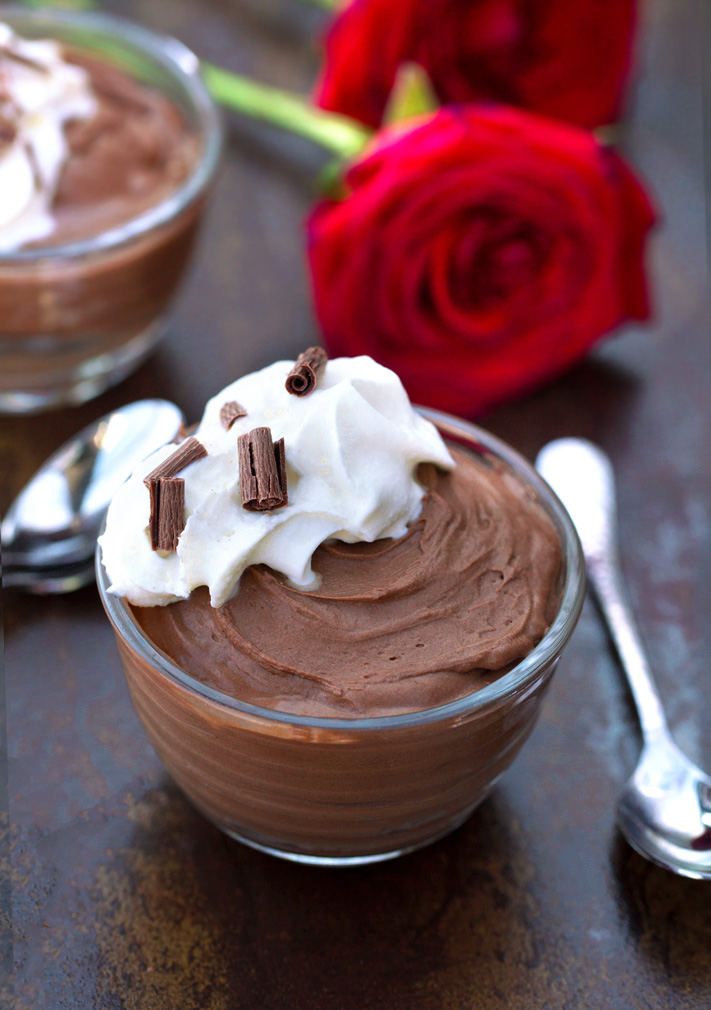 Serve the chocolate coconut mousse plain, or it also makes a great chocolate frosting for any of the following:
Keto Cake (flourless recipe)
Vegan Chocolate Mousse Ingredients
This easy vegan chocolate mousse calls for just three ingredients, no aquafaba, avocado, or tofu required.
I like to add a tablespoon of dutch cocoa powder for a richer flavor, but you can skip it if you don't have any on hand. Be sure to use full-fat canned coconut milk or coconut cream for best results, as it will not whip up with reduced fat or carton coconutmilk.
Once you have the basics down, feel free to add a little vanilla extract or whip in a banana, 1/2 tsp instant coffee, or 2-3 tablespoons of peanut butter to make an out-of-this-world delicious chocolate peanut butter mousse.
Above – watch the video how to make vegan chocolate mousse.

Vegan Chocolate Mousse
An easy creamy vegan chocolate mousse recipe you can make in under 5 minutes!
Ingredients
1

can

coconut milk or cream

(For coconut-free, try: Healthy Chocolate Pudding or Avocado Chocolate Mousse)

1/4

cup

cocoa powder

1

tbsp

dutch cocoa powder or additional regular

3-4

tbsp

powdered sugar or erythritol

(or 2 tbsp for extra dark)

optional 1/2 tsp pure vanilla extract

optional 2-3 tbsp peanut butter
Instructions
Either refrigerate the coconut milk can overnight, or open and freeze about 10 minutes. (I store a can in the fridge so there's always one ready to go. Be sure to use full-fat canned coconut milk for this recipe. Try not to shake the can, because you want the cream separate from the water underneath.)

Once cold, open the can and transfer only the thick part to a bowl. Discard the watery part, or save for another recipe. Using either a stand mixer or hand beaters (or a fork and a ton of strength and patience), whip the cream until smooth. Add remaining ingredients and whip until it forms a mousse-like texture.

 View Nutrition Facts
Notes
Notes: Be sure to check out the video above of how to make the chocolate mousse! Very rarely, you may get a can of coconut milk that is chalky and hard or won't firm up, so I like to always keep two cans from different brands on hand just in case. This recipe was adapted from my recipe for Coconut Whipped Cream.
MORE VEGAN CHOCOLATE RECIPES