"When one has tasted watermelon, he knows what the angels eat." –Mark Twain
Watermelon Boy!
Some of y'all might remember Whole Foods Boy.
But I only referred to him as Whole Foods Boy on the blog. In real life, I gave him the nickname of Watermelon Boy, because he could eat an entire watermelon at one time. Therefore, if you ever still read my blog, WF Boy, this recipe is for you!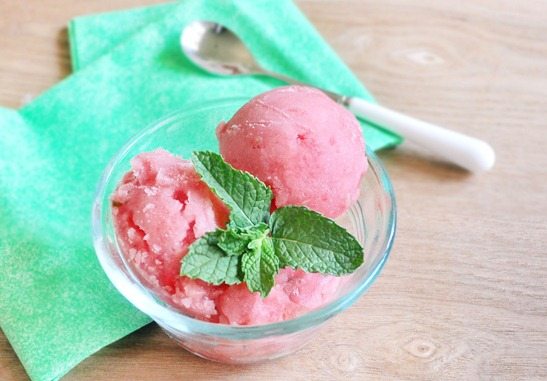 As a vegan and a healthy eater, I get a ton of veggies in my diet. But I don't actually eat much fruit. (Maybe only 1-2 servings per day?) I adore fruit—especially summer-fresh fruit—but I never eat a ton of it at one time because it's so sweet. I guess my lack of sweet tooth extends to naturally-sweetened foods too. And fruit as dessert?
I'd rather have chocolate!
Or fruit and chocolate, like in my Chocolate-Raspberry Frosting.
If given a choice between (vegan) ice cream and sorbet, I'll pick the ice cream every time. Except yesterday… About a week ago, one of my friends cut up a super-huge watermelon and gave me a container to take home. I ate some of it fresh, but was afraid the rest would go bad before I had a chance to finish it all. So I froze it. Then, yesterday afternoon, I made the most delicious sorbet! (You can also turn it into ice cream.)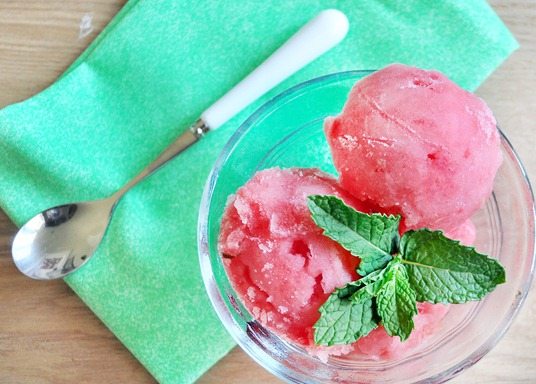 Watermelon Ice Cream
2 cups cubed watermelon, frozen
2 fresh mint leaves (you can omit if you don't have any)
Optional: feel free to add sweetener if you want a sweeter sorbet
Optional: if you don't have a high-powered blender, add a little milk of choice or juice right before blending, so your blender can handle it. The result won't be ice-cream-like, but it'll still be a delicious slushie!
Thaw your watermelon a little, so your blender can handle it. Then blend everything together. I opted for sorbet this time, but if you'd rather have ice cream, simply freeze a little milk of choice along with the watermelon cubes. (For a rich, ice-cream-like consistency, use canned coconut milk.)
For presentation tips, see: How to make it look like ice cream.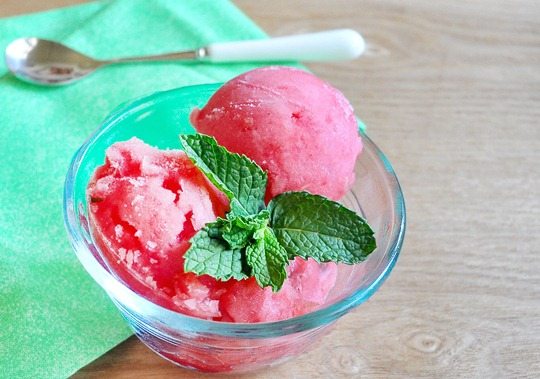 Do you like fruity desserts, such as sorbet?
I love to throw fruit into recipes, such as my Blueberry Pie Pancakes.
I also like it in oatmeal or paired with my vegan whipped cream.  And although I don't often crave fruity desserts, I do eat fresh fruit every day, as part of pre-run breakfast.Watermelon is one of my favorite summer fruits, because it's only good when it is very fresh.