Hi Chocolate Fudgekins!
I don't really know what a fudgekin is. But it sounds yummy.
Breakfast today was incredible. The fudge in the oats created a delicious, gooey mess. If you think "chocolate peanut butter fudge oatmeal" sounds good, I can assure you it tastes even better!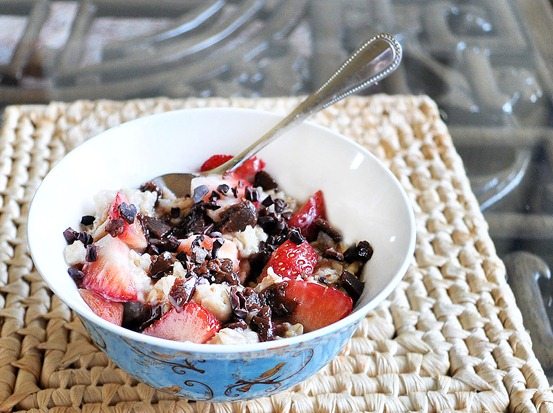 Hot Fudge Oatmeal
Sliced berries
Fudge, such as Chocolate PB Fudge.
Sprinkle of raw cacao nibs
1 serving cooked oats (made with 1/4 tsp salt and 1.5c liquid)
I added the fudge to the cooked oatmeal (that I'd cooked the day before) and microwaved until it melted a little. Then I added the sliced berries and cacao nibs. (You could sub chocolate chip.s) I didn't bother to measure any of the toppings, or the fudge. Just add as much of everything as you want; it's pretty hard to go wrong with this oatmeal.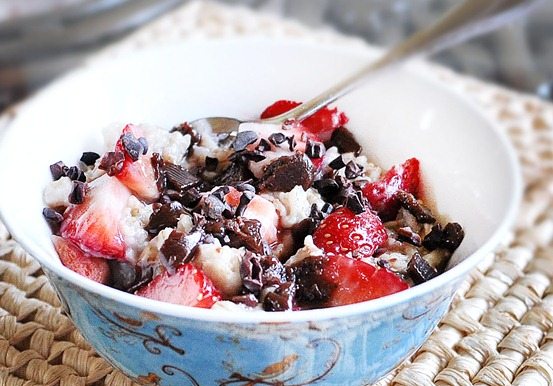 Usually I like to eat cold oatmeal, especially in the summer. But sometimes you have to make an exception. Melted-chocolate-covered strawberries are definitely worthy of an exception.
Chocolate Melty Goodness
Now that I think of it, why have I never put hot fudge sauce on my oatmeal before??? In the next few weeks (and months? And years?) I will have to make up for lost time and eat hot-fudge oatmeal with a vengeance. I'm thinking breakfast, lunch, and dinner. Word.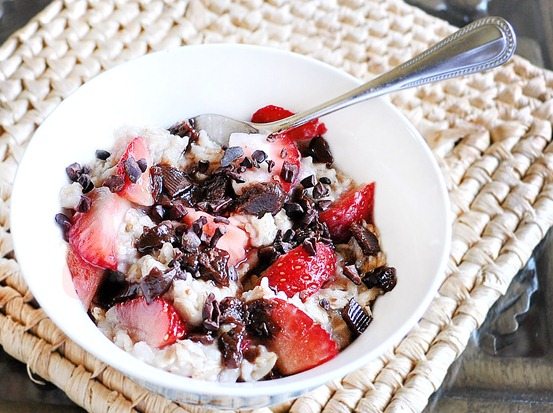 Question of the Day:
What are your favorite things to put into oatmeal?
Nut butters? Berries? Sliced bananas?
One of my favorite recipes: Magic Breakfast Pudding.
See? I don't always eat fancy oats!