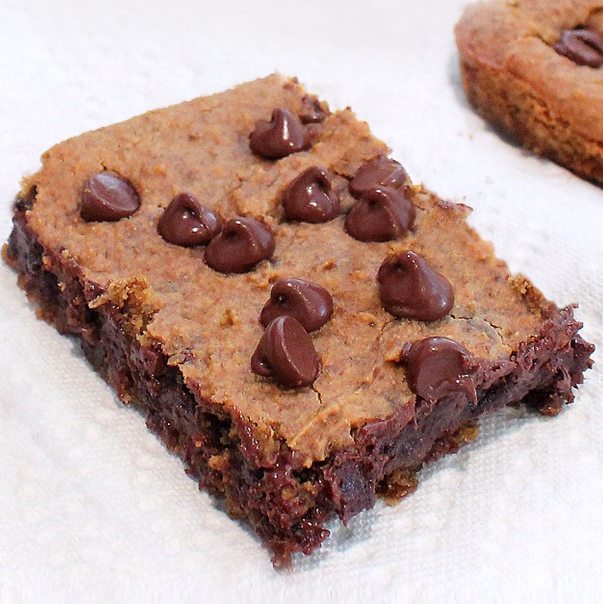 So a blonde walks into a bar. Or in this case, the blonde is the bar! I'd tell you these Chocolate Chip Chickpea Blondies are healthy. But then, if you try them, you will think I am a liar and never believe another word I say. If you taste the chickpea blondies, you won't believe they're healthy!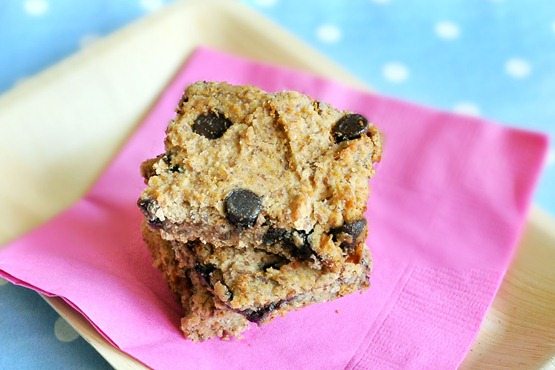 Smart blondes do exist
Low in calories, rich in omega-3s, and gluten-free… These healthy blondies might just be the smartest blondies in the world. A new addition to the archives of Healthy Cookies – Over 100 Healthy Cookies Recipes.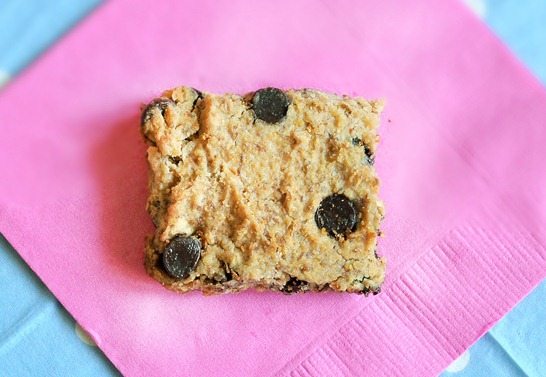 For the past year, I've been seeing "black bean brownie" recipes popping up all over the blogworld. At first, I thought about joining in on the fun. (Edit: I eventually did end up doing a chocolate version. My healthy brownie recipe can be found by clicking on the following post: Black Bean Brownies.)
But I really enjoy putting a different, creative spin on old trends. Hmmm… now how to put a new spin on black bean brownies? The answer was so simple, even a blonde could have thought of it: White Bean Blondies! And they have no eggs and no flour! The resulting chickpea blondies are so moist and fudgey.
Chocolate Chip Chickpea Blondies
Print This Recipe
Ingredients
1 1/2 cups chickpeas or white beans (1 can, drained and rinsed) (250g after draining)
3/4 tsp baking powder
1/8 tsp baking soda
level 1/4 tsp salt
3/4 cup brown sugar or coconut sugar (See note below, for substitutions)
2 tsp vanilla extract
1/4 cup ground flax or quick oats (20g)
1/4 cup peanut butter or allergy-friendly alternative
optional: 1/2 cup chocolate chips (Not "optional" if you're CCK!)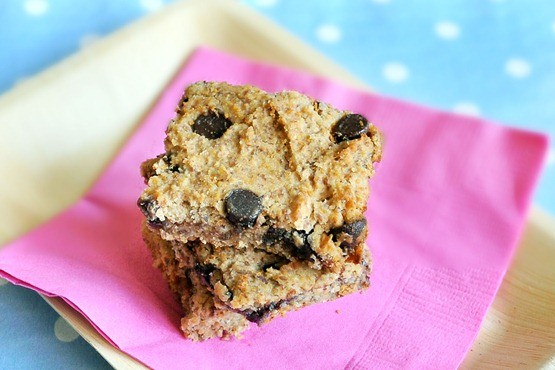 Instructions
Preheat oven to 350 degrees. Blend all ingredients (except chips) until very smooth in a good food processor (not a blender). Mix in chips, and scoop into a greased (or parchment-lined) 8×8 pan. Optional: for "prettiness" you can stick some chocolate chips on top of the batter as well. Bake for around 30 minutes. They'll look a little undercooked when you take them out, but they firm up as they cool, and you don't want them to get hard.
View Chickpea Blondies Nutrition Information
*Sugar note: I also made a batch using stevia, which I thought were delicious! But my friends informed me they tasted like bars of soap. Therefore, I'll keep making the stevia version, but just for myself… a tray of blondies all to oneself is never a bad thing! (Edit: commenters have had success with subbing the sugar with xylitol, evaporated cane juice, or coconut sugar. Please feel free to try any of the ideas people have left in the comment section. However, I can only vouch for the results if you make the recipe as written.)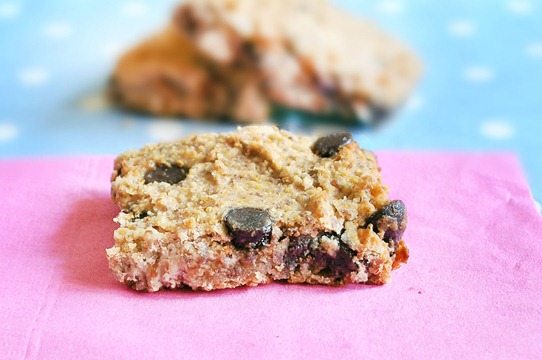 Since the they have garbanzo beans, I could've called them "hummus blondies."
But um, ewww? 😉
Time for a serious discussion…
I have a sneaky suspicion that many so-called "dumb blondes" are not really as dumb as they seem. They just act dumb for attention and because they think guys think it's cute. Sadly, it seems, they're often right. Many guys are intimidated by smart girls and therefore find ditziness attractive.
Look at Jessica Simpson and Paris Hilton. I'd argue these girls are much smarter than their actions convey. Both have played up the dumb-blonde image in order to make names for themselves, and Jessica Simpson even scored contracts with Pizza Hut and Chicken of the Sea as direct results of dumb-blonde moments. (It's not just blondes, either. Think of Snooki!)
Did you know any of these girls in high school? I remember the notorious dumb blonde in my high school once remarking, Wait, wood comes from trees? I thought they made wood in factories!" Yet this girl was in accelerated math and English classes, as well as in the top 10% of the class. Something didn't equate… or did it? After such statements as these, the boys always laughed. This girl was not dumb; she knew airhead remarks such as the above would win her popularity and romance. On the other hand, girls who are studious, eloquent, and assertive are often labeled as nerds (or worse).
Link Of The Day: