This is the best recipe for vegan chocolate chip cookies you will ever find. Soft, chewy, and melt in your mouth delicious, they are everything you could ever want in a chocolate chip cookie recipe!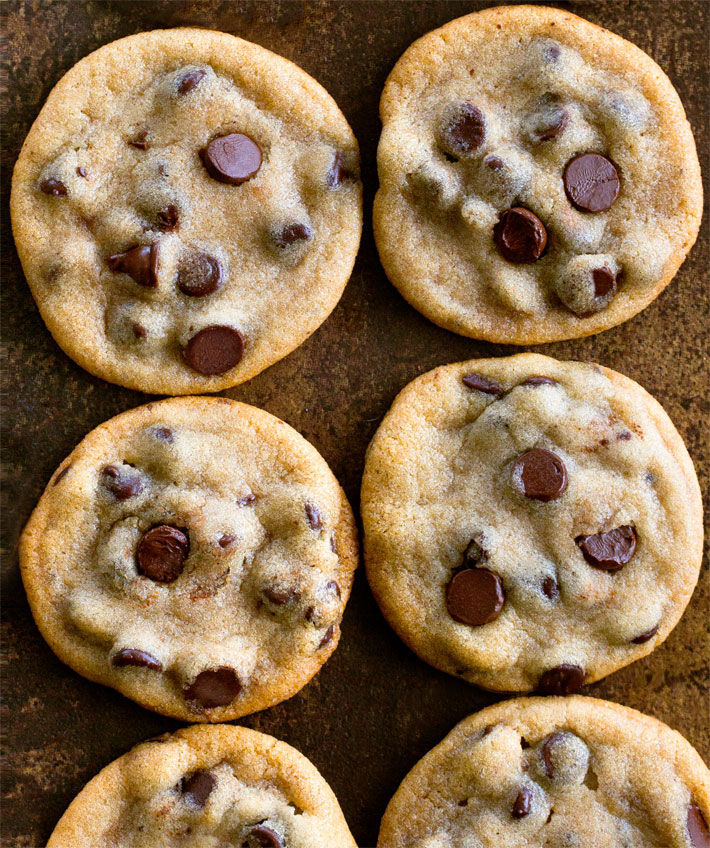 The Best Vegan Chocolate Chip Cookies
No flaxmeal
No chia seeds or egg replacer
Just 9 ingredients
No chickpeas
This is my tried-and-true best vegan chocolate chip cookies recipe that both vegans AND meat eaters love. Try the recipe out on all your friends.
How is it possible that these secretly vegan cookies taste so much like regular traditional chocolate chip cookies? It's because the cookies are made with ONLY traditional chocolate chip cookie ingredients!
You may also like these Vegan Peanut Butter Cookies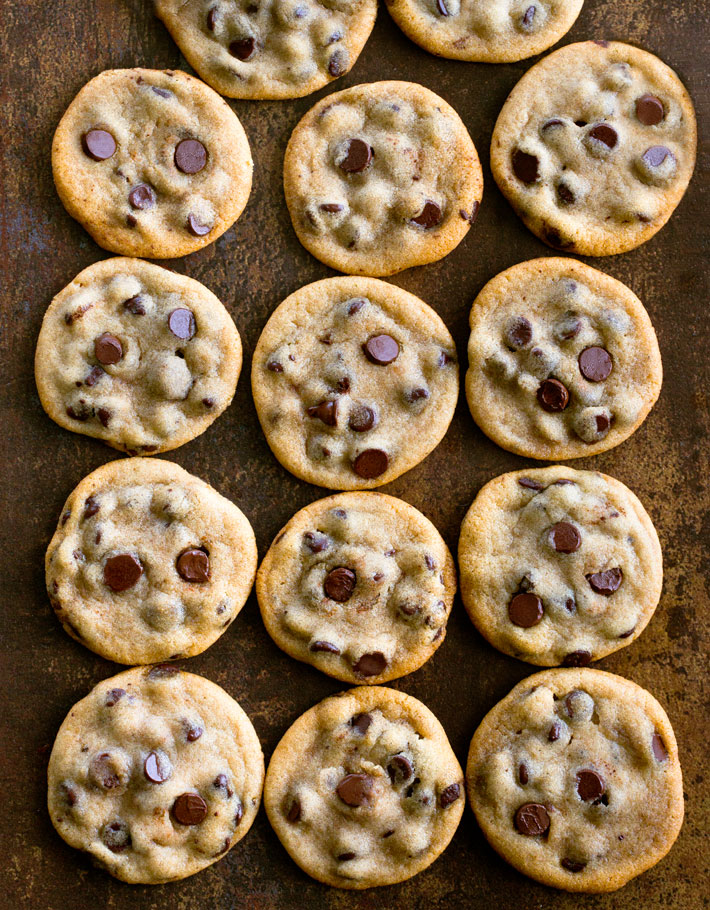 Homemade chocolate chip cookies have been one of my favorite desserts for as long as I can remember.
Give me a choice, and I'll choose chocolate chip cookies over cake or candy any day of the week. Even before I was tall enough to see above the kitchen table, I earned the nickname Cookie Monster.
Any time there were cookies around, I would be sure to find them.
So it makes sense that, upon going vegan, they were one of the very first recipes I veganized, along with these Vegan Pancakes and Vegan Cinnamon Rolls.
No one who tries the recipe can ever believe these soft and classic chocolate chip cookies are actually vegan!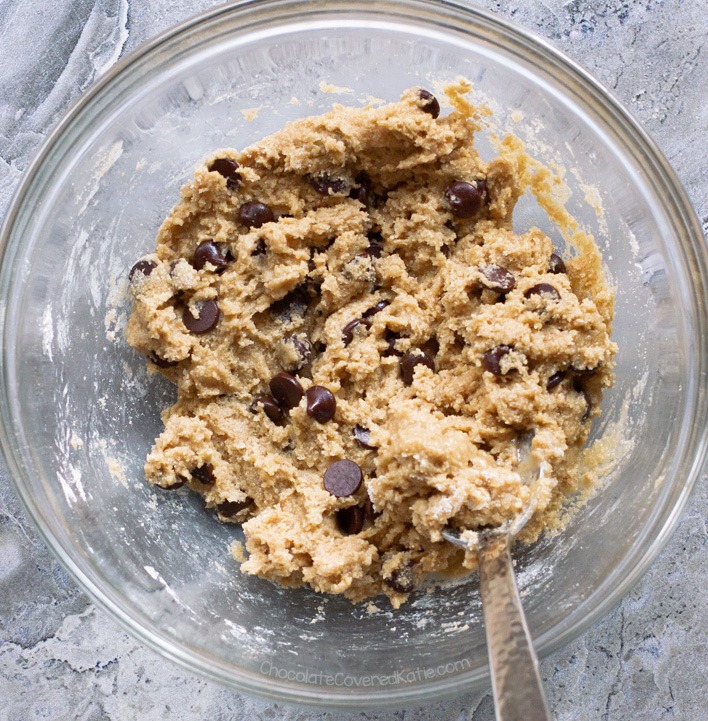 Vegan Chocolate Chip Cookie Ingredients
The one bowl recipe is easy to make using basic ingredients, with no almond flour or applesauce, and no coconut oil required.
For the flour: Try the cookies with spelt flour, oat flour, or regular white all purpose flour. I have not tried using whole wheat flour so can't vouch for that substitution. Be sure to leave a comment with results if you do try.
The fat source: Options that work include sunflower, coconut, or vegetable oil. Or sub a full fat vegan butter spread such as Melt Organic, Miyoko's, or Earth Balance.
For the sweetener: Feel free to experiment with different types of sugar or sugar free alternatives such as xylitol or granulated erythritol.
You can also just use all of one type of sugar instead of two. The resulting cookies might be crunchy or spread more, or they might need more or less time in the oven, but edible baking experiments are the best kind of experiments!
*For keto chocolate chip cookies, try these Keto Cookies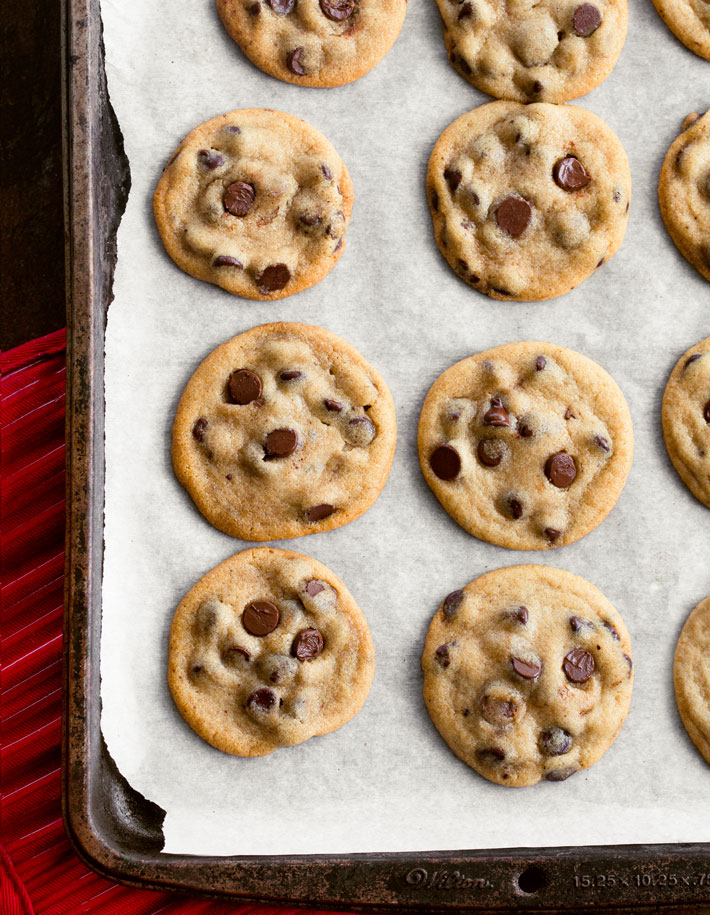 Is Chocolate Vegan?
And are chocolate chips vegan? I'm asked these questions quite often, and thankfully the answer is that yes, chocolate itself is vegan.
While milk is sometimes added, there are many brands—even some generic grocery store brands—of vegan chocolate chips and chocolate bars that are becoming much easier to find.
If you want to seek out vegan chocolate chips at a regular grocery store, the best place to start is the natural food aisle. Most regular grocery stores should have a natural food section. Just ask an employee if you're not sure where it's located.
Look for one of the following brands: Enjoy Life, Simple Truth Organic, Target Simply Balanced, Lily's Sweet Stevia Sweetened, Kirkland semi sweet (Costco brand), Guittard semi sweet or extra dark, Equal Exchange, Scharffen Berger dark chocolate baking chunks, Trader Joe's semi sweet, Sprouts semi sweet, or Pascha.
(Note: Some of these packages say "may contain milk" on the label because the chocolate chips are made in a facility where non-vegan products are also produced.
Most vegans still consider such products to be vegan, but of course it's a personal choice, especially if the reason to avoid milk is due to an allergy. At press time, Enjoy Life and Pascha brands are certified dairy free, gluten free, and soy free.)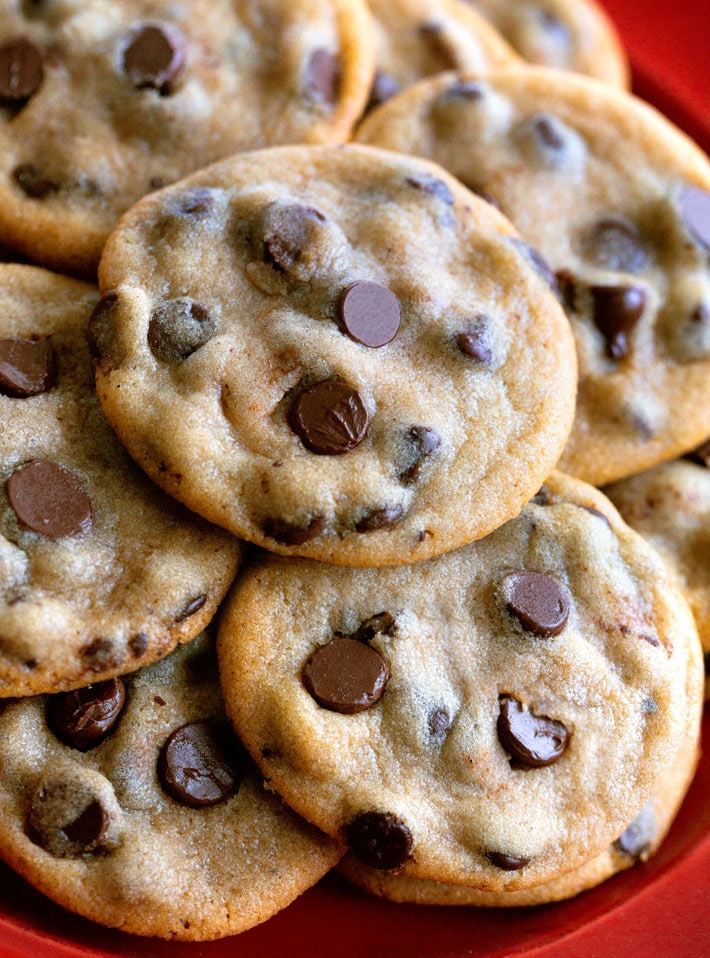 Where Can I Buy Vegan Chocolate?
As mentioned above, you can find vegan chocolate chips at many regular grocery stores. Other good places to look include Whole Foods, local health food stores, Amazon, or iHerb.
Sometimes online stores will offer a lower price. If nothing else, you can always chop up a chocolate bar to make your own chocolate chips!
There are too many vegan chocolate bar options to list them all here, but some of my favorite fair-trade options include Theo, Pacari, Taza, Loving Earth, and Endangered Species brands. And there are so many more.
Trending Now: Overnight Oats – 15 NEW Recipes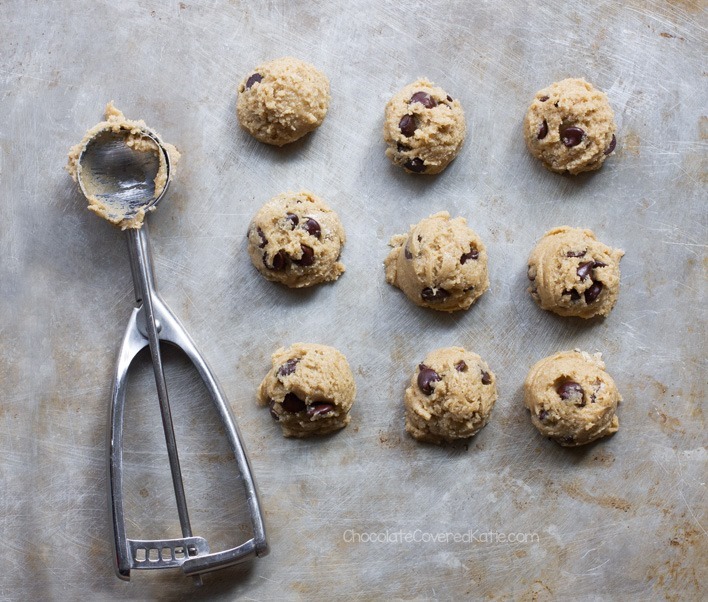 How To Make Chocolate Chip Cookies
Gather all of the cookie ingredients as well as a medium mixing bowl.
Combine the flour, sugar, baking soda, salt, and chocolate chips in the bowl. Stir well.
Add the nondairy milk, oil, and pure vanilla extract. Stir to form a cookie dough. It will be dry at first, so just keep stirring and it will suddenly turn into cookie dough.
Press the dough into one big ball. Refrigerate at least two hours or overnight, or freeze until the dough is cold.
Once chilled, preheat the oven to 325 degrees Fahrenheit. Roll chocolate chip cookie dough balls, and place the balls on a greased cookie tray. Leave enough room between cookies for spreading when they bake.
Cook for eleven minutes on the oven's center rack. The cookies will look underdone when you remove them from the oven. This is what you want, because they continue to firm up considerably as they cool.
Let the chocolate chip cookies cool for at least ten minutes. If for some reason the cookies don't spread enough (climate sometimes interferes), simply press down with a spoon after baking.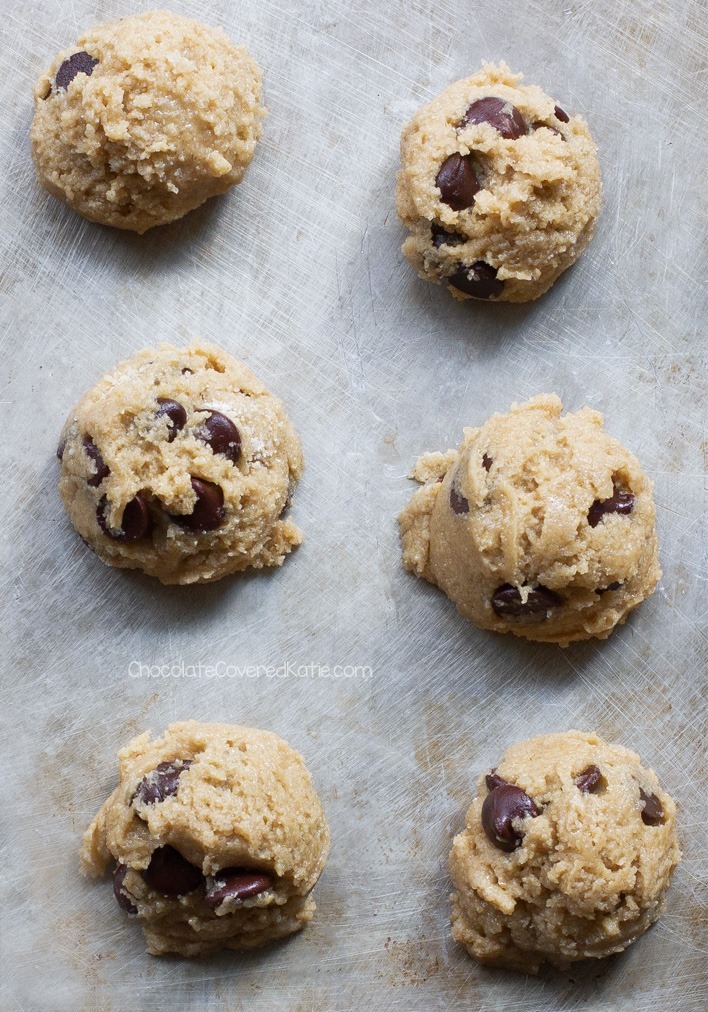 Storage And Baking Tricks
If you'd like to freeze the cookie dough to have on hand whenever a chocolate chip cookie craving hits, roll into balls and freeze in an airtight container for up to three months. When ready to bake, there's no need to thaw the cookie dough first. Just add an additional 1-2 minutes to the cooking time.
For soft chocolate chip cookies, store leftovers in an airtight plastic container, and add about 1/4 slice of bread if you have one, which helps keep the cookies soft. For crispier cookies, store in a glass container. Baked cookies will last for 2-3 days.
I've made these cookies so many times, and climate can definitely affect the shape and texture of the results. But despite not always looking the same, each batch has always tasted ridiculously delicious. I've never made a bad batch yet.
The vegan chocolate chip cookies are great for lunchboxes or parties where someone else is hosting and you need a portable vegan dessert that you can take from point A to B without a mess.
Over one hundred more dairy free and plant based vegan cookie recipes can be found by visiting the following page: Healthy Cookies Recipes
Above, watch the vegan chocolate chip cookie recipe video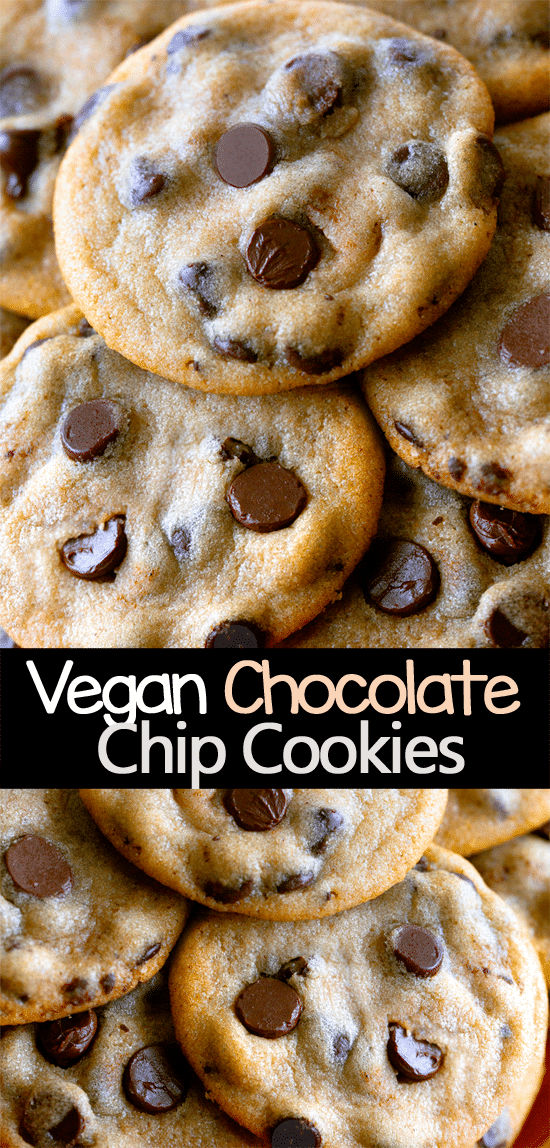 The recipe was adapted from these Healthy Chocolate Chip Cookies.
Vegan Chocolate Chip Cookies
A recipe for how to make the best vegan chocolate chip cookies that non vegans love too!
Ingredients
1

cup

white,

oat, or spelt flour

1/2

tsp

baking soda

1/4

tsp

salt

1/4

cup

sugar,

unrefined if desired (For no sugar, try these Breakfast Cookies)

1/4

cup

brown sugar or coconut sugar

1/3

cup

chocolate chips

2

tbsp

milk of choice,

plus more if needed

2

tbsp

oil or melted vegan butter

1/4

tsp

pure vanilla extract
Instructions
Combine all dry ingredients in a bowl, then stir in wet to form a dough – it will be dry at first, so keep stirring until a cookie-dough texture is achieved. If needed, add 1-2 tbsp extra milk of choice. Form into one big ball, then either refrigerate at least 2 hours or freeze until the dough is cold. Once dough is chilled, preheat oven to 325 F. Form dough balls, and place on a greased baking tray, leaving enough room between cookies for them to spread. Bake 11 minutes on the center rack. They'll look underdone when you take them out. Let them cool on the baking tray 10 minutes before touching, during which time they will firm up. If for whatever reason the cookies don't spread enough (climate can play a huge role), just press down with a spoon after baking. You can also choose to make extra cookie dough balls and freeze them to bake at a later date. I can only vouch for the flours listed, but feel free to experiment!

View Nutrition Facts
Vegan Dessert Recipes