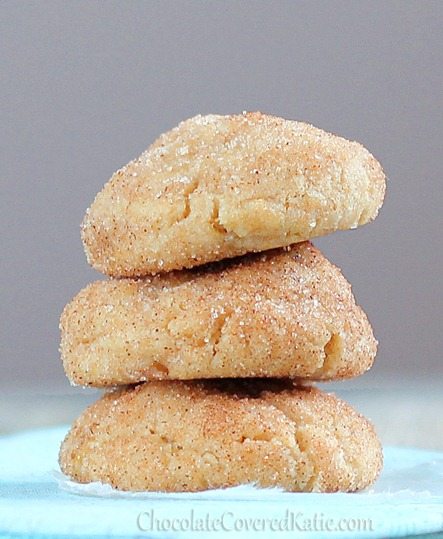 It's time…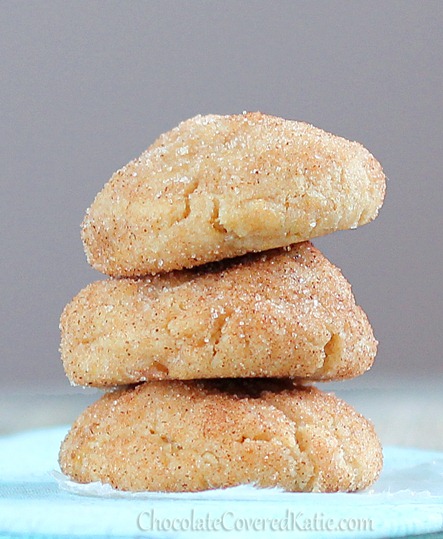 It's time for the holiday-cookie-season contest to commence. The winner is the person who crams the most cookie-baking into this one short month.
Or really… the real winner is the one who eats the most cookies!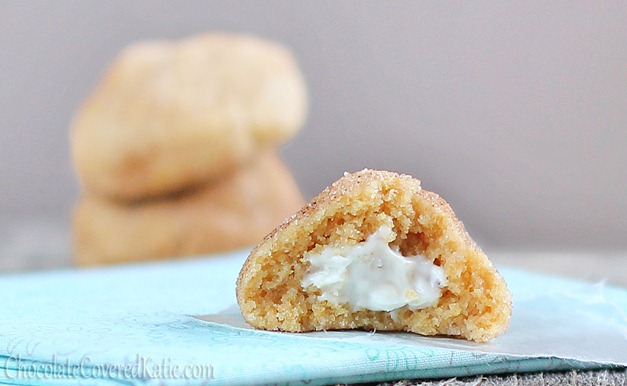 These pillowy sugar cookies are like:
a cinnamon roll
a sugar cookie
and a cream cheese danish… all in one!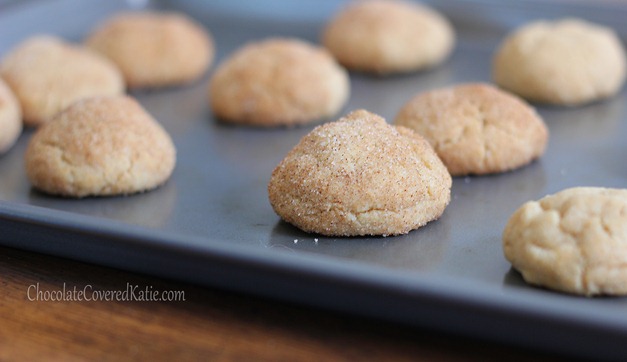 If you haven't started baking cookies this holiday season, why not begin today?
Make up a batch of these pillow-soft sugar cookies to start the holidays off on the right Christmas-stockinged foot. (Or Hanukkah-stockinged, Kwanzaa-stockinged, etc.)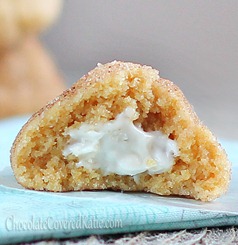 Cinnamon Sugar Pillow Cookies
(makes 11-13 stuffed cookies)
3/4 cup (not packed) whole-wheat pastry flour (or spelt flour, or all-purpose. Readers say you can use a gf all-purpose mix if you add extra liquid so it's not crumbly.) (120g)
1/4 tsp baking powder
1/4 tsp salt
1/4 tsp plus 1/8 tsp baking soda
1/4 cup xylitol or sugar (55g)
1/2 tsp pure vanilla extract
2-4 tsp milk of choice (8-16g)
3 tbsp coconut or vegetable oil (35g)
a bowl of equal parts cinnamon and xylitol or sugar for rolling (Omit if desired.)
filling ingredients listed below
For the filling (which you can omit completely if you want regular, non-stuffed cookies): combine 2 tsp powdered sugar or Sugar-Free Powdered Sugar with 2 tablespoons cream cheese-style spread (I used Tofutti non-hydrogenated, but I'm sure other full-fat brands such as Follow Your Heart or Trader Joes would be fine.) Beat well, then set aside.
In a mixing bowl, combine first five ingredients and stir very well. In a separate bowl, combine all liquid ingredients and stir. Pour wet into dry and stir to form a cookie dough. Smush into a giant ball with your hands (or, as an easier trick: transfer dough to a plastic bag and smush into a ball once the dough is inside the bag). Now roll into 22-26 mini cookie dough balls, then flatten each and divide the filling among only half of the flat discs. Place the other discs on top, cinch the sides, then roll into balls. Roll the balls in the bowl of cinnamon-sugar, place on a baking tray, and chill for at least 30 minutes. (If you desire crispy cookies, you can skip this chilling step.) Preheat oven to 325, and cook 11 minutes- they'll still look a little underdone, but that's okay. Important: allow cookies to cool at least 10 minutes before trying to remove from tray. For step-by-step photos, substitution notes, and troubleshooting, see the nutrition link below:
View Pillow Cookies Nutrition Facts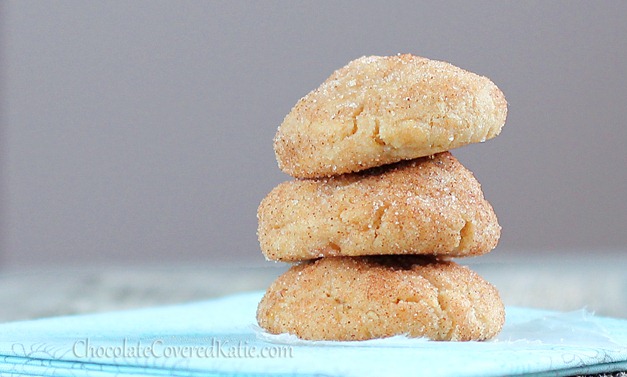 Link Of The Day: