This vegetarian chili recipe is one of my absolute favorites!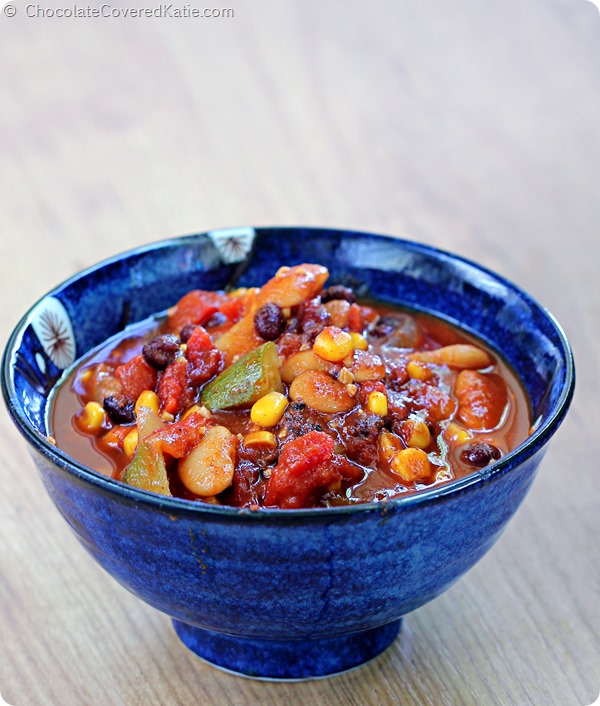 It is a staple dinner in the home of Chocolate-Covered Katie; I find myself relying on it time and again when I want a homemade meal with minimal work required. The vegetarian chili takes just a few minutes to prepare and yields a ton of food!
The recipe also freezes well, and I'll often freeze four full servings (if I have enough room in my freezer!) for an instant meal on those occasions when I've been away from all day and therefore had no time to cook.
For more recipes like this one, see 50 Healthy Meal Ideas – Breakfast, Lunch, And Dinner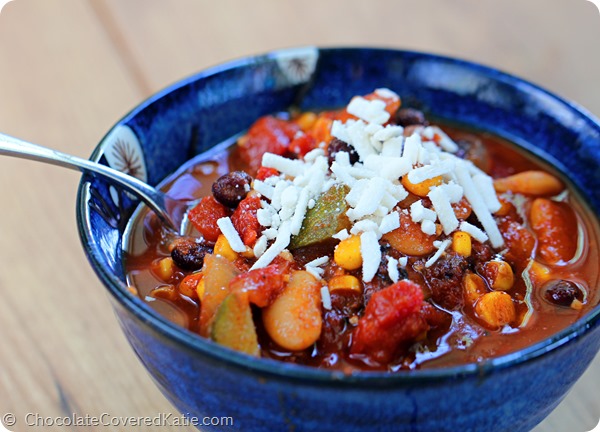 I know it's not dessert…
But hopefully you will forgive me if you make this vegetarian chili recipe for yourself and see how easy and delicious it is. You can also change up the beans or veggies; and the hot sauce can be increased or omitted completely, depending on your tastes.
I highly recommend serving this chili with my recipe for Healthy Corn Muffins if you have a few extra minutes.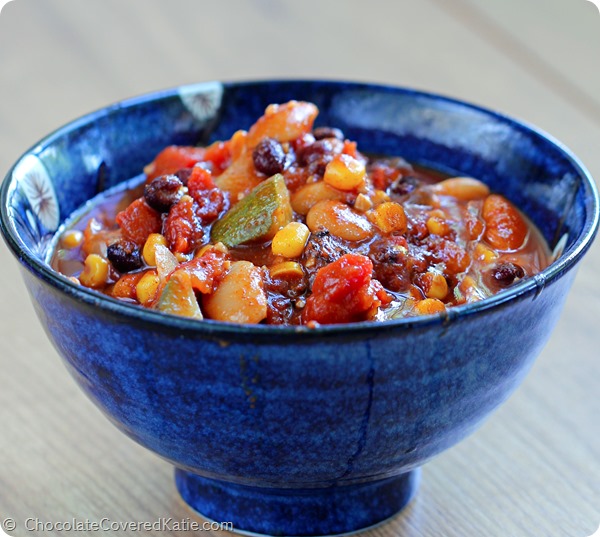 Vegetarian Chili Recipe – Katie Favorite
Vegetarian Chili Recipe
Print This Recipe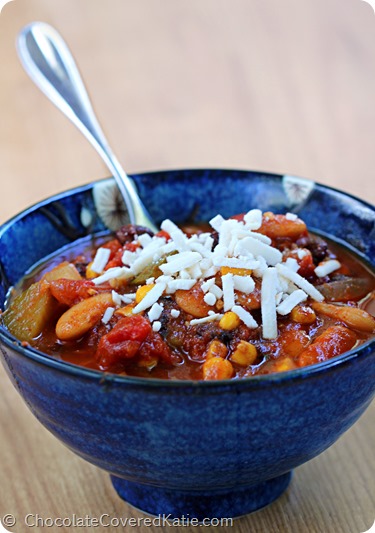 Ingredients
1 large onion, diced
oil or oil spray for sautéing
1 can black beans, drained and rinsed (or 1 1/2 cups cooked beans)
1-2 cans garbanzo beans or beans of choice, drained and rinsed (or 1 1/2 to 3 cups cooked beans)
4 cups vegetable broth
2 1/2 cups fresh or frozen corn
2 14-oz cans fire roasted diced tomatoes (I use Muir Glen)
2 tbsp chili powder
1 tbsp cumin
1 1/2 tsp garlic powder
1 tsp salt
1 tsp oregano
4 medium carrots or zucchini, chopped small
optional, hot sauce to taste (I always add some)
optional garnishes such as sliced avocado, tortilla chips, etc.
Instructions
Vegetarian Chili Recipe: Sauté the onion in oil or spray until translucent. If cooking on the stovetop: add all ingredients to a large pot and cover and bring to a boil. Once boiling, lower to a simmer and cook (covered) about 30 minutes or until the carrots or zucchini are tender. Alternatively, you can add the sautéed onion and all other ingredients to a crock pot and cook on low until vegetables are tender. Add garnishes and hot sauce at the table if desired. This recipe freezes well!
Question of the Day:
What are some of your favorite staple dinner recipes?
As always, please feel free to leave links to your own favorite recipes so that other readers browsing the comments might find inspiration from your blogs.
LINK OF THE DAY: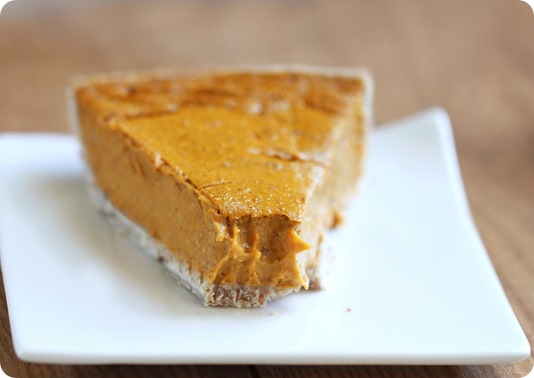 Healthy Pumpkin Pie – Twice as creamy as regular pumpkin pie!