It probably seems weird that I'd want to write more posts while I'm on vacation. But actually, this is easier! These recap posts come together much quicker than my recipe posts, because I'm not doing photoshoots or trying to think up a story to go with the posts; I'm just recapping what happened in my day. 
Fast as a Rabbit
Today's game of Pass or be Passed proved more challenging than yesterday's. I wanted to keep my unbeaten record but met another runner who was playing the same game. I spent about 5 minutes getting up the speed to pass him… and then another 20 or so trying to make sure he didn't re-pass me. (I'm a really competitive runner and hate being passed.)
At one point, after he got close and then I sped away, he yelled out "D*mn it!" That's when I knew I was in trouble because he was racing me. But in the end, we became friends. He thanked me for pushing his pace and told me I have a really good stride. It made my day!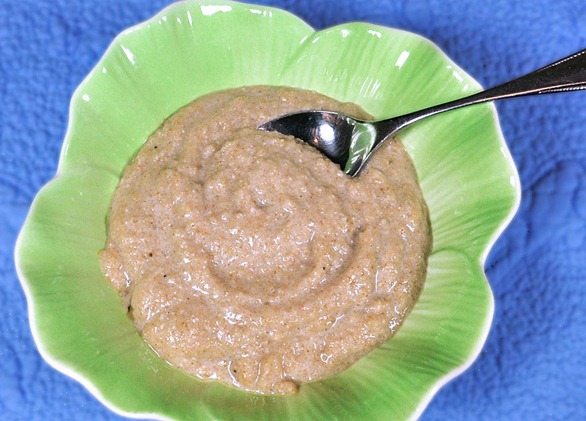 For breakfast, I made Jess and myself Banana Bread in a Bowl.
(Yes, I am the crazy girl who brings her Magic Bullet on vacation. I had room in my suitcase, so I figured, "Why not?") We quickly dressed and caught the subway to Greenwich Village, first stopping at Washington Square Park and the dog park, with its cute cute doggies! We also checked out the chess shops. (Did you know they make a fruit-and-vegetable chess set?!) Soon enough, it was time for lunch.
We walked over to Lifethyme Cafe for Pumpkin Lasagna.
Or, rather, I got pumpkin lasagna. Jessica bought the eggplant parmesan, which doesn't really have any kind of cheese—dairy or vegan. It's just eggplant, carrots, zucchini, tomato sauce, and other such veggies and spices layered in a lasagna: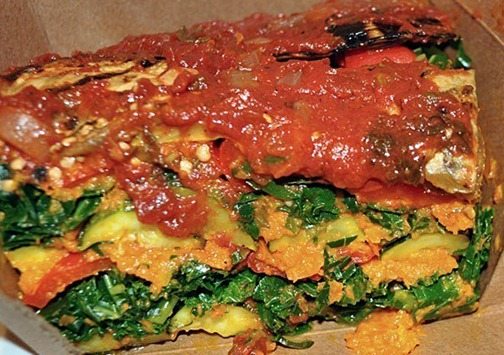 With lunch done, we headed to 30th street and found The High Line, a public park built on an elevated rail structure that goes over NYC.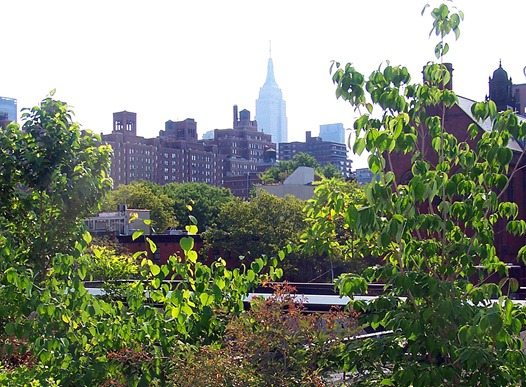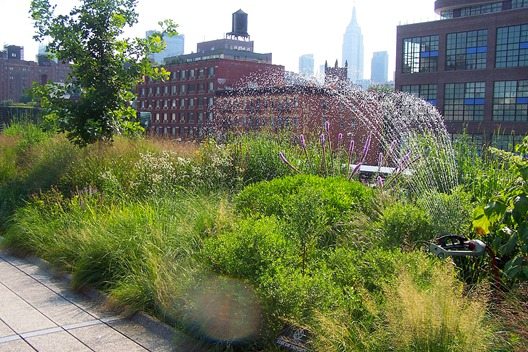 Isn't it gorgeous?? Admiring the beauty made me hungry. And this peaceful retreat was the perfect spot for a snack. Luckily, I'd picked up a little something before we left Lifethyme:
A cookie the size of my head!
Over the years, I've not been too impressed with the taste of Lifethyme's beautiful-looking desserts. However, there were free samples of the Chocolate-Raspberry Tollbooth Cookies sitting on the counter, and as soon as I heard "chocolate raspberry" my greedy hands reached for a taste. (Oh, let's be serious: as soon as I heard the word "chocolate" I wanted a taste!)
The point-and-shoot photo doesn't do these cookies justice at all. They were delicious! I was very stingy and didn't offer Jessica a single crumb of my giant cookie. (It's okay, though. She'd picked up a Crumbs Bake Shop cupcake on our walk.)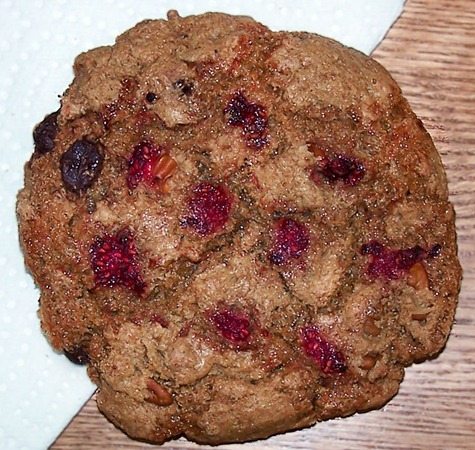 This reminded me of my Healthy Chocolate-Chip Cookies.
If you've tried that recipe of mine, you know I appreciate a little baking-soda kick in my chocolate chip cookies. Lifethyme's cookies have this kick as well. They also are 100% whole-grain and include walnuts and raspberries. I'm definitely adding raspberries to my cookies next time I make them!