I didn't make dessert!
On Sunday evening, we headed over to an Easter party with family friends. My contribution to the party was a savory dish, chosen to ensure there'd be something I could eat for dinner while everyone else gobbled up their ham.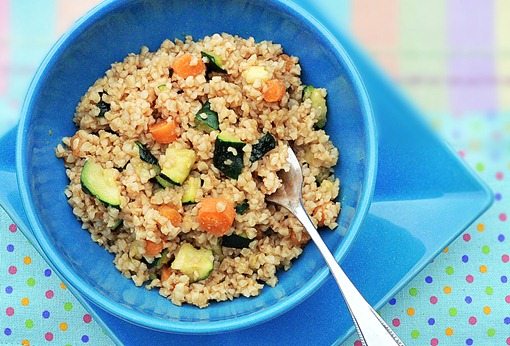 And so I brought my favorite Bug-a-Boo Pilaf.
Most people ate it as a side dish, but I took an extra-large portion for my main course. (I also ate hummus, steamed veggies, and salad brought by others.)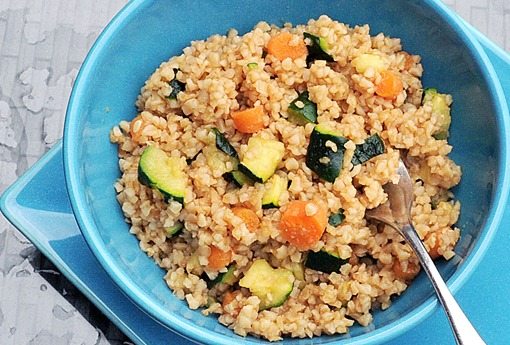 I must remember to use sesame oil more, as I said on Twitter.
Bug-A-Boo Bulgur Pilaf
(Makes four Katie-sized servings… in other words, "Four large servings")
1 cup vegetable stock (I used Imagine No-Chicken Stock)
1 tablespoon soy sauce
1 teaspoon sesame oil
2 1/2 teaspoons fresh, grated ginger
1/2 teaspoon salt
1 zucchini, chopped
5 green onions, cut into about 1-inch pieces (don't use the roots)
2 medium carrots, finely diced
3 cups bok choy or spinach (I've made this recipe twice now, once each way. Both work well.)
1 1/2 tablespoons minced garlic
4 cups cooked bulgur (it works best if you chill this in the fridge for a few hours before using)
In a bowl, combine the first 5 ingredients. Set aside. Preheat a pan or wok over medium-high heat and sauté the carrots and zucchini in your sauté-liquid of choice. Add in about 1/4 of the stock mixture. Stir-fry for 3-5 minutes.
Add the green onions, bok choy (or spinach), garlic, and another 1/4 of the stock mixture, and stir-fry for another 3 minutes. Add the bulgur and the rest of the stock mixture. Stir constantly for about 5 minutes.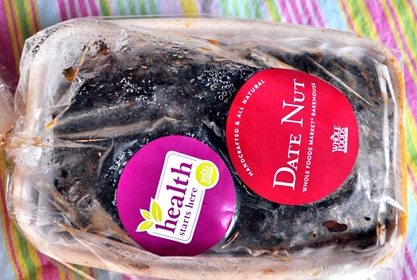 Time for dessert!
Normally I don't buy any of the prepared desserts from my local Whole Foods. In the past, they only offered three vegan items: chocolate chip cookies, chocolate pudding, and chocolate cake. None were made with whole grains, and the chocolate cake tasted dry and boring when I once tried it.
But I always look, just in case something fun and new decides to surprise me. And on my most-recent trip to the store, an item did just that!
Please excuse the ugly photo. It does not do the date-nut bread (or cake, for it tasted more like cake) justice at all. Not only is this loaf made with only whole-grain flour, it's also completely free of added sugar in any form (even agave). Its sweetness comes from bananas and dates. Check out the ingredients.
It tastes delicious—so soft and moist and sweet. I definitely had more than one slice. Now I'm going to have to try and figure out how to replicate this bread… a google search yielded no results. Dear Whole Foods, please share your secret recipe!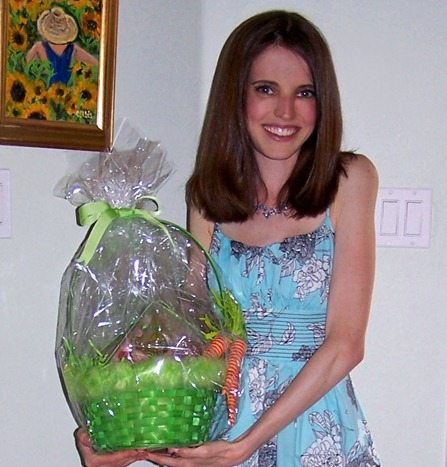 I transported my contributions to the feast—the loaf and pilaf—in an Easter basket.
Speaking of which…
As usual, I'm overwhelmed by all the kind words on yesterday's photos!
I've said it many times before, but I'll say it again: You all are incredible, and you make a girl feel like a million bucks!  (For one thing, you certainly make me feel braver about posting photos of myself on my blog; that's so nerve-wracking for me!) And for those of you with discerning eyes… yes, in yesterday's photo, that is what you think it is, sitting in my basket. Get excited… I know I am!