If you get one thing out of today's post, let it be this:
Eat more chocolate.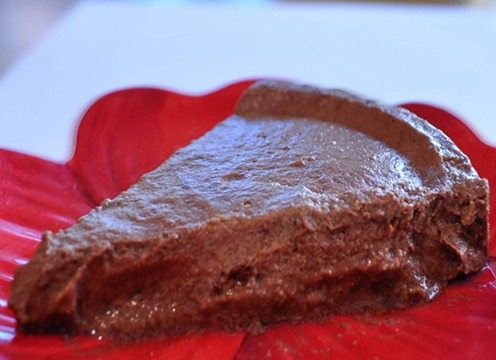 People sometimes say to me, "Katie, you are like the happiest person I've ever met." And it's true: I am a happy person, 9 times out of 10. But I don't always live up to my "happiest girl in the world" reputation. Why exactly does our society tell us it's shameful to feel sad, anyway? Especially in the winter, there are sometimes days where I'm a far cry from my usual happy, energetic self. On these days, I have to drag myself to write a blog post, drag myself to make a meal, drag myself to meet friends or get to class… or even to get out of my pajamas!
Although my symptoms are nowhere near strong enough or frequent enough to qualify me for SAD (Seasonal Affective Disorder), it's still no fun to feel the winter blues. And if I—a normally exuberant, loving-life girl—sometimes feel sluggish and sad, I know I can't be the only one. So I thought I'd put together a list of ways I motivate myself, or cheer myself up, when sadness pays an unexpected visit: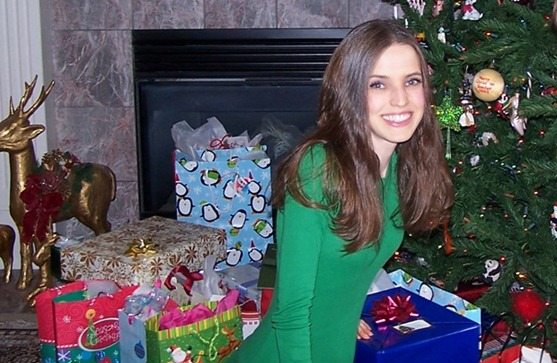 1.   Exercise!
Be sure to keep up with an exercise routine. This is a big one. Some days, when weather.com says "Cloudy and feels like 3, with 28mph winds," I do not want to go outside. But I know that lounging around in my pjs all day, as nice as it sounds in principle, will actually make me feel worse in the long run. So I bundle up and get my butt out there.
If, where you live, winters are way too cold for outdoor activity, consider joining a gym or investing in a workout dvd. It doesn't matter what type of exercise you do, as long as you're doing something.
2.   Eat Healthy Foods
Nutrient deficiencies can cause all kinds of mood issues, so the best way to combat this is to eat a variety of healthy foods, making sure to get the recommended daily veggie servings. As an added bonus, healthy-eating will lower your risk of catching a winter cold. And you won't feel sluggish from too much sugar.  Be sure, however, to eat enough calories, as starving yourself can also make you feel sluggish (and irritable!). Always have a good breakfast:
3. Take a shower in the morning
For me, a lot of the SAD-type symptoms I feel aren't actual sadness, but simply tiredness or lack of energy. Taking a morning shower helps to wake me up. I also feel more energized when I dress up and put on make-up than when I wear sweats and a ponytail. I'm not saying you should feel the need to wear make-up for others, but sometimes dressing up can make you feel good, even if you never leave the house.
4. Get enough Sleep… but not too much
And be sure to stick to a schedule (just like with the exercising, above). In other words, try and go to sleep and get up around the same time each day.
5.   Go Outside
According to some studies, up to 75% of Americans are deficient in Vitamin D, which is scary because this vitamin is also known as the "happiness" vitamin. A deficiency can cause mood swings or depression. The good news is that all you need to do is get about 10 minutes of direct sunlight (without sunscreen) per day.
Also, keep your shade up during the day, and if you live somewhere that doesn't get much sun, think about getting a full spectrum lamp or light box.
6.   Friends with Benefits
On cold, rainy days, it can be seriously tempting to cancel plans with friends, and stay home instead. Resist! My mood is so much brighter when I'm laughing with friends than when I'm lonely at home. If friends aren't available, the radio makes a suitable stand-in. Singing at the top of one's lungs is a must. No embarrassment; you're alone, after all. And don't forget your friendly animal companions. Playing with a pet does wonders for lifting one's spirits. Don't have a pet? Adopt!
7.  Count your Blessings
Sounds cliche, but it really works. Say them out loud if you wish. Or write them down for tangible evidence. Try to make the list as long as you can, and include even little, seemingly-silly things for which you are thankful. Also, volunteer to help others who are less fortunate. It'll highlight just how lucky you are, and you'll feel good helping others.
8. The Real Secret to Happiness
Chocolate!! It tastes good, releases endorphins, and there's now scientific evidence that dark chocolate contains flavonoids and antioxidants… Translation? It's healthy, people! Indulge (in moderation), and feel no guilt. Methinks that's why I'm usually so happy—it's thanks to all the chocolate I consume

.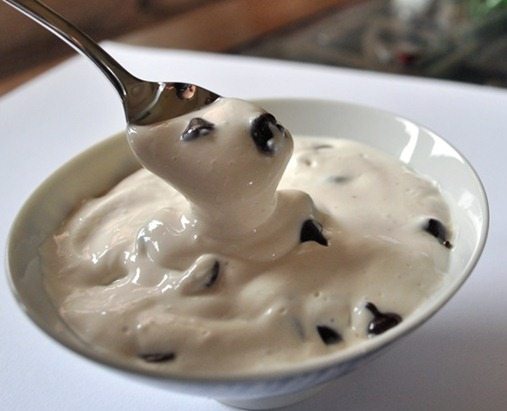 Chocolate Chip Cream Cheese Dip
Question of the Day:
How do YOU chase away the blues?
And why is there such a stigma, in society, against feeling sad? Humans aren't supposed to be happy all the time; it'd be creepily un-normal!