These simple avocado sandwiches are a terrific "no fuss" healthy lunch!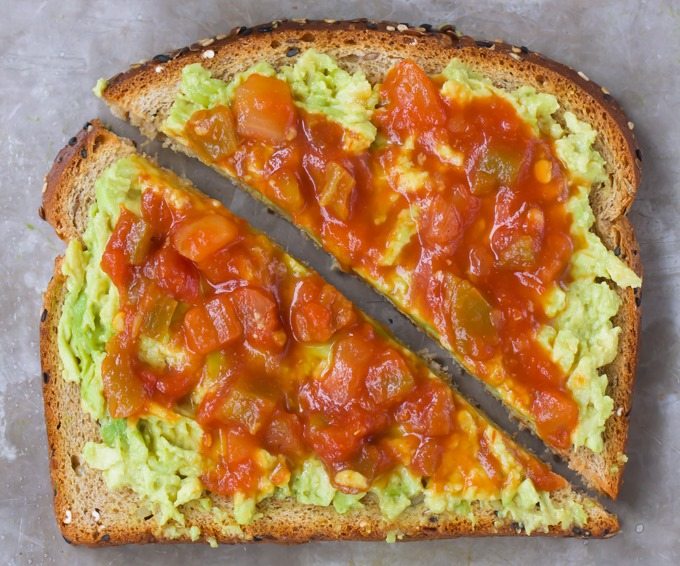 It's no secret how much I love avocado.
You can do so much with an avocado: slice it on top of chili, turn it into guacamole, blend it into Avocado Alfredo Sauce or even Avocado Chocolate Mousse.
Avocados are one of the most versatile ingredients in my kitchen and something I pretty much always have on hand, both for using in recipes and for cutting in half and eating plain. I also like to mash avocado onto toast, add leftover sautéed or grilled vegetables, and eat it for lunch. And if I don't happen to have any leftover vegetables on hand, then I make something even easier: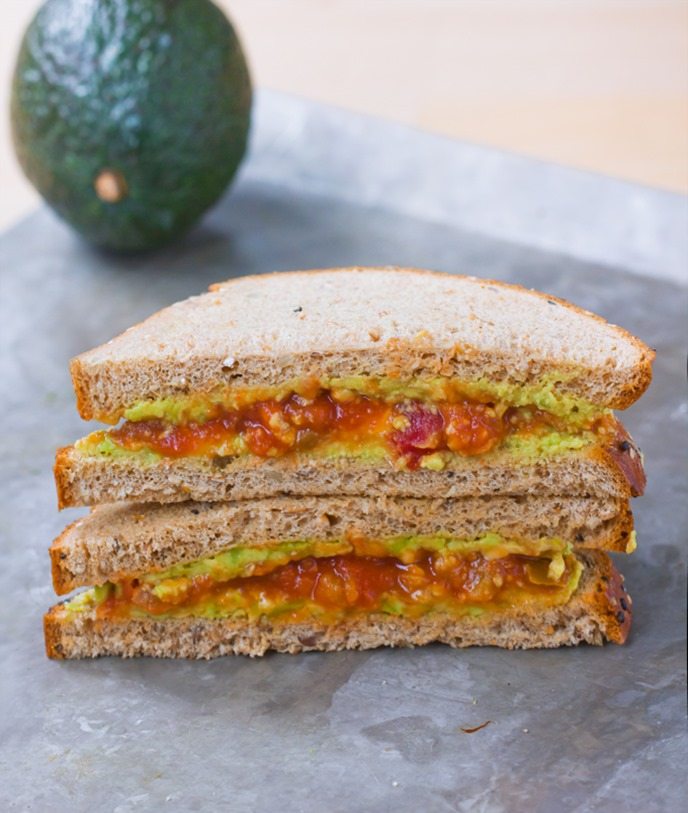 The Monster Avocado Sandwich – Smashed avocado, homemade salsa, and lightly toasted bread.
It could not get much easier, or more tasty and nutritious!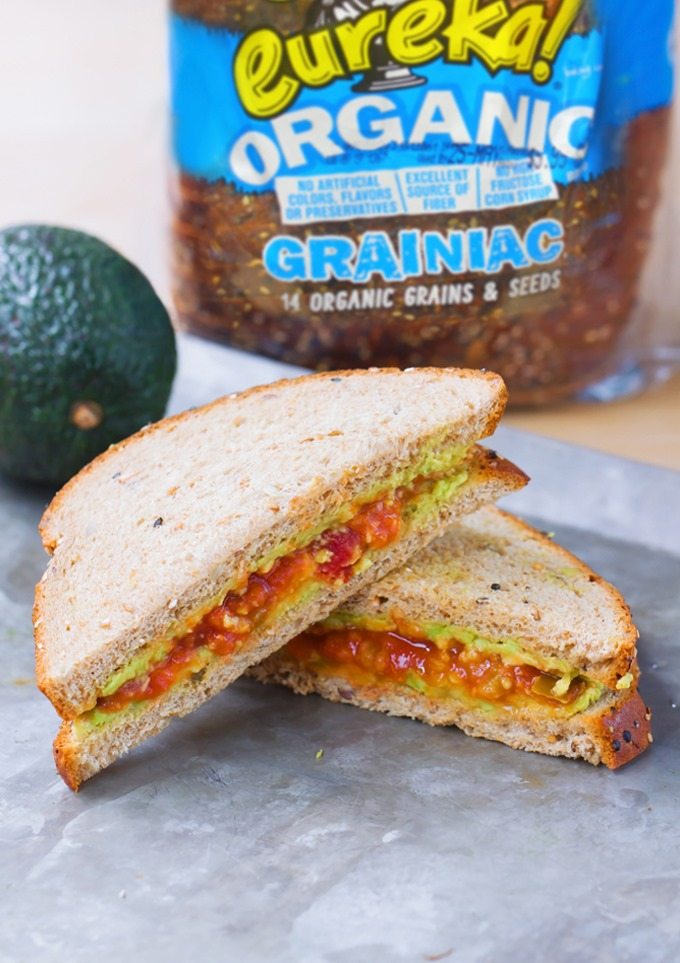 I tried out a new bread this time – eureka!® organic Grainiac bread. It is vegan, certified USDA organic, and it has no high fructose corn syrup, artificial flavors, colors, or preservatives. I'm always really happy to see organic, vegan, and earth-friendly companies in regular grocery stores.
The eureka! motto is very similar to my own; that you don't have to sacrifice taste in order to eat better. As they say, "Don't Be Bland: eating better doesn't have to be boring."
The bread also comes in five other flavors: Seeds the Day, Saaa-Wheat, Smoooooth Wheat, Top Seed, and Sweet Baby Grains… but I went for the Grainiac because of the blue package. All things being equal, I will always go with blue!
(Note: I purchased this bread on my own, and all thoughts and text are my own. Blog post is sponsored by eureka!)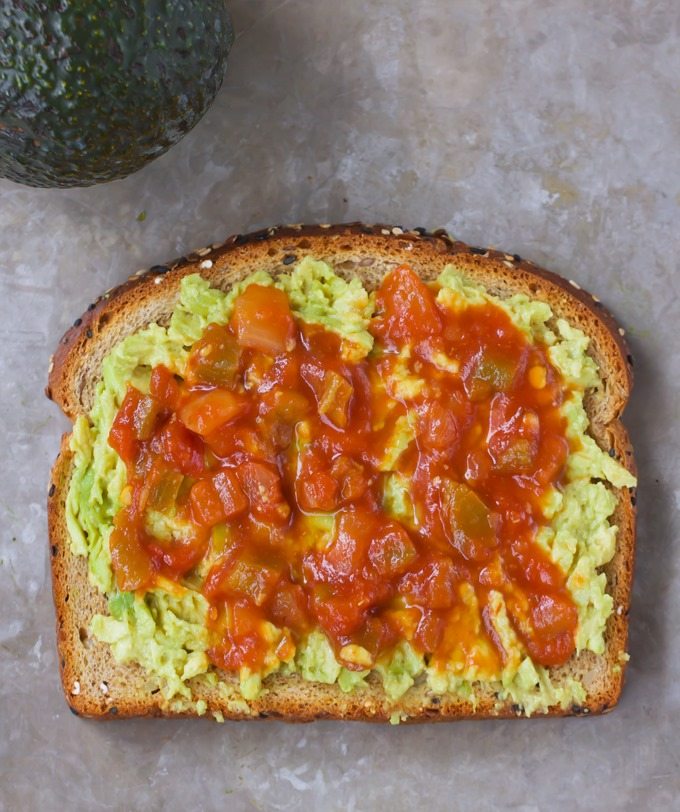 Monster Avocado Sandwiches
15 oz diced fresh or canned tomatoes, no salt added
1/3 cup diced onion
1/4 cup chopped bell pepper
1/4 tsp salt, or to taste
1 1/2 tsp white or cider vinegar
1/4 tsp garlic powder
1 chopped jalapeño, optional
Bread – I like eureka! Organic Bread
Ripe avocados
In a mixing bowl, stir together all ingredients except bread and avocado. Mash the avocado, and spread 3-4 tbsp on one slice of bread (toasted if desired), then spread 3-4 tbsp of the salsa mixture on top of the avocado. Top with a second slice of bread or toast. Repeat for however many sandwiches you wish to make. Store leftover salsa covered in the fridge for 4-5 days, or freeze for up to 2 months.
Link Of The Day: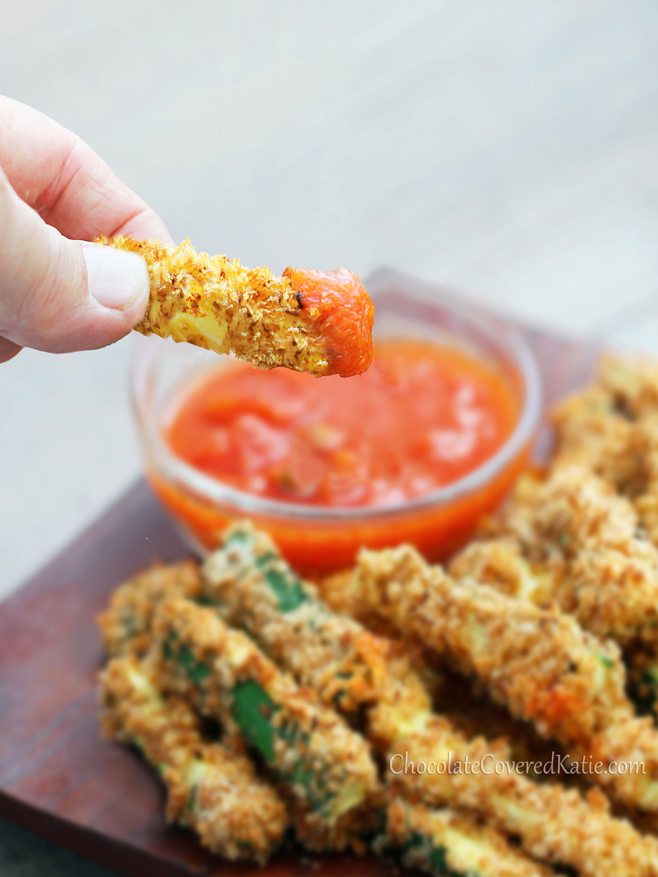 Crispy Healthy Baked Zucchini Fries