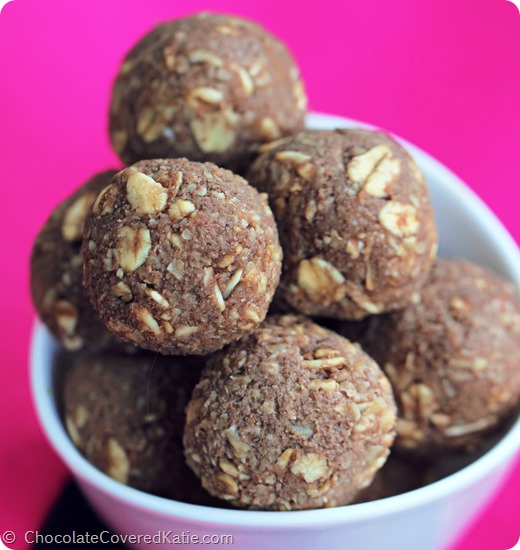 Welcome to the very first… Nutella Week!
A week where every single new recipe published on this website will revolve around Nutella. (I'm using the term Nutella as a proprietary eponym; you can make any of this week's recipes with Justin's Chocolate Hazelnut Butter, Rawmio, or your favorite chocolate spread. I like to use my recipe for Homemade Nutella.)
Technically, if you have a nut allergy, all of the recipes posted during Nutella Week will work with Sunbutter. They'll just have a different flavor.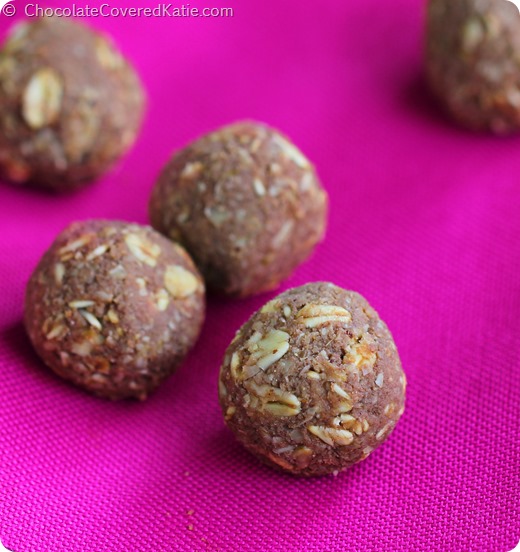 Today's recipe–in classic Chocolate-Covered-Katie fashion—can be made with just 4 ingredients, and no baking is required. The balls are healthy and portable; perfect for road trips, lunch boxes, or afternoon snacking.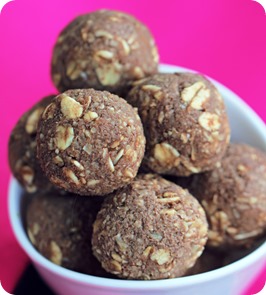 Nutella Cookie Dough Balls
1/4 cup rolled oats, gluten-free if desired (28g)
1/4 cup chocolate hazelnut spread or Homemade Healthy Nutella
1 tbsp oat bran, gluten-free if desired (8g)
pinch stevia, OR 2 tsp pure maple syrup
handful mini chocolate chips or chia seeds, optional
Stir all dry ingredients together in a cereal bowl. Add remaining ingredients and stir, then slowly add up to 1 tbsp water or coconut oil until a thick dough forms. Break off pieces of dough and roll into balls. Store leftovers in the fridge or freezer for freshness.  Makes a small batch (10 if made the size of the ones in the photos), so feel free to double the recipe if desired.
Click for: Nutella Cookie Dough Balls Calories & Nutrition Facts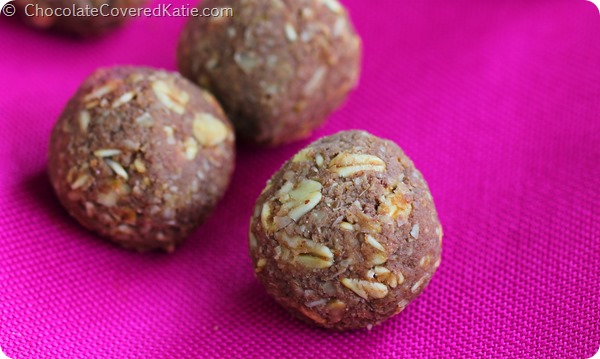 Question of the Day: Do you have a favorite portable snack?
Some of mine include fudge babies, peanut butter cookie dough cookies, or chocolate Jocalat bars. If you're in need of some no-bake and portable snack ideas, feel free to check out the following post: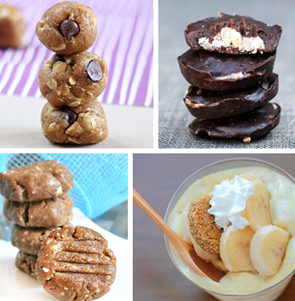 Healthy Snack Recipes – over 50 healthy and portable recipes you can take on the go!