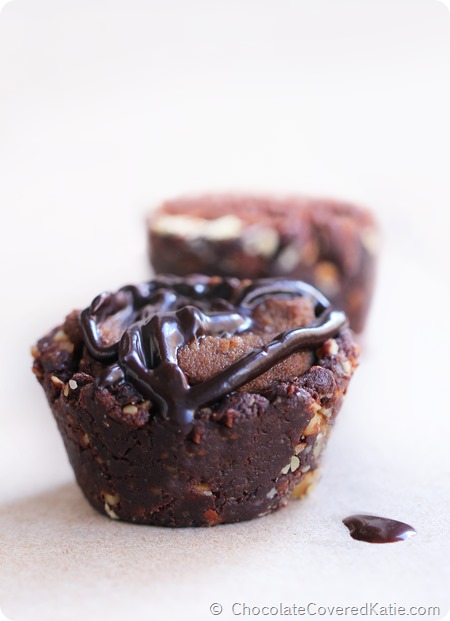 Today, I am channeling my dark side.
Blame it on an orthopedist appointment yesterday afternoon that sent me home with a creepy black cast reminiscent of Darth Vader's arm: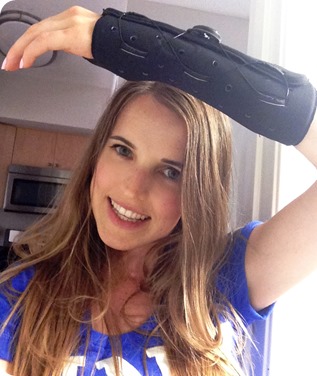 Might as well embrace the theme. 😕
To match my dark cast and evil mood, I whipped up a batch of dark chocolate mini tart shells stuffed with homemade dark chocolate Nutella and topped with healthy chocolate sauce.
On second thought, whipped up makes this process sound too easy. Everything takes me twice as long with only one working hand, and simple things like opening a jar of peanut butter or cutting up a red pepper (not to mention taking pictures, editing photos, and writing blog posts!) are suddenly very difficult, often leaving me frustrated and tired.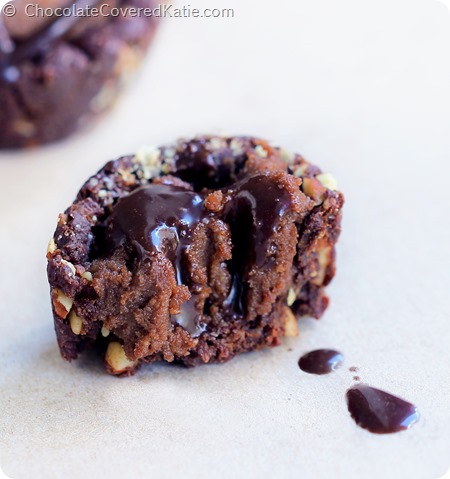 But these little chocolate stuffed tarts are worth the effort. And if you happen to have two hands with which to make them, they should be an absolute cinch to prepare. All you really need to do is throw a bunch of ingredients into the food processor.
The dark side never tasted so good.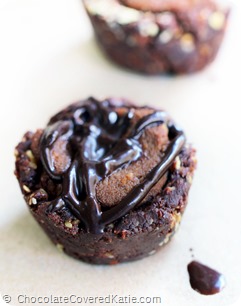 Nutella Stuffed Mini Tarts
(Can be raw and gluten-free)
1/2 cup chocolate hazelnut spread or Healthy Nutella (120g)
1 banana OR 1/2 cup more chocolate hazelnut spread (120g)
1 cup raw almonds (120g)
1/3 cup raw walnuts (30g)
1 cup pitted dates (115g) (about 15 small dates)
1/3 cup cocoa or cacao powder (28g)
1/8 tsp salt
1-2 tbsp water
Combine the almonds, walnuts, dates, cocoa powder, and salt in a high-quality food processor. (Using a blender or vita-mix may yield sticky results, but you can try.) Process until mixture turns to small crumbles. Add no more than 2 tbsp water to achieve a slightly-sticky dough, then process again until the mixture sticks together in a big ball. Break off pieces of the dough with your hands and mold along the edges of mini muffin cups or mini tart molds, pressing down in the middle so a cup shape forms. Freeze 20 minutes. If using the banana, blend it with the Nutella. Fill the tarts just before serving. Makes around 20-21 filled tarts. (For 100%-raw tarts, be sure to use a raw chocolate-hazelnut spread.)
Click for: Chocolate Nutella Stuffed Mini Tarts Nutrition Facts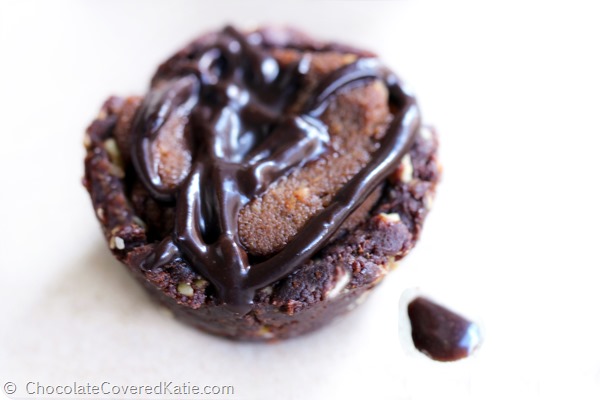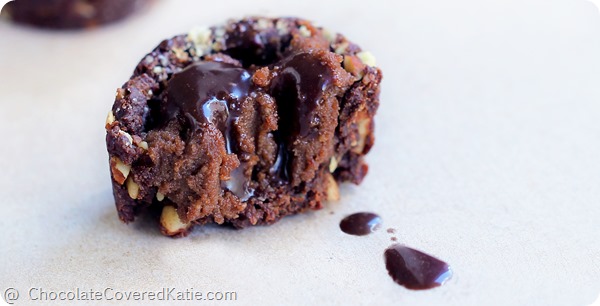 Apparently this is my punishment for coveting my little sister's rainbow and hot pink teddy bear cast when I was nine years old. Some people have all the luck…
Link of the Day: Triple Chocolate Nutella Fudge – can be made in 5 minutes or less