Easy homemade sugar free chocolate chips that can be keto and vegan, with NO artificial sweeteners!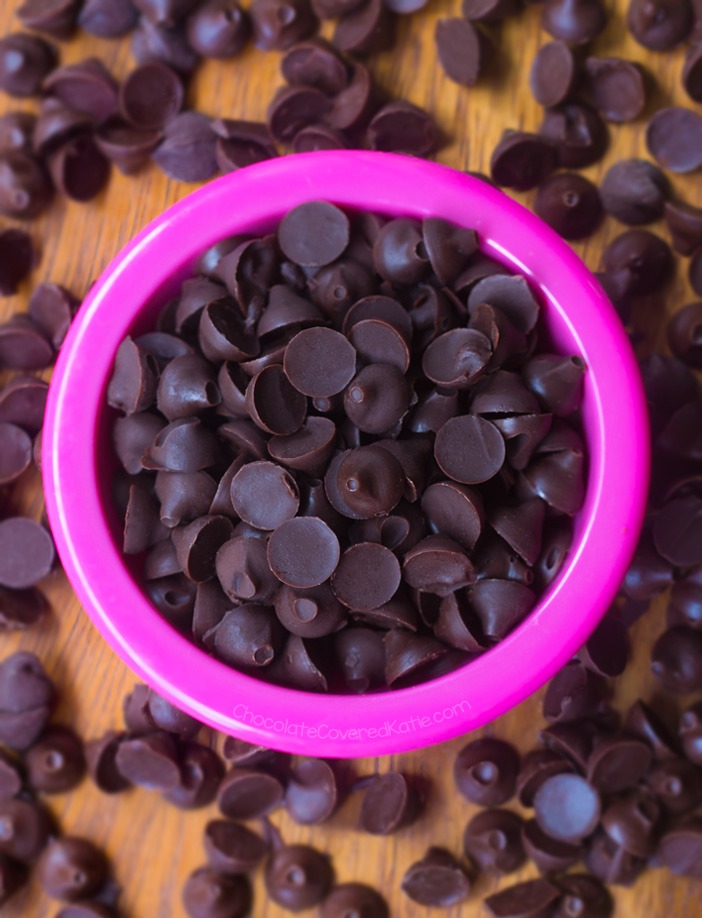 How To Make Sugar Free Chocolate Chips
You can use these chocolate chips for baking, or simply eat them by the handful.
The entire recipe takes just five minutes to make, and they're perfect for anyone trying to avoid dairy or artificial ingredients, or just if you want to avoid sugar in general.
Try them in this easy chocolate Keto Mug Cake Recipe or in these Keto Brownies!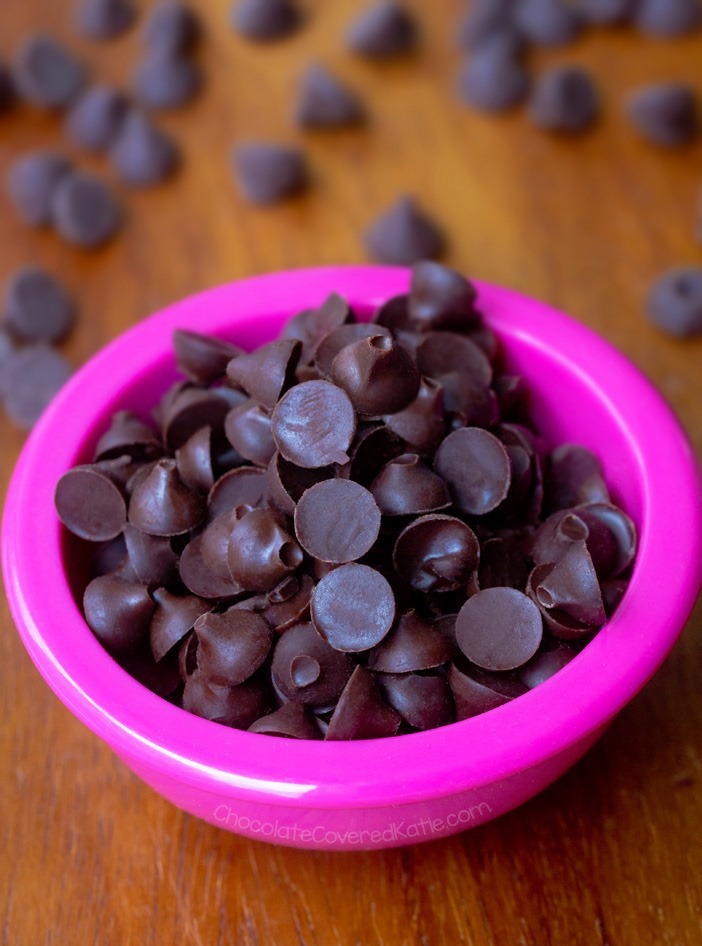 There are two versions of the recipe – raw chocolate chips and a version that's good for baking.
And while brands such as Lily's sugar free chocolate chips do exist on the market, making your own at home not only saves money, it also enables you to control what ingredients to use.
Lily's chips contain soy, and many other brands contain dairy and artificial ingredients, so if you want to avoid those ingredients as well as sugar, making your own sugar free chocolate chips recipe is the way to go. I've also included an option below for making the chips with maple syrup or agave if you want refined sugar free and vegan chocolate chips.
Before publishing this recipe, I had the very difficult task of testing out every single version, to make sure each variation worked. Imagine being forced to eat all that chocolate.
Seriously, I love my full time job.
Next time someone asks me what I do for a living, I'm going to tell them I eat chocolate chips.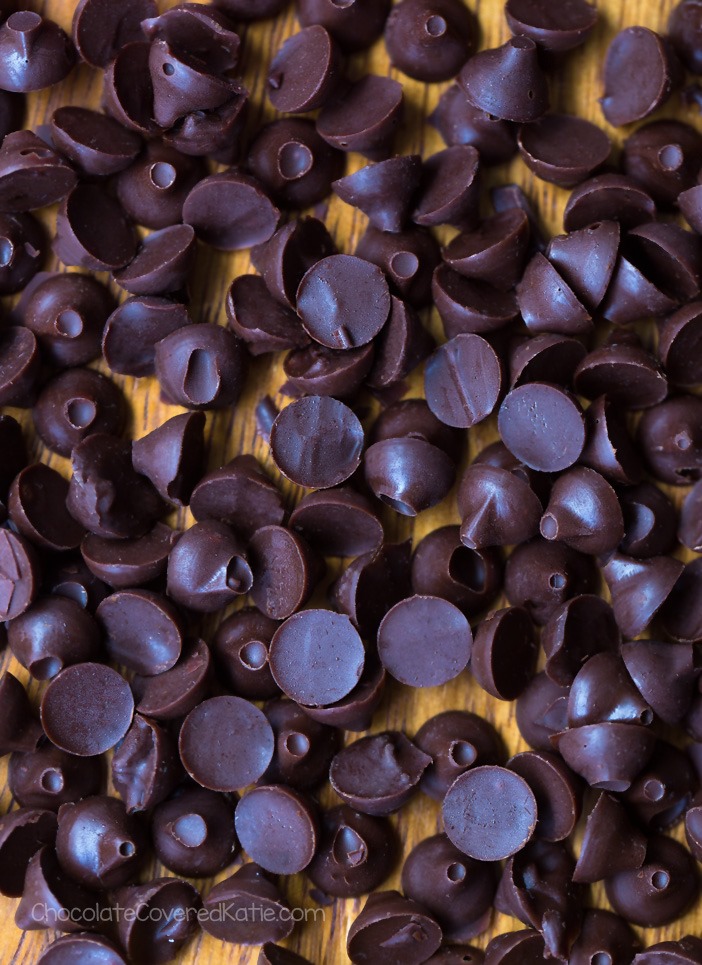 Homemade Chocolate Chips
Vegan
Raw
Paleo
Keto
Low Carb
No Bake
Gluten Free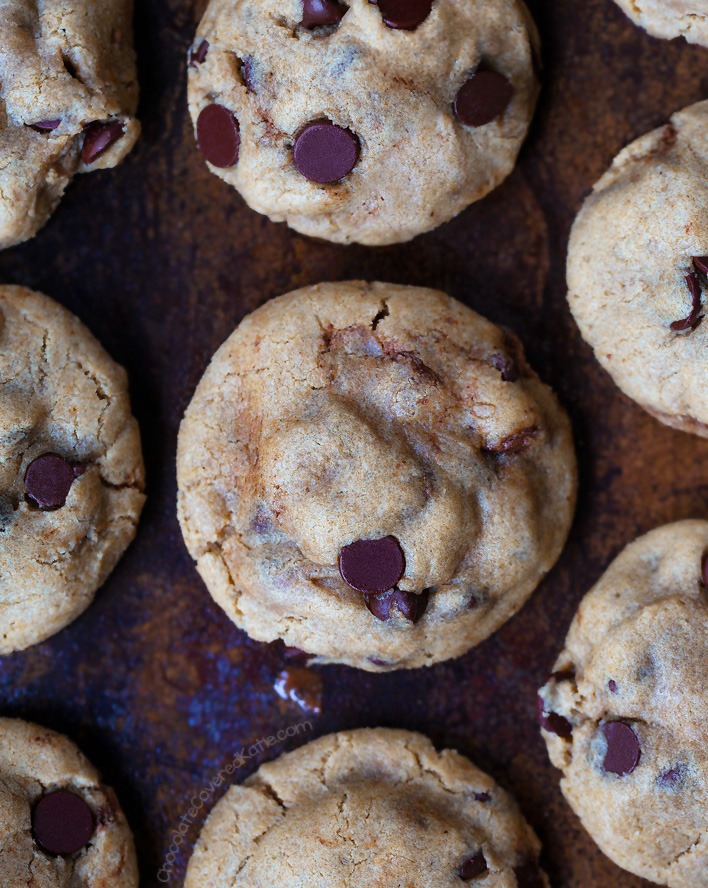 You can totally use these dairy free chocolate chips to make chocolate chip cookies, as shown in the recipe I've linked above.
Or throw some into your brownie batter, stir a handful into ice cream, sprinkle on top of a frosted chocolate cake, or stuff them into cupcakes.
Chocolate chips are like the little black dress of the food world, and I can't think of very many desserts where a few of these babies wouldn't be a welcome addition.
Just be sure not to eat them all right out of the container, so you'll still have some left to use in recipes!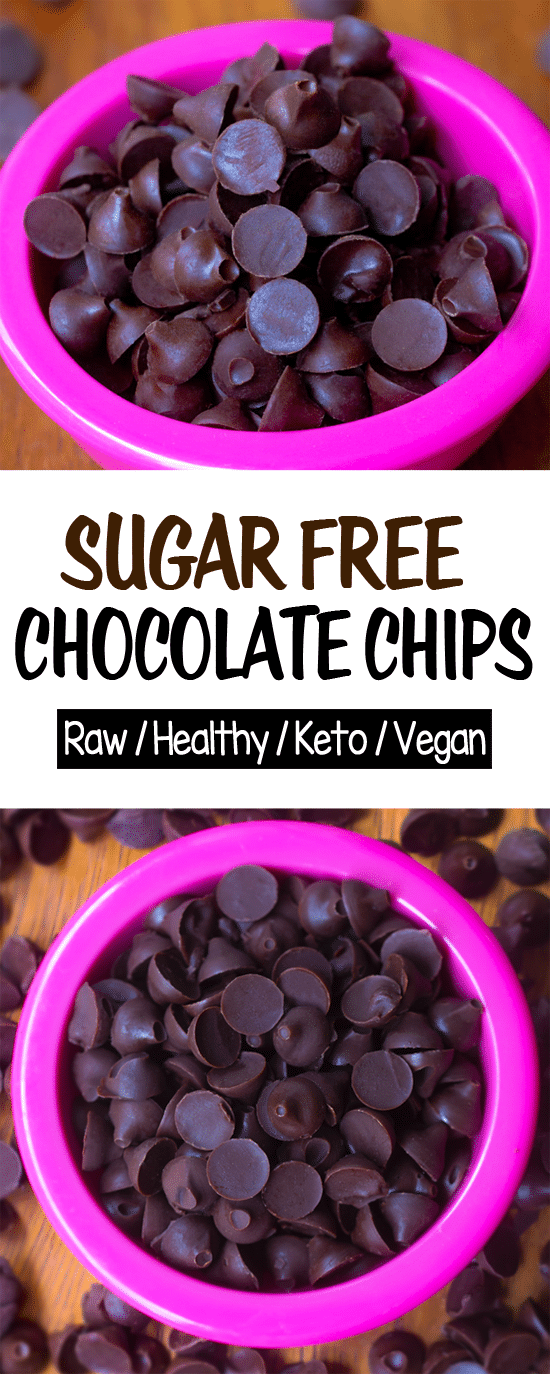 Sugar Free Chocolate Chips
These easy homemade sugar free chocolate chips can be keto and vegan!
Yield
1
recipe – yield depends on shape
Ingredients
4

tbsp

virgin coconut oil

1/3

cup

cocoa or cacao powder

vanilla stevia to taste OR 1/4 cup raw agave,

honey, or pure maple syrup
Instructions
*Any parchment-lined container works here. To get the classic chocolate chip shape, I used a Chocolate Chip Candy Mold.

Gently melt the oil if not already liquid. Stir in the sweetener. Stir in the cocoa. If using the stevia, add a little extra melted coconut oil if the mixture is too thick. Pour into a parchment-lined tupperware container or candy molds. Freeze util firm. Break into small chip-sized pieces, or pop out of the candy molds. Store in the freezer.

Sugar Free Chocolate Chips For Baking:

While the above raw version is fantastic for using in no-bake treats or eating by the handful, if you want a version that you can bake with or that has the option of being oil-free, simply melt a bar of unsweetened chocolate and sweeten to taste with your favorite sweetener of choice. You can add a tsp oil for smoother results, but it's not required. Pour into a parchment-lined container or candy molds, and freeze until firm. Then break into small pieces or pop out of the molds. This version needs no refrigeration and can be used anywhere you'd use store-bought chocolate chips.

View Nutrition Facts
Popular Healthy Recipes This Week: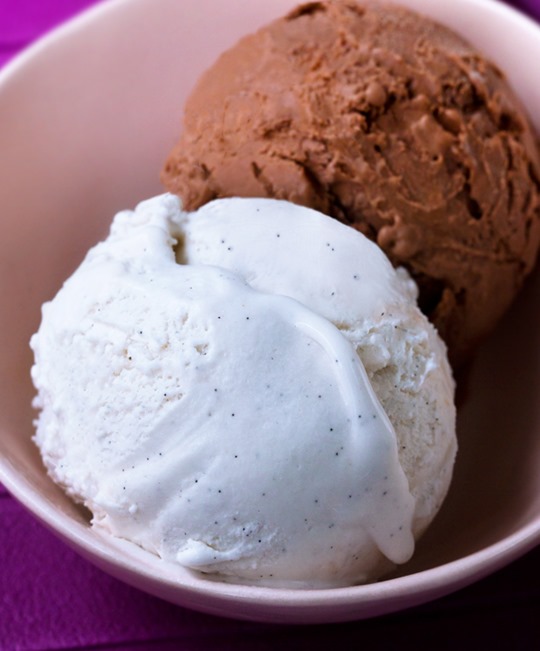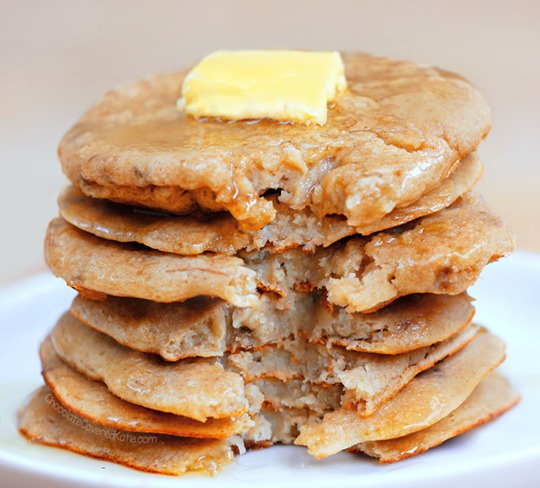 Flourless Pancakes – Just 3 Ingredients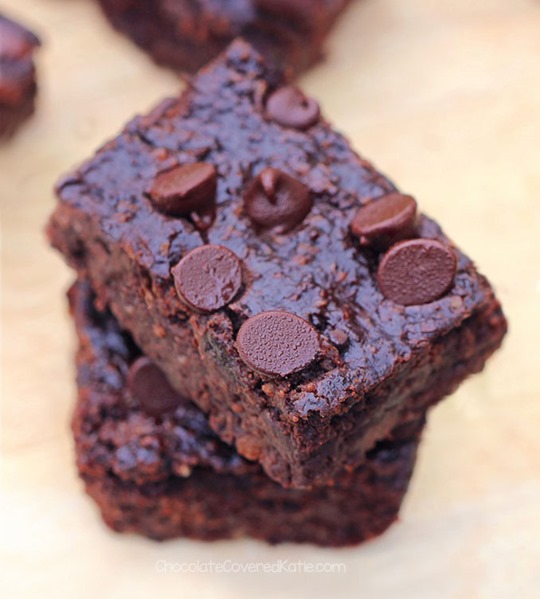 *This post contains Amazon affiliate links. All proceeds from affiliate links on my site will always go to charity.