Dallas has a raw restaurant—who knew? Although I discovered this fact a few months ago, it took me until yesterday to actually get over to Bliss Raw Cafe.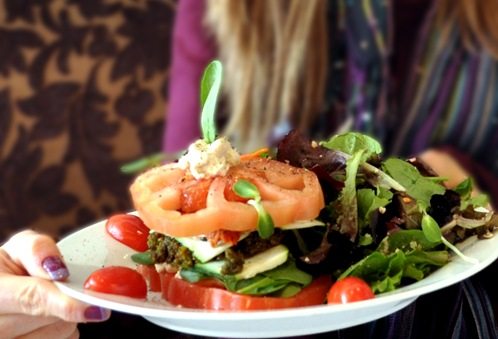 Last summer, I ate amazing Vegan Pumpkin Lasagna.
That lasagna came to mind as I perused Bliss' menu and saw "Rawsagna," with the following description: Slices of zucchini and heirloom tomato layered with basil pistachio pesto, sun dried tomato sauce, pignoli ricotta cheeze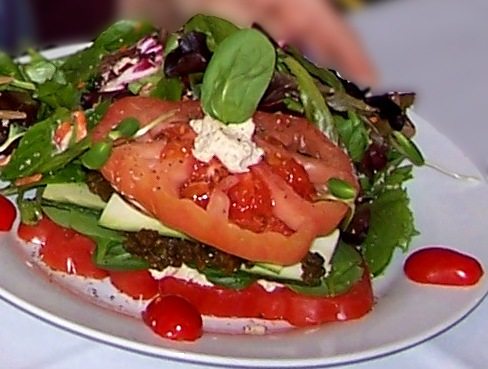 Much of the menu sounded appealing: Primavera Bowl, Margarita Pizza, Coconut-Kale Enchiladas… but my imagination kept returning to the Vegan Pumpkin Lasagna from this summer. So I went with the Rawsagna. Good decision!
Aside from the fresh zucchini and side salad, my favorite part of this dish was most definitely the basil-pistachio pesto. Oh no wait, did I say definitely? I take it back: the best part might've been the sundried tomato sauce. And the cherry tomatoes were the sweetest I've ever eaten. The cashew cheese was a bit boring, but maybe that's just because my tastebuds were busy being dazzled by the sumptuous pesto.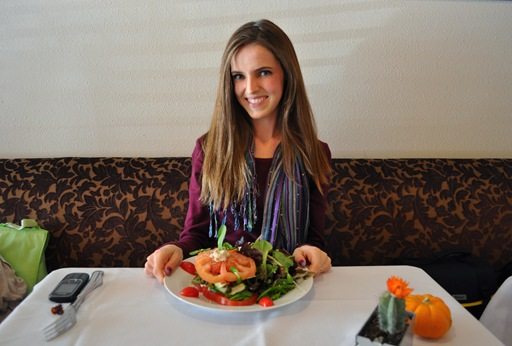 I'm already planning a return trip. After all, there are coconut-kale enchiladas in need of trying!
P.S. My dining partner—Friend #1 from here–opted for the Pad Thai (which I thought was just okay; kinda bland). But I didn't ask to take a photo of her meal; I felt awkward enough photographing my food in the company of a non-food-blogger!
Do you feel awkward taking food photos in public?
Does your family "get" it? Do your friends?