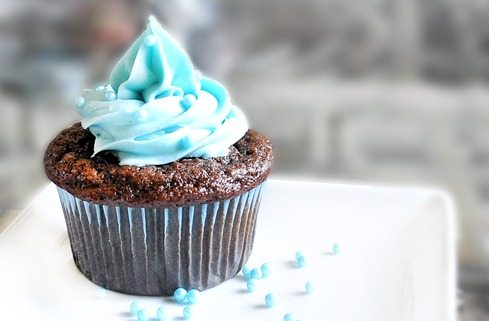 People love Red Velvet.
But why does it have to only be red velvet? What about green velvet, purple velvet, or—dare I say it—blue velvet? When I was asked to make cupcakes for a boy baby shower, I figured it was the perfect opportunity to try my hand at blue velvet cupcakes. However, two problems existed: One, I wanted the cupcakes to be natural (no blue food coloring). And two, I didn't have a healthy chocolate cupcake recipe!
EDIT: There is finally now also a  Healthy Red Velvet Cupcake Recipe.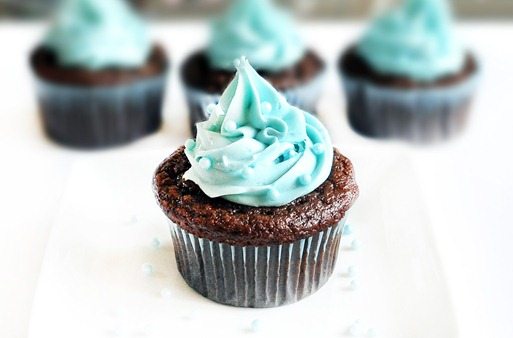 Experiments are always fun when they include chocolate, because you get to eat the not-so-perfect trials. (Fortunately and unfortunately for me, I got this cupcake recipe right on the first try.)  At first, I'd planned to use a recipe straight from the cookbook, VCTOTW. But as I worked, I changed it up completely!
Blue Velvet Cupcakes
(healthy and low-fat!)
1 cup spelt or white flour
1/4 cup cocoa powder
3/4 tsp baking powder
1/2 tsp baking soda
1 1/2 tbsp cornstarch
1/4 tsp salt
3/4 cup sugar of choice
1 and 1/2 tsp pure vanilla extract
1/2 cup yogurt (I used SoDelicious plain coconut)
3 tablespoons canola oil or melted coconut oil
1/2 cup milk of choice
1/2 cup blueberries (60 grams)
Preheat the oven to 350 degrees. Mash or puree the blueberries (or just leave 'em whole). Mix dry ingredients, then add in wet. Don't overmix. Pour into 12 cupcake liners, and bake 22-24 minutes. The blueberries didn't exactly turn the cupcakes blue; but they are blue in spirit… and when you bite into one, you can see the blue from those lovely–and antioxidant-packed–berries.
Click for notes about a fat-free version.
Since I wasn't really a guest at the shower, I didn't eat one of the final-product cupcakes. However, I did eat an unfrosted one (straight out of the oven) that morning as part of my breakfast! Someone had to be a taste-tester, right?
The Icing on the Cake
2013 EDIT: I frosted the cupcakes with Pillsbury (surprisingly vegan), but if I were to make them again I would use my new favorite frosting of choice: Vegan Cool Whip. Just add a blueberry or two for a vibrant frosting.