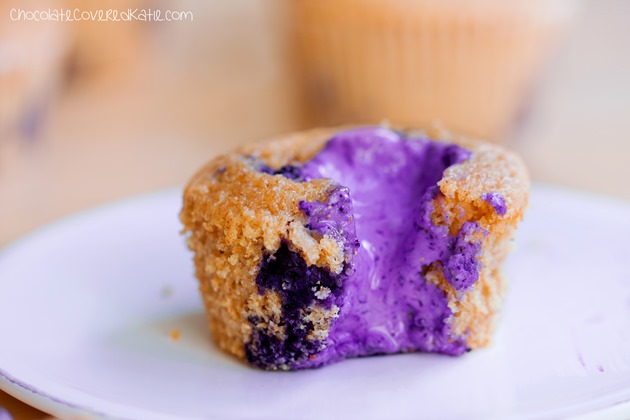 A homemade blueberry muffin.
Stuffed with sweet blueberry cream cheese filling.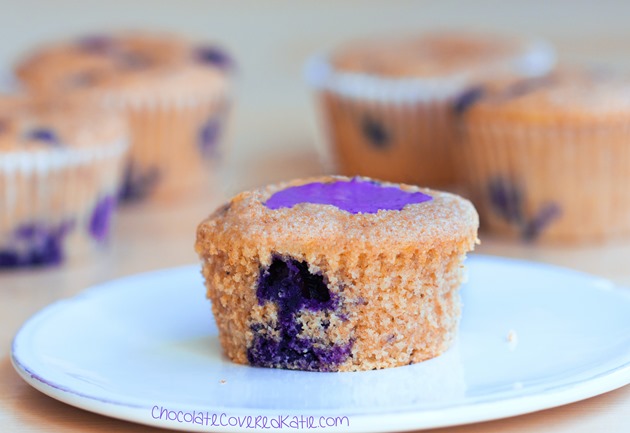 It's like blueberry cheesecake in the form of a breakfast food!!!
Inspired by the recently posted Strawberry Cheesecake Dip, I spent yesterday afternoon creating 100% edible blueberry watercolor masterpieces.
Sometimes I have way too much fun in my studio kitchen.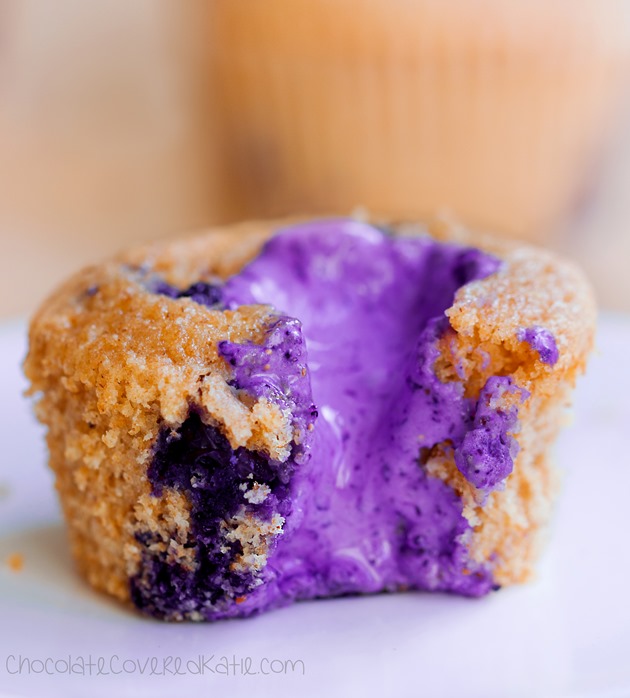 How fantastic would these be for Mothers' Day breakfast in bed?!
Blueberry Cream Cheese Muffins
FOR THE MUFFINS:
1 cup spelt, white, or Bob's gf flour (125g)
Just over 1/4 tsp salt
1/4 tsp cinnamon
1 tsp baking powder
only if using Bob's, add 1/2 tsp xanthan gum
1/4 cup sugar of choice or xylitol (50g)
pinch uncut stevia, OR 1 tbsp more sugar of choice
2 1/2 tsp apple cider vinegar or white vinegar
1/2 cup milk of choice
3/4 tsp pure vanilla extract
1 1/2 tbsp oil (or Low Fat Blueberry Muffin Recipe Here ) (15g)
2/3 cup fresh or frozen-thawed blueberries (85g)
FOR THE FILLING:
1 cup fresh or frozen blueberries (125g)
1/2 cup cream cheese, such as Tofutti (120g)
1/16 tsp uncut stevia OR 2 tbsp powdered sugar or maple syrup
if using stevia or powdered sugar, also add 2 tbsp milk of choice (or less for a thicker filling)
1 tsp pure vanilla extract
For the blueberry cream cheese muffins: Preheat the oven to 350 F and grease a muffin tin or line with 7 liners. In a large bowl, stir together first 6 ingredients very well. In a separate mixing bowl, whisk remaining muffin ingredients except blueberries. Pour wet into dry and stir until just evenly mixed. Then add blueberries and very gently stir only until evenly mixed. (Do not over-stir, which could break the berries and turn the muffins pink!) Pour into liners and bake on the middle rack for 19 minutes or until domed with a toothpick inserted into the center of a muffin coming out clean. Let sit 10 minutes before removing from the tins. Liners pull off much more easily the next day. For the blueberry cheesecake filling: blend all ingredients in a blender or with a hand blender until smooth. Mixture will thicken as it sits and can easily be made the day before and stored in the fridge. Cut out a hole in each baked blueberry cream cheese muffin with a spoon, and fill. There will be leftover blueberry cheesecake filling… you can use the rest to top other things, like pancakes! (Or you can make a half recipe of filling if you'd prefer.)
View Blueberry Cream Cheese Muffins Nutrition Facts
LINK OF THE DAY: