I'm excited to share this recipe today, because it's completely my own—and that wasn't originally going to be the case. You see, I'd planned to make doughnuts following a recipe I'd cut out of Vegetarian Times a few months ago. However, when I tried their recipe, the results were, ummm, less than stellar. (Understatement!) Sorry VT, but your recipe was a complete failure!
If you're curious, here's a photo of my ugly doughnuts.
After that, not willing to give my trust to anyone else, I jotted down my own recipe, keeping in mind the reasons I suspected VT's didn't work (too much fat and too much liquid being my main guesses). I'm happy to say my recipe came out perfectly!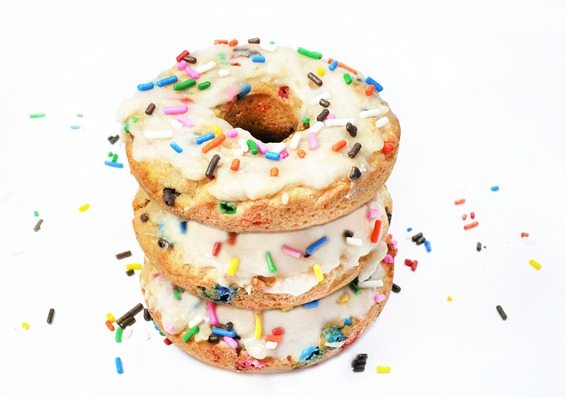 So soft and cake-like… yet they are much healthier than traditional doughnuts!
Cake-Batter Doughnuts
Loosely based off a recipe from Vegetarian Times
1 level cup flour (see note below, for what type)
2/3 cup milk of choice
1/3 cup plus 1 tbsp evaporated cane juice or sugar (or Sucanat)
1/2 tsp apple-cider vinegar
1 and 1/2 tsp ener-g egg replacer OR 1 tbsp flaxmeal
1 and 1/2 tsp baking powder
3 tbsp pre-melted butter-type spread (such as Earth Balance)
1/2 tsp pure vanilla extract
1/4 tsp salt
Optional: sprinkles! Or cinnamon, raisins, peanuts, chocolate chips… be creative!
Directions:
Preheat oven to 350 degrees. Combine flax or ener-g with all wet ingredients except vinegar. In a separate bowl, combine remaining dry ingredients. Then add the vinegar to the wet, and immediately pour wet onto dry. Mix (but don't overmix), pour into doughnut pans, and cook for 12 minutes.
Flour Notes: I used white-whole-wheat. You can use all-purpose or Bob's gluten-free or spelt flour. Whole wheat pastry can be used, but the doughnuts will be a tad more dense.
View Cake Batter Donuts Nutrition Facts
If you don't have a doughnut pan, the above link also lists ideas for how you can still make these! And it includes some un-edited photos. I thought I'd include them so you can see what the doughnuts look like in a non-photoshoot format.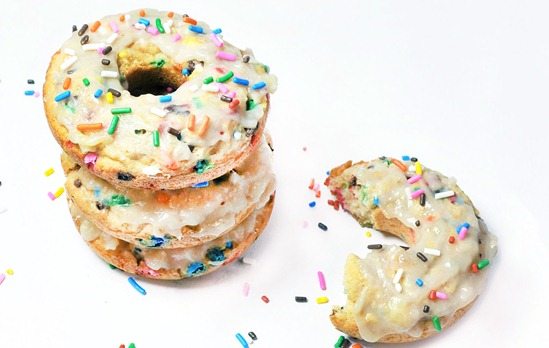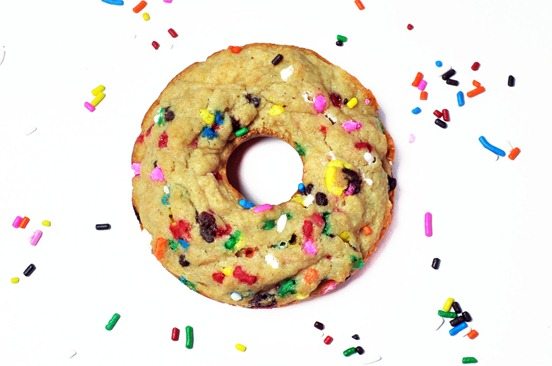 Tomorrow: Frosting Recipes!
If you can't wait til then, try my Vanilla-Fudge Frosting.
Or sprinkle on cinnamon-sugar or powdered sugar while the doughnuts are still warm.