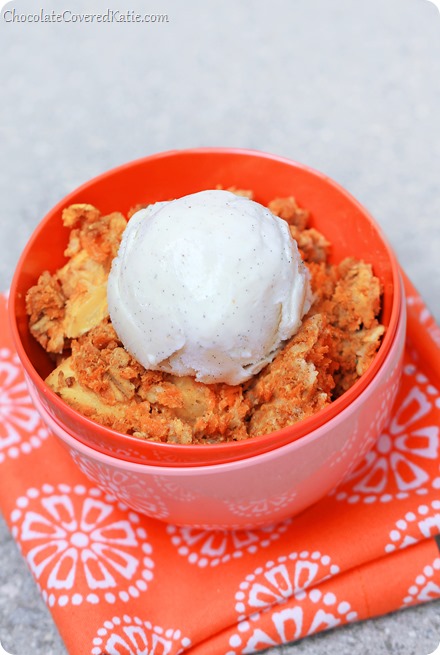 This is what happens when Easter is around the corner and you have carrot cake on the brain. I'm testing the recipes for the cookbook, and all I can think about with each recipe test is, "Wouldn't these doughnuts be fun as a carrot cake version? Wouldn't this cheesecake be fun as a carrot cake version? Wouldn't this coffee chocolate chip ice cream be fun as a carrot cake version?"
Okay, so maybe not that last one… 😕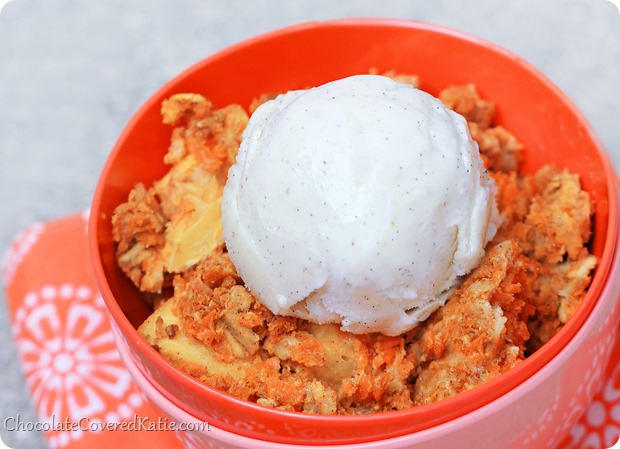 I probably ought to revisit that carrot cake cheesecake idea someday in the future. Today's recipe is for Carrot Cake Crumble—like a deconstructed carrot cake, without all the extra flour getting in the way.
Above: carrot cake crumble topped with my favorite Healthy Ice Cream recipe.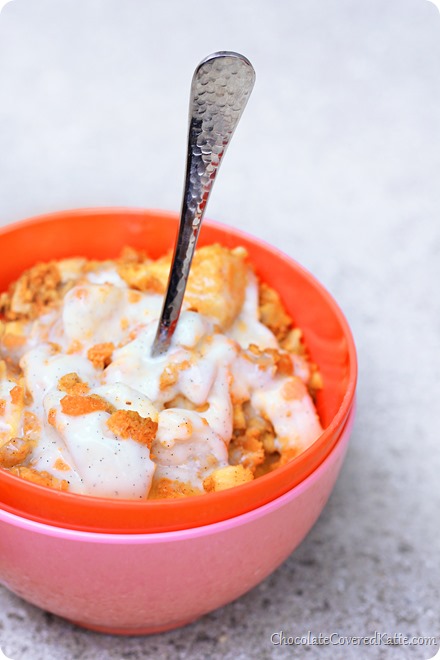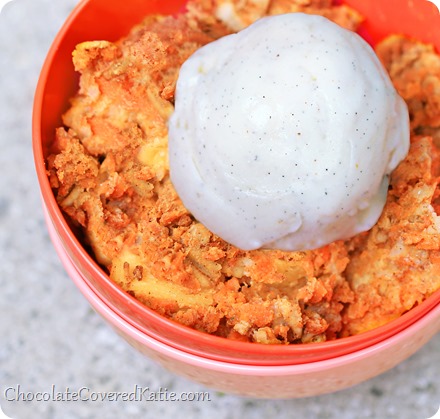 Carrot Cake Crumble
(Serves 4-6)
1 1/2 cups sliced carrots ((180g)
3 cups diced pineapple (480g)
1 1/2 tsp pure vanilla extract
3 tbsp oil or buttery spread (Can omit, but crumble will be less rich) (30g)
1/2 cup rolled oats, gluten-free if needed (45g)
1/4 cup plus 1 tbsp flour of choice, excluding coconut (I used sorghum) (35g)
1 tsp cinnamon
1/4 tsp salt
1/2 tsp baking soda
pinch pure stevia, or 3 1/2 tbsp sugar of choice
Preheat oven to 325F and grease an 8-inch square pan. Finely grate the carrots (I used a food processor), then combine with the pineapple, vanilla extract, and melted buttery spread or oil. In a separate bowl, combine all remaining ingredients. Pour wet into dry, and stir to combine. Transfer to the prepared pan, and bake 35 minutes or until golden. The recipe will be "fall apart" crumbly in the first few hours, but if left overnight in the fridge it becomes firmer. Eat warm or cold, topped with melted coconut butter or your favorite ice cream (my favorite recipe is linked under the second photo in this post) if desired. Leftovers can be refrigerated or frozen.
Click for: Carrot Cake Crumble Nutrition Facts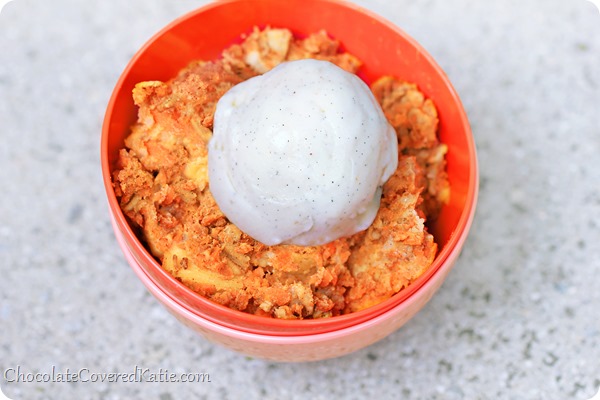 Question of the Day:
Do you like carrot cake?
It's always been one of my favorite holiday desserts, especially with the frosting. When I was little, I looked forward to the day after Easter when we were allowed to eat leftover carrot cake for breakfast. Somehow, carrot cake tastes even better for breakfast than for dessert!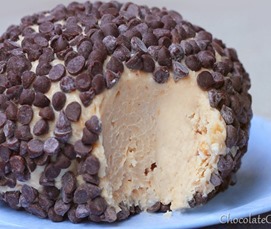 Link of the Day: Peanut Butter Chocolate Chip Cheesecake Ball