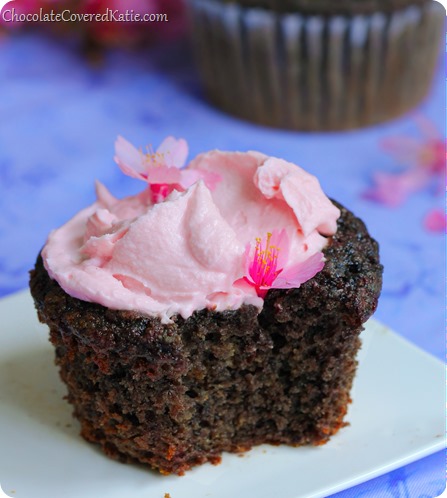 Spring is (finally) in the air.
I think.
Maybe.
For this week, anyway.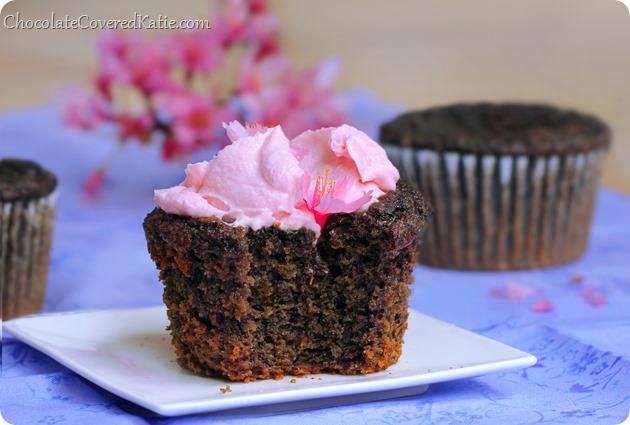 After hearing so much about the famous Washington, D.C. cherry blossoms, it's exciting to finally get to actually see them. I don't think I've ever been so happy for Spring and the end of waking up to snow every other morning for 5 months straight.
These cherry blossom cupcakes were quite fun to bake, to design, to photograph, to eat… The crazy thing is that there's actually no chocolate in the cupcakes; they get their deep color (and, surprisingly, a somewhat-chocolatey flavor) purely from the cherries. You can easily leave them unfrosted and serve them for breakfast as muffins. But do try the hot pink frosting if you get a chance—It comes together in under a minute, and no food coloring is needed!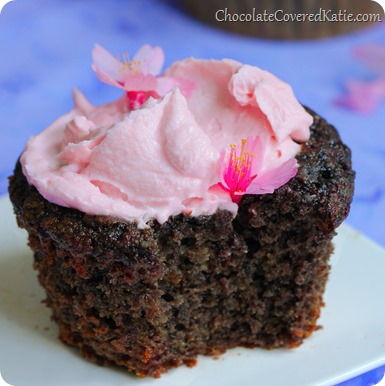 Cherry Blossom Cupcakes
Adapted from Hummingbird Cupcakes
2 cups cherries, pitted (240g) (I used frozen)
2 tbsp milk of choice (30g)
2 1/2 tsp white or apple cider vinegar (12g)
2 tsp pure vanilla extract (8g)
3 tbsp vegetable or coconut oil (30g)
1 cup spelt or all-purpose or Bob's gf flour (130g)
only if using the gf flour, add 1/4 tsp xanthan gum
1/2 cup sugar of choice or xylitol (90g) (Can reduce to 1/3 cup if a slightly-sweet muffin is preferred)
1/16 tsp pure stevia, or 2 additional tbsp sugar of choice
1/2 tsp plus 1/8 tsp salt
1/2 tsp baking powder
1/2 tsp baking soda
1/2 cup mini chocolate chips, optional
Cherry Blossom Cupcakes Recipe: Preheat the oven to 350 F, and line a muffin tin with liners. Blend together first 5 ingredients until smooth. In a separate bowl, combine all remaining ingredients and stir well. Pour wet into dry, and stir until just evenly mixed. Pour into 10-11 muffin tins and bake 19-20 minutes or until cupcakes have domed and a toothpick comes out clean from the center. Allow to sit 10 minutes before removing from the tins. Frost with your favorite frosting, and add real or fake cherry blossoms if desired for garnish. For the frosting in the photos, I scraped the cream off a can of full-fat coconut milk and mixed it with beet juice (2 tsp per every 1/2 cup cream) and a little stevia to taste. No food coloring needed! (If you go this route, it's best to frost right before serving, due to the lack of preservatives in this all-natural frosting.)
View Cherry Blossom Cupcakes Nutrition Facts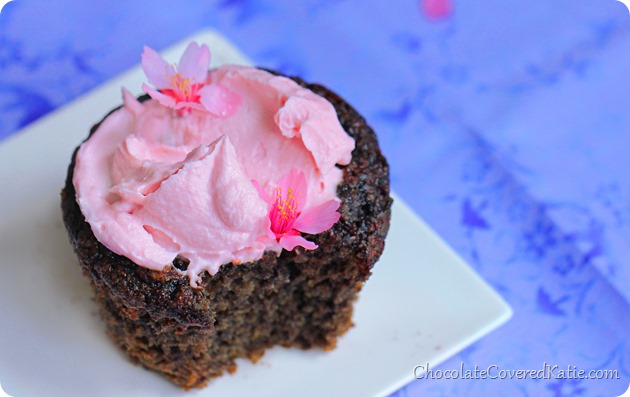 Question of the Day: What's your favorite way to eat cherries? 
My absolute favorite way to eat cherries is frozen, straight from the bag. They have an almost ice-cream-like richness, and you don't have to worry about taking out the annoying pits. I can go through a bag of frozen cherries pretty quickly.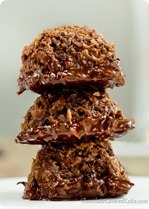 Link of the Day: Mocha Coconut Chocolate Dipped Macaroons