Once upon a time, I devised a super-healthy cupcake to bring to a nursing home.
A Popularity Contest
Voted most popular? The 24-Carrot Cupcakes.
With their good-for-you stats and delicious taste, it seemed everyone in bloggieland wanted to be their friend. However, the cupcakes must've done something to fall out of favor with the "in" crowd; recently they've felt very lonely. How lonely? Why, single-lady lonely, of course!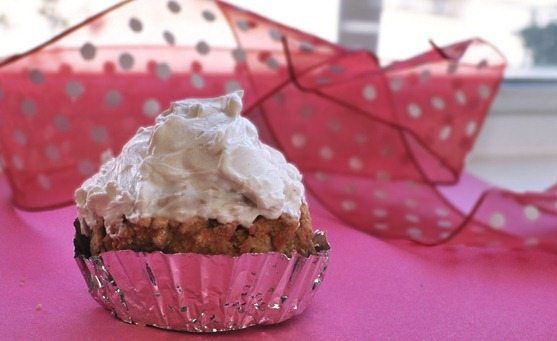 Single-Lady Carrot Cake Cupcake
(Serves One!)
30g (scant 1/4 cup) flour
20g applesauce, oil, or pre-melted margarine (scant 1T plus 1 tsp)
a little over 1/16th tsp salt
about 1T shredded carrot (20g)
1T water or milk of choice (or a little more if needed)
1/4 tsp each vanilla extract, cinnamon, and baking powder
sweetener, such as 1 packet NuNaturals stevia or 2 tsp sugar
Combine all dry ingredients, then mix in liquid (including applesauce, if using). Transfer to a muffin tin, ramekin, or even a mini loaf pan. Bake in a pre-heated oven at 325F, for 12-15 minutes. Or try cooking it in the microwave!
See 24 carrot-cupcake post for nutrition information.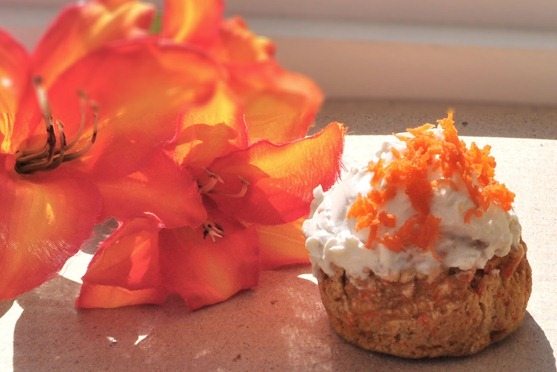 I iced my carrot cupcake with Healthy Cream-Cheese Icing.
And added a little shredded carrot for panache.
Super Bowl Sunday
How did you spend your Sunday? Did you watch the Super Bowl?
Football's not my favorite sport to watch (that'd be hockey). However, depending on the teams involved, I'm sometimes interested in the Super Bowl. This year, not so much. But I did go to a party… and I did bring along a healthy chocolate cake. More on that later this week! And thanks to everyone who weighed in on yesterday's post. There didn't seem to be any clear-cut winners, but I'd love to hear your thoughts if you haven't yet left them.