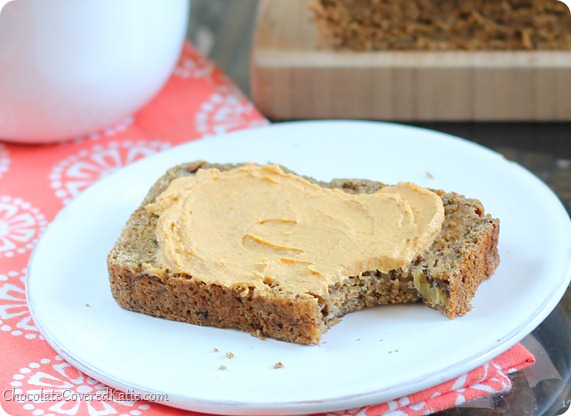 I can't keep up with mercurial October…
The month started out amazingly, so I was caught completely off guard when it quickly turned dark and painful without warning. Yet suddenly it changed again. Albeit a colossal cliché, the idea that when one door closes another one opens has proven true for me twice now in three months, most recently this past Tuesday when a door opened I never would've expected. Sometimes things really do happen for a reason (I'm full of clichés today).
Going back to the low in between the two highs, this was my coping mechanism last week when I was hurt, angry, and—I'm sorry to say—probably not very fun to be around: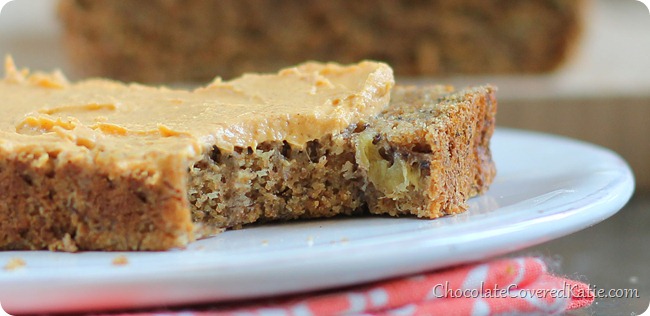 Hibernate like a bear… away from other people so they don't have to deal with me!
And stuff my face with banana bread.
Not sure if bears really eat banana bread when they hibernate. Whatever. In any case, it was actually good timing, since the book manuscript deadline is coming up so there was no time to be social anyway. And hibernating afforded me ample opportunity to throw myself into work, simultaneously writing and experimenting with new recipes for future posts.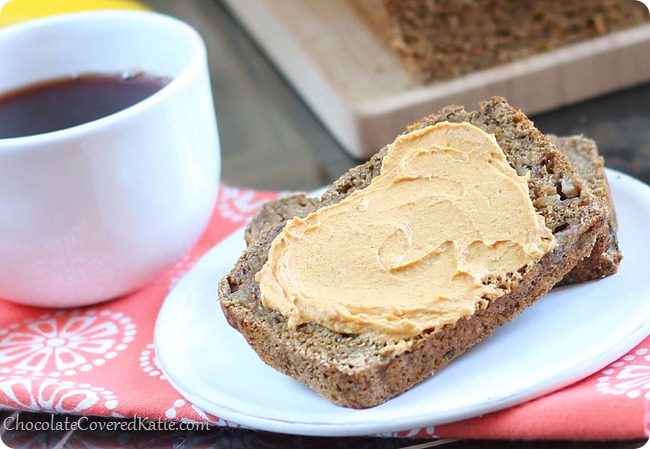 Above, chai banana bread with homemade Pumpkin Pie Cream Cheese.
It's a cinnamon spicy take on traditional banana bread. (Fun random fact for grammar nerds: chai tea is a tautology, as both words mean the same thing… like pizza pie or fall down.)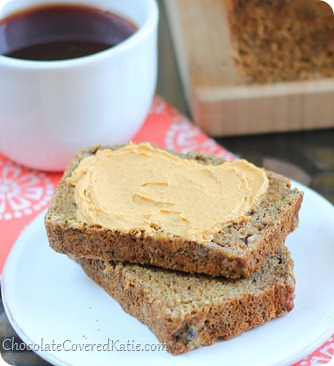 Chai Banana Bread
2 cups spelt or all-purpose flour (or 2 cups Bob's gf)
1 tsp baking soda
3/4 tsp baking powder
only if using gf flour, add 1/2 tsp xanthan gum
2 tsp cinnamon
1/2 tsp each: ginger, cardamom, cloves, and nutmeg
3/4 tsp salt
optional, 1/2 cup chopped walnuts
1 Nunaturals stevia packet OR 1 tbsp sugar of choice
3 tbsp milk of choice
3 1/2 tbsp vegetable or melted coconut oil
1/2 cup pure maple syrup (or another liquid sweetener of choice)
2 cups mashed bananas (measure the 2 cups after mashing)
1 1/2 tbsp lemon juice or white or apple cider vinegar
2 tsp pure vanilla extract
Preheat oven to 350 F. Combine dry ingredients and mix very well. In a separate mixing bowl, combine wet ingredients, then stir into dry until just evenly mixed. Pour into a greased loaf pan and bake 35-40 minutes. (If the top is cooked but the inside is gooey, you can put tin foil over the top and continue to bake.) Let cool 10 minutes before slicing. Store leftover slices in the refrigerator or freezer after one day. Makes 10-12 slices. Top with coconut butter, pumpkin butter, or the pumpkin pie cream cheese recipe linked under the third photo of this post.
View Chai Banana Bread Nutrition Facts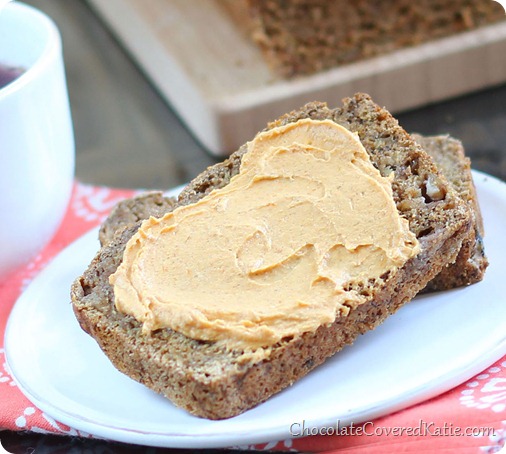 Link of the Day: