Just 4 simple ingredients to make this: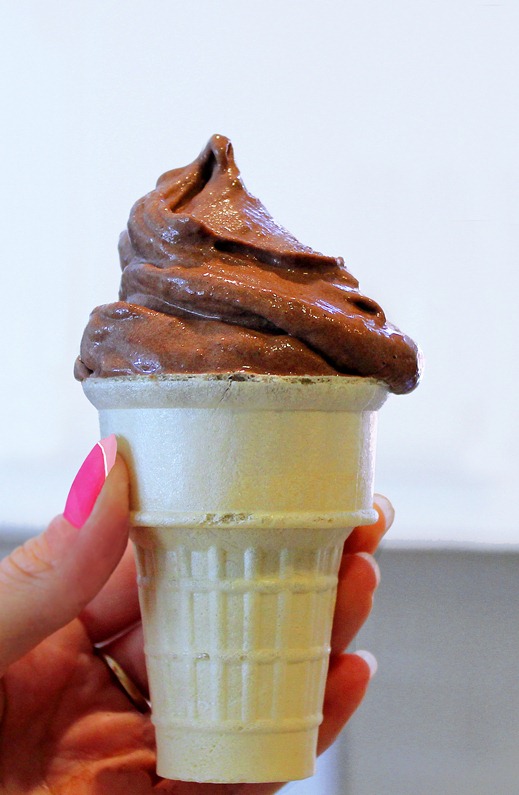 Swirly chocolate soft-serve.
Unless you've been living under a rock, you've probably seen the idea of whipping frozen banana in a vitamix or food processor until it resembles the exact texture of soft-serve ice cream. (If you add a fat source, like peanut butter, it tastes pretty similar to ice cream as well. Or leave the fat out for a refreshing sherbet-like taste.)
I first blogged about the idea back in 2009, and then again in the Vitamix ice cream post, and I'm sure others were making it even earlier than that. The best thing about the concept is its versatility; everyone gets to put his or her own spin on the basic recipe. One of my favorite variations: chocolate soft serve!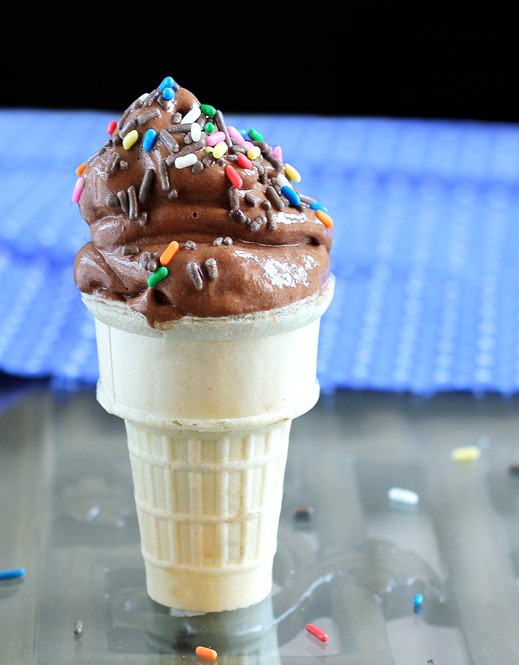 With sprinkles on top.
(Just in case you forgot whose blog you were reading.)
Chocolate Banana Soft Serve
(Serves 2-3)
Category: 50+ Healthy Banana Recipes
3 medium bananas, the riper the better (for substitutions, see nutrition link below)
1/2 tsp pure vanilla extract
1/16 tsp salt
3 tbsp cocoa or cacao powder (15g)
optional: sweetener of choice, depending on your tastebuds and ripeness of the bananas
optional: 3-5 tbsp peanut butter or another nut butter of choice
Ahead of time: peel and slice the over-ripe bananas into chunks. Freeze in a Ziploc-type bag, then combine all ingredients in a Vita-Mix, food processor, or blender. (If not using a Vita-Mix, add 2-3 tsp milk of choice so it'll blend more smoothly. You might also have to thaw the frozen bananas if your freezer is super-powerful.) If you want the look of ice cream, use an ice-cream scoop to serve! (If you scoop it all into a container and freeze about 10-15 minutes, the texture will also become a bit firmer like ice cream, as opposed to soft serve.) Don't try to halve the recipe unless you have a tiny food processor, as it won't blend as smoothly.
View Chocolate Banana Soft Serve Nutrition Facts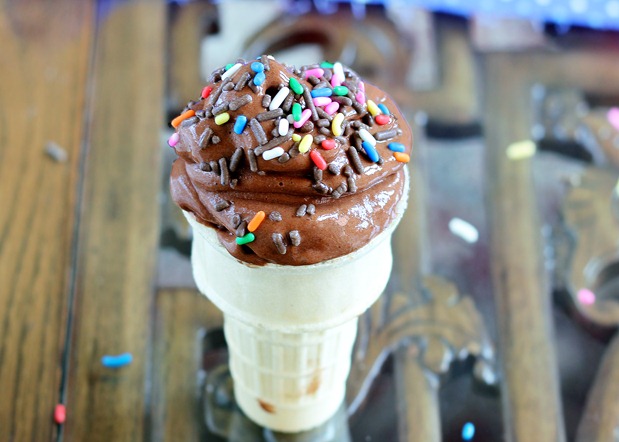 Have you ever tried banana "ice cream"?
Any favorite ways to eat it? I almost always add a ridiculous amount of peanut butter, even to this chocolate version. Peanut butter and banana belong together, and the added fat makes it taste more like ice cream than sherbet.
LINK OF THE DAY: