These chocolate chip baked oatmeal breakfast squares are like eating a giant chocolate chip oatmeal cookie for breakfast, straight from the oven!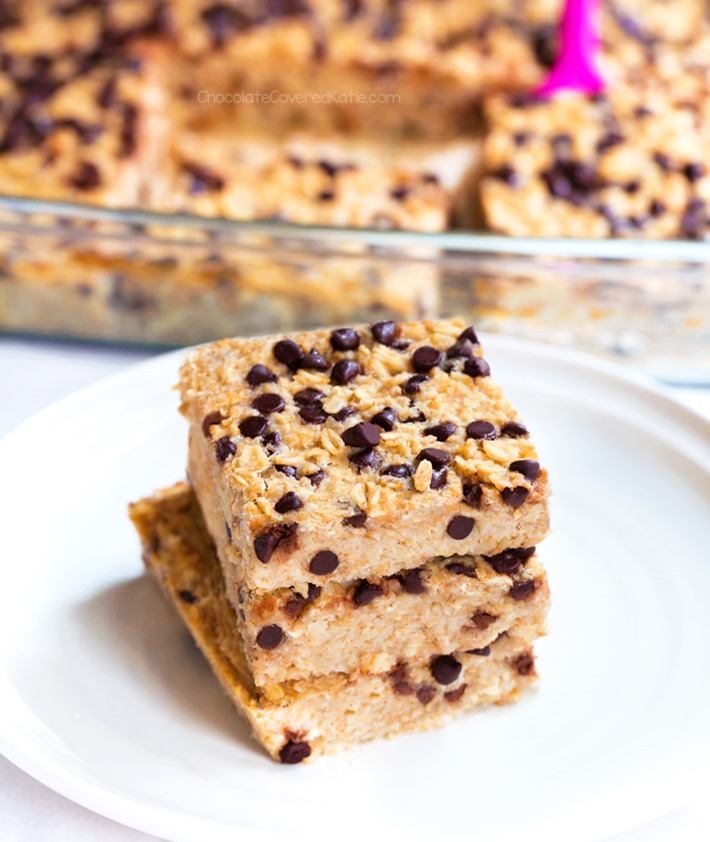 ❤ Just 7 ingredients
❤ You can make them the night before
❤ Leftovers freeze really well
❤ Great for a healthy meal or snack on the go
❤ A wholesome & filling breakfast
You Might Also Like: Avocado Chocolate Mousse – TWO Recipes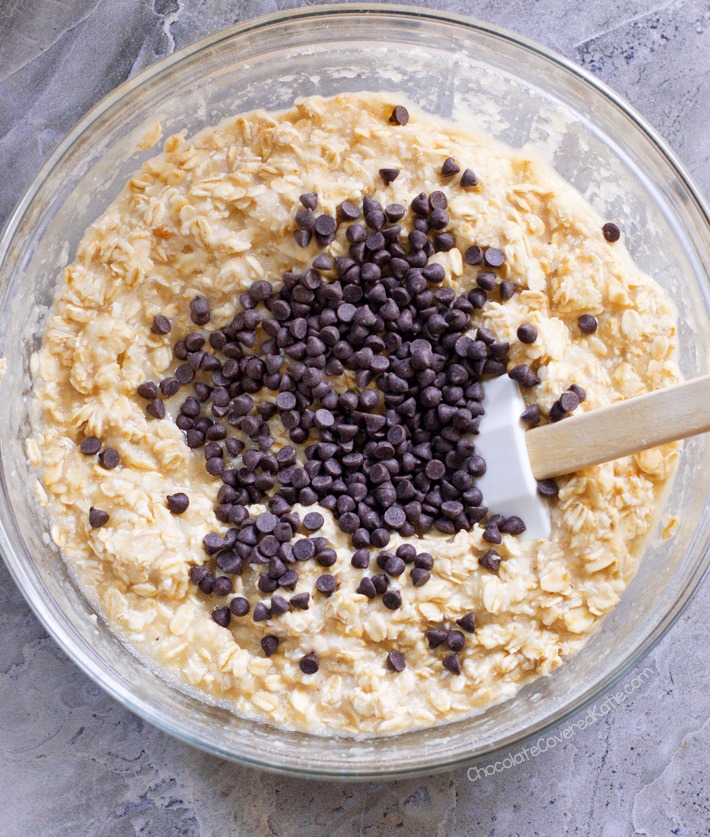 Don't forget the chocolate chips
My favorite chocolate chips, that I use almost exclusively in my own recipes, are Enjoy Life Mini Chocolate Chips.
If you've been reading my blog for a while, you've probably noticed I love to add mini chocolate chips to recipes, both for taste and presentation.
Just look at this gorgeous dark chocolate Brownie Baked Oatmeal!
It's much easier to spread mini chips out evenly in baked goods so you get chocolate in every single bite, whereas with larger chocolate chips you might get one bite with chocolate and then another with no chocolate at all.
People often write in to ask me how I can eat chocolate chips as a vegan.
The Enjoy Life chips I recommended above actually are vegan, non-GMO, and free from 14 common allergens, including gluten, soy, eggs, dairy, and nuts. (They also come in Semi-Sweet Mega Chunks and Dark Chocolate Morsels.) You can find the brand in many regular grocery stores or online.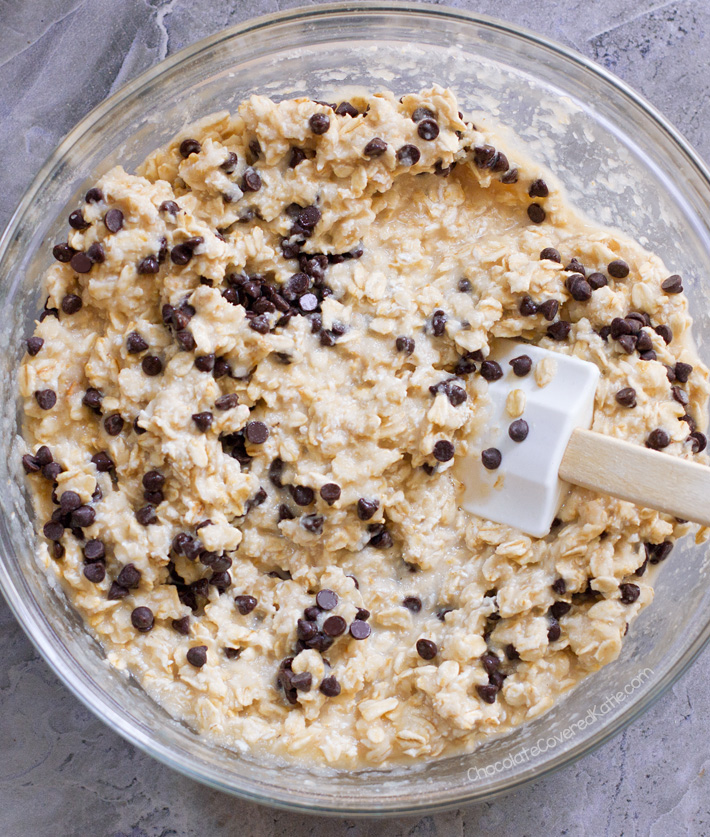 Breakfast on the go
Of the thousands of recipes I've posted here on the blog, my mom will tell you that these breakfast squares are her all-time favorite.
She calls them "boatmeal" (for baked oatmeal) and will often text me on the weekend that she's made another batch to take into work every morning during the week.
Because leftovers freeze well, you can easily plan ahead and freeze whatever you aren't going to eat within 4-5 days, to keep an instant healthy breakfast on hand for rushed mornings or any time you don't feel like cooking.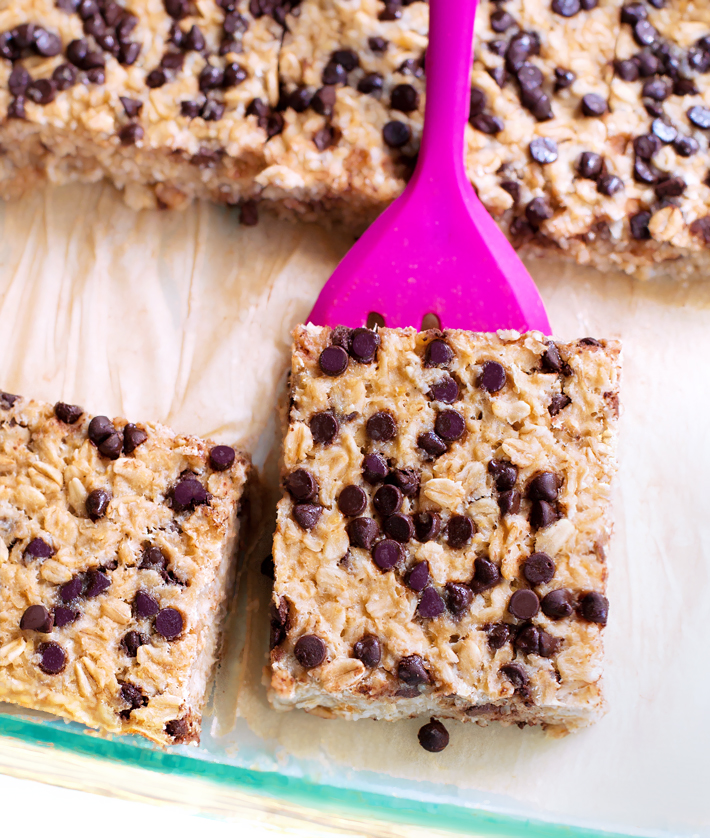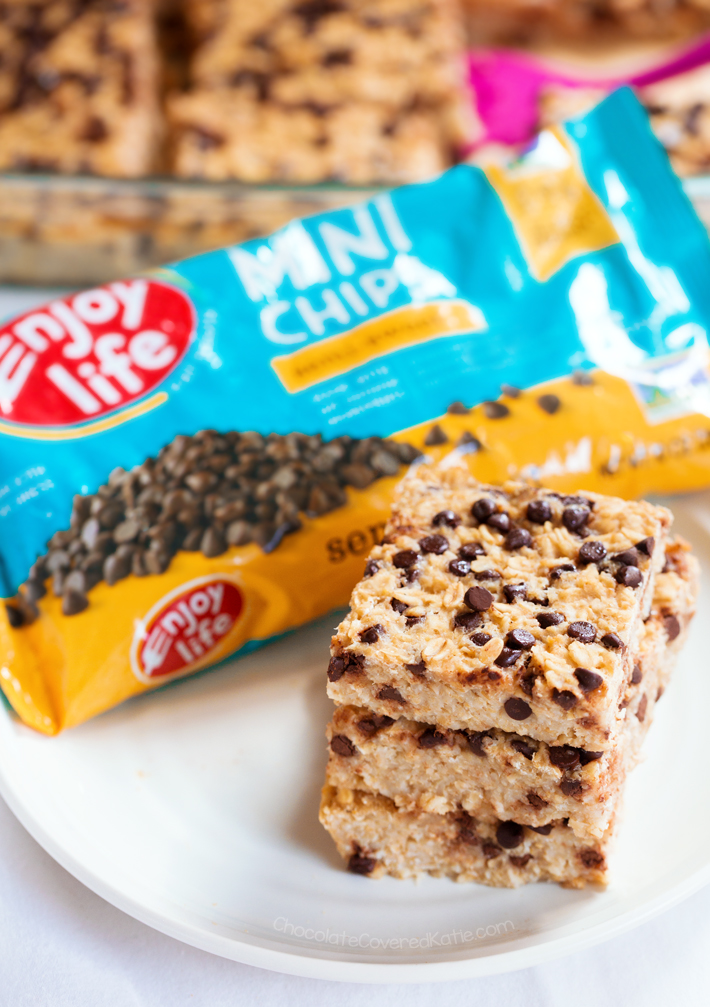 Step One: Combine all ingredients in a large mixing bowl.
Step Two: Spread into a parchment-lined 9×13 pan.
Step Three: Bake at 350 F, then slice into bars or squares, and breakfast is ready for the whole week!
Above – watch the video how to make chocolate chip breakfast squares

Chocolate Chip Breakfast Squares To-Go
These chocolate chip baked oatmeal breakfast squares are like a giant chocolate chip oatmeal cookie for breakfast!
Ingredients
4

cups

rolled oats

2 2/3

cup

applesauce or mashed banana

3/4

cup

water

1

tsp

salt

1/2

cup

or more mini chocolate chips – I love Enjoy Life Mini Chips

1/4

cup

oil,

nut butter, or additional water

pinch

stevia

or 1/2 cup pure maple syrup, honey, or agave

only if using stevia,

1/2 cup additional water

2

tsp

pure vanilla extract
Instructions
Preheat oven to 350 F. Line a 9×13 pan with parchment. In a large bowl, stir all ingredients until well-mixed. Smooth into the pan. Sprinkle additional chocolate chips on top if desired. Bake on the center rack 28 minutes, then do not open the oven door but turn off the heat and let sit in the closed oven an additional 20 minutes. Slice into bars or squares. Leftovers can be refrigerated 3-4 days, or freeze the bars to have on hand any time you need an instant healthy breakfast you can take on the go!View Nutrition Facts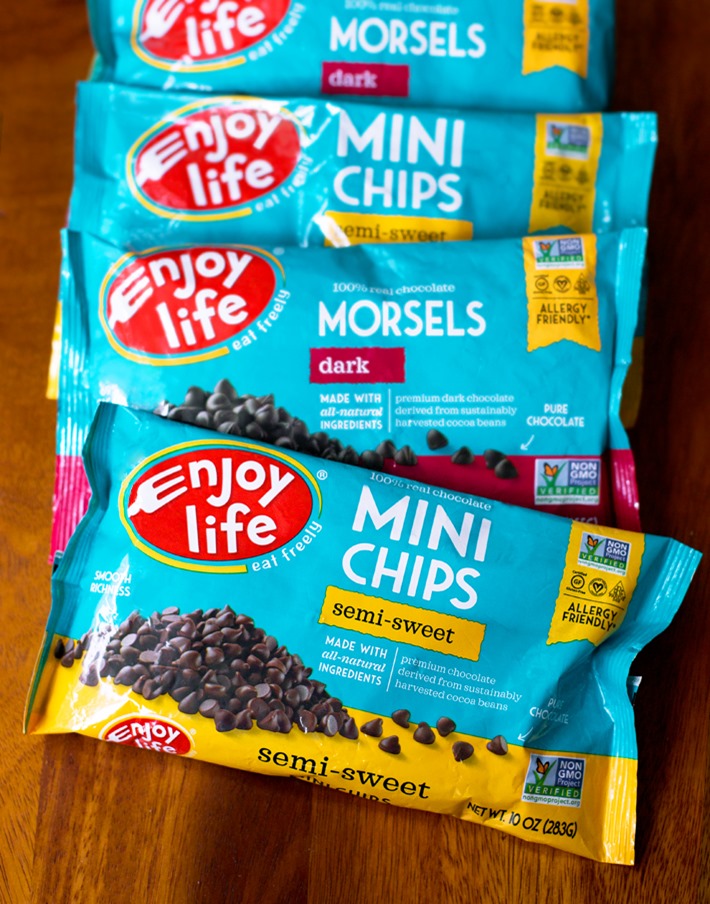 **Giant Chocolate Giveaway**
I've teamed up with Enjoy Life Foods to offer a very lucky reader an entire year's supply of their vegan baking chocolate.
To Enter: Just leave a comment on this post sharing about how you'd use the chocolate chips – in cookies, brownies, muffins, bars, eaten straight out of the bag…
Sadly, I've been told that I cannot enter my own giveaway, or I would be all over this!
More Healthy Recipes With Chocolate Chips: