These homemade chocolate chip oatmeal cookies are serious comfort food!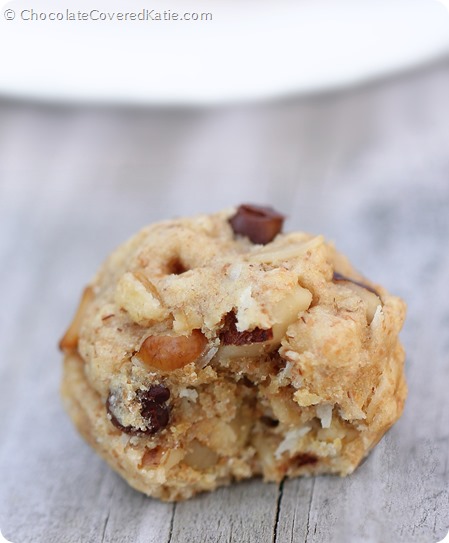 Back in high school, I took a summer job one year at a vet's office and was initially very excited about it. Someone actually wanted to pay me to play with puppies?! Hello, dream job!
Or so I thought…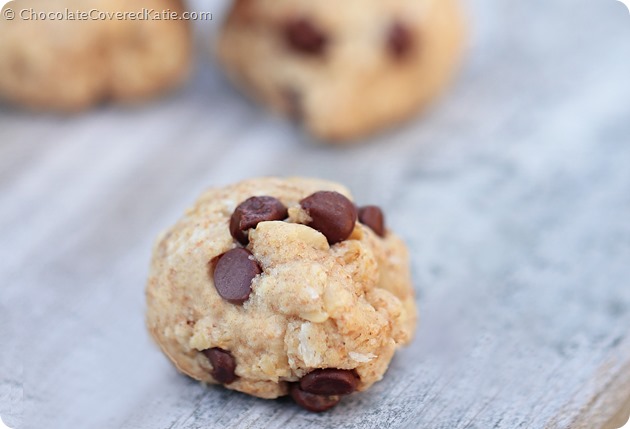 Working in the back room on 100+-degree days with no air conditioning and fans creating a giant whirlpool of animal hair, my allergies immediately hated me. I was assigned responsibilities such as cleaning up accidents, washing down cages, and giving baths to violently uncooperative charges, some of whom were bigger than me. There was certainly no time to "play with puppies."
I went home that first day with scratches up my legs, red and watery eyes, and uncontrollable sneezing. Such a sorry state clearly called for comfort food. And is there anything that fits the definition of "comfort food" more than homemade chocolate chip oatmeal cookies hot from the oven?
I stuck it out at the job, and many more chocolate chip oatmeal cookies were consumed each day when I'd arrive home. However, the next year I adopted a puppy of my own… and looked for a new summer job!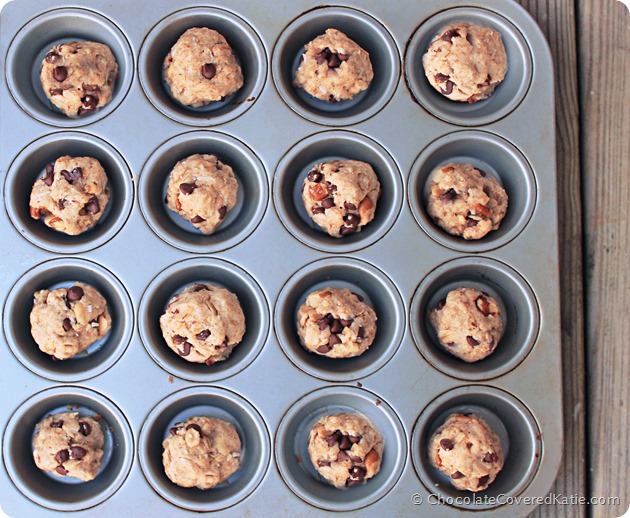 Chocolate Chip Oatmeal Cookies
(makes 20-23)
1 cup spelt or ww pastry flour (130g) (Gluten-free recipe here)
3/4 cup rolled oats (60g)
1/4 tsp salt
1/8 tsp baking soda
1/2 tsp baking powder
3 tbsp chopped walnut pieces
3 tbsp shredded coconut (15g)
1/4 to 1/2 cup mini chocolate chips (40g)
1/4 cup plus 1 tbsp vegetable oil (50g) (See substitution note in the instructions below.)
1/4 cup plus 1 tbsp pure maple syrup (74g)
pinch stevia, or 1 extra tbsp pure maple syrup
If using the stevia option, add 1 tbsp milk of choice
Chocolate Chip Oatmeal Cookies Recipe: Preheat oven to 350 degrees F and grease a mini muffin pan or cookie tray. Set aside. In a large mixing bowl, combine all dry ingredients and stir very well. In a separate bowl, whisk together all liquid ingredients. Pour wet into dry and stir to form a dough. Chill dough in the refrigerator at least 1 hour. Roll out chocolate chip oatmeal cookie dough balls by smushing the dough together with your fingers. Place in the greased tins or on the pan, smush down if you want flat cookies (Cookies in the photos have not been smushed), and bake 7 minutes. The oatmeal chocolate chip cookies should still look a little undercooked when you remove them from the oven, but they'll firm up as they cool. Set the tray aside for 10 minutes before removing the cookies. SUBSTITUTION: Coconut oil may be substituted for the vegetable oil. If using coconut oil, roll cookie dough balls before refrigerating the dough, as coconut oil hardens when chilled.
Click for: Chocolate Chip Oatmeal Cookies Nutrition Facts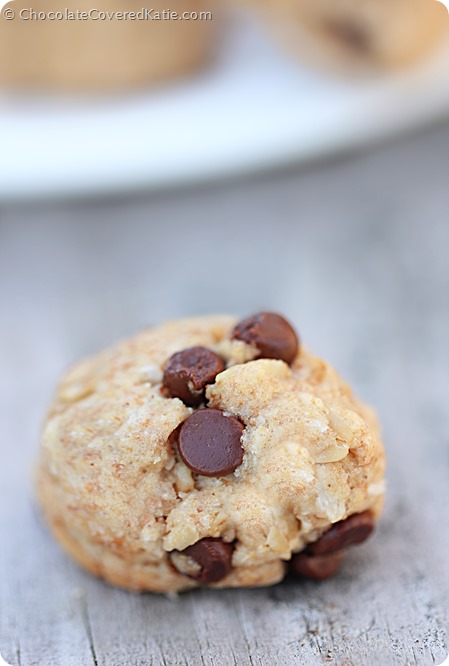 Question of the Day:
What is the worst job you've ever had?
Hopefully I didn't sound entitled with the job story above: The manual labor was good for me, but the allergies more than anything else made me decide I was just not cut out for that type of work. My next summer job was a volunteer position stocking shelves and bagging groceries… no fans, and no animal hair!
Link of the Day: Homemade Frozen Yogurt – Just 2 Ingredients!