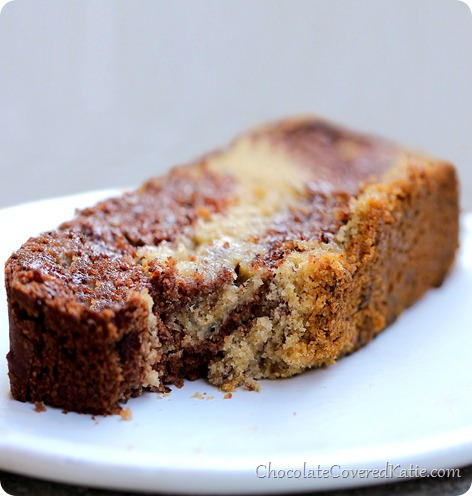 This is banana bread for chocoholics.
With thick ribbons of chocolate swirled into every bite, you'll never look at banana bread the same way again!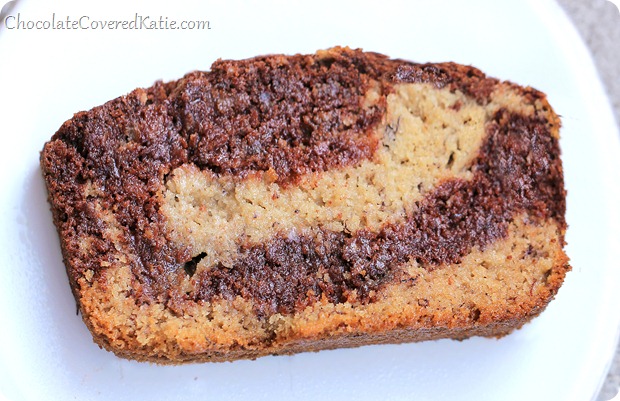 Chocolate Marble Swirl Banana Bread
2 cups over-ripe banana, mashed well (480g)
2 tsp pure vanilla extract (8g)
2 tsp white or apple cider vinegar or lemon juice (10g)
2 tbsp milk of choice (30g)
1/4 cup oil or more milk of choice (oil version will be richer and better-textured; milk version will be lower-calorie… so it depends on what you're going for and to whom you are serving the bread)
1/2 cup pure maple syrup, agave, or honey (honey is not for strict vegans)
2 cups spelt, all-purpose, or Bob's gf flour (240g)
1 tsp baking soda
3/4 tsp baking powder
3/4 tsp salt
1/8 tsp pure stevia or 1/4 cup sugar of choice
1/2 tsp cinnamon, optional
1/2 cup chocolate chips, optional
3 tbsp cocoa powder (15g)
Bring one cup or so of water to a boil. Meanwhile, preheat oven to 350 F, grease a 9×5 loaf pan, and set aside. Get out three large bowls and a small bowl. In one of the large bowls, whisk together all liquid ingredients. In a separate large bowl, stir together all remaining ingredients except the cocoa powder. Measure the cocoa powder into the empty small bowl and whisk in 1/4 cup of the boiling water (discard remaining water). Now combine the contents of the two large bowls until just evenly mixed, then divide the batter in half so there's an equal amount of batter in each of the two large bowls. Pour all of the cocoa mixture into only one of the banana bread batters. So now you should have one chocolate and one non-chocolate batter. Scoop a thin layer of plain batter into the prepared loaf pan, followed by a layer of chocolate. Repeat until all batter is used up, then take a spoon and swirl the batters together—for just a few seconds so there are still two distinct colors present. Bake 50 minutes, then turn the oven off and leave the loaf in the oven 20 more minutes if it still needs to firm up. For best freshness, leftovers should be stored in the refrigerator or freezer.
Click for: Banana Bread Nutrition Facts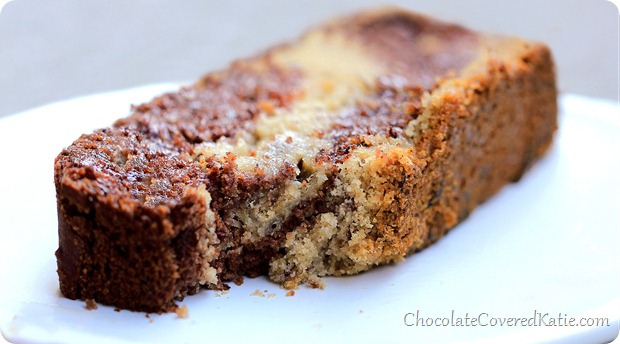 LINK OF THE DAY: