I have a problem.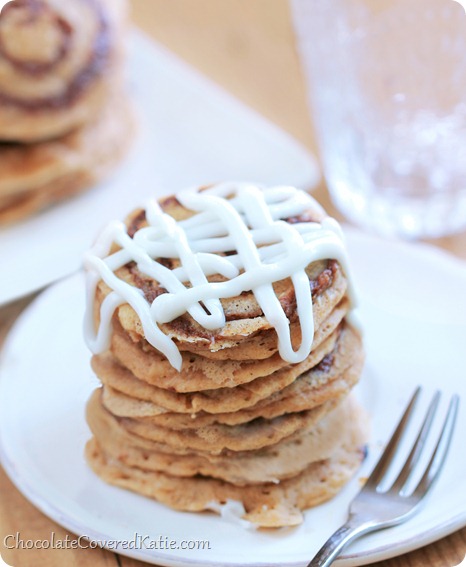 Every time I set foot in an IKEA store, I feel this sudden desire to go crazy and buy every last BESTÅ, every LUFTIG, every AKURUM and LYRIC and BERGSBO and KIVIK. Then I want to rush home, invite over all my friends, and eat KANELSNÄCKA (that would be "cinnamon rolls") while we assemble my new dream apartment.
Luckily, last month I had an actual, legitimate excuse to do exactly this!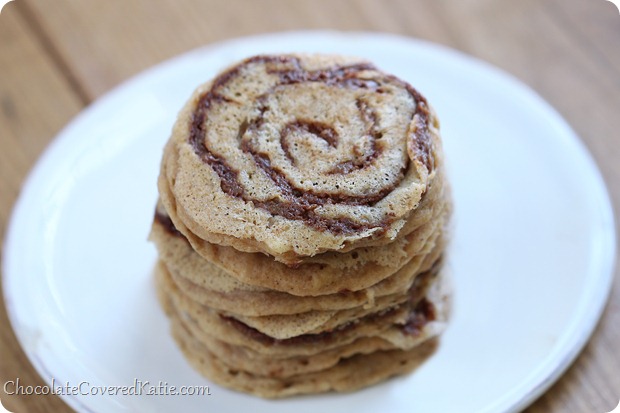 I bought the KIVIK couch, the BESTÅ shelves, and the HEMNES drawers, laid all the pieces out on the empty apartment floor (remember my soccer ball room?), and proceeded to build my dreams. When I was done, I was very proud.
However there was still that KANELSNÄCKA to see about…
Cinnamon Roll Pancakes
Adapted from Oatmeal Pancakes
tightly-packed 1 cup dates (140g)
2 tsp cinnamon
1/4 cup milk of choice
Blend everything together in a small food processor (scraping the sides down occasionally) for a long time until completely smooth. Transfer to a small plastic bag, making sure to get every last bit out. (Make sure all air is out of bag, then close with a rubber band.) Cut just the very edge off one corner of the bag. Now set in the fridge and make your pancakes:
1 cup Bob's gluten-free flour or spelt or all-purpose flour (130g)
1/2 tsp salt
2 tsp baking powder
1 tsp cinnamon
1/8 tsp uncut stevia or 3 tbsp pure maple syrup or agave
just under level 1 cup milk of choice (increase to 1 cup plus 2 tbsp if using stevia version)
2 tbsp coconut or vegetable oil (20g)
2 tsp pure vanilla extract
Only if using the gluten-free flour, add 1/4 tsp xanthan gum
Cinnamon Roll Pancakes: Combine all dry ingredients in a small bowl, and stir very well. Whisk together all liquid ingredients in a separate bowl. Pour the dry into wet, and stir to form a batter. (If the batter is too thin, just add a little more flour until you get a pancake-esque batter.) Lightly grease a medium skillet, and place over medium heat. When the pan is hot (see tip below), turn to low and drop one small ladelful into the pan. Immediately take your filling bag and squeeze in a swirl pattern over the pancake. Repeat with other pancakes. Flip pancakes with a spatula when the edges begin to look dry. Allow to cook one minute more, then remove from heat. I piped on my Healthy Cream Cheese frosting, but you can use any favorite frosting. Makes 20-24 pancakes (the size of the ones in the photos). You'll have a lot of filling left over, but it's best to make the whole amount for smooth blending. If you have a giant food processor, you might even want to make a double batch. TIP: Test the heat of your skillet by throwing a few drops of water onto the surface. When the water sizzles, the pan is ready for the pancake batter.
Click for: Cinnamon Roll Pancakes Nutrition Facts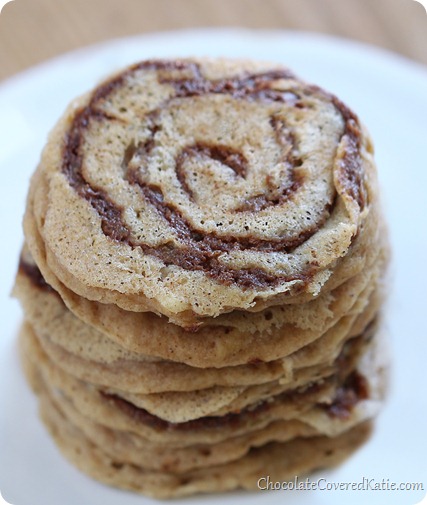 Question of the Day: Have you ever been to IKEA?
Does walking through yours make you crave cinnamon rolls as much as mine does? Link of the Day: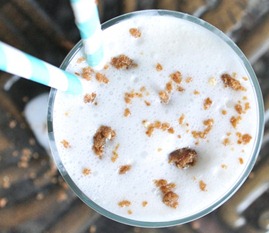 … 75+ Healthy Peanut Butter Recipes
Happy National Peanut Butter Day!