Should I hit "publish"? Millions of complete strangers are going to read what I've just written… is it really a good idea to get so personal? Someone could twist the meaning of my words, or I could unintentionally offend someone. What if I've worded something poorly and it comes across in a way I didn't intend? There's still time to back out!
This was me on Monday, before sending the Chocolate Covered Katie Anorexic? post out into the world.
Close eyes. Hit publish. Can't back out now.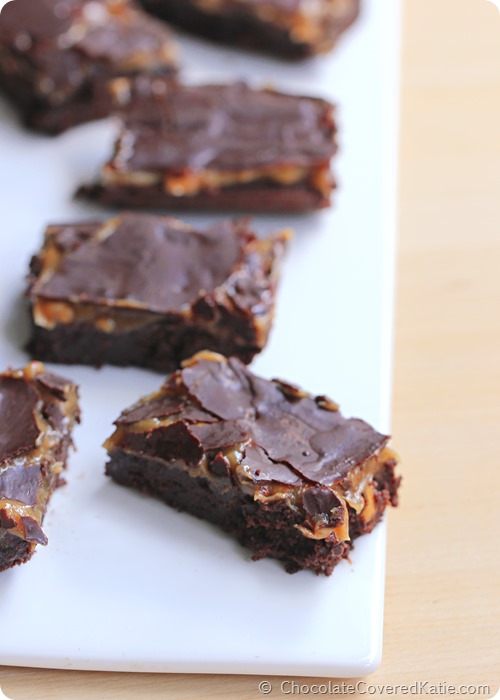 Whenever I publish a post, I try not to think about anyone reading; I try to pretend it's back in the old days, like when I wrote my very first blog post and had exactly zero readers aside from myself. And maybe my dog.
Anyway, the worry was unfounded in this case. I've never been so moved by a response to a blog post as I was on Monday.
Turning on the computer and seeing the kindness from readers around the world who took time out of their day to message someone they'd never met was so heartwarming.
Hopefully this post does not sound too sappy… I can't seem to find the right words for just how grateful I am for the support, compassion, and love.
You all mean the world to me. I hope you know that.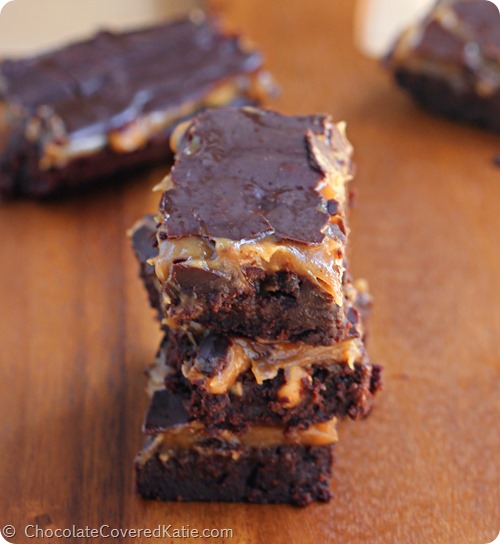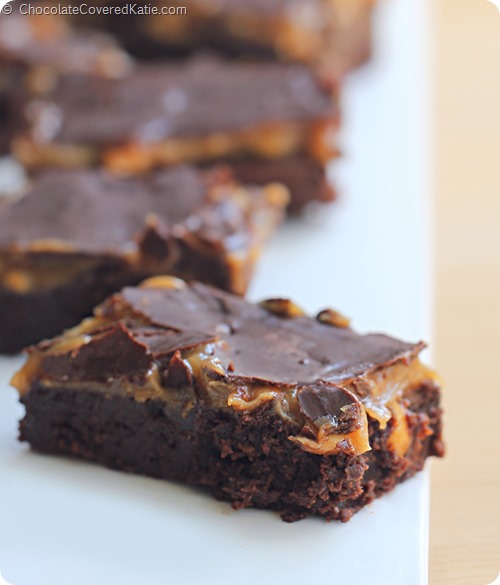 Now I'll stop talking for a while, and—true Italian that I am—will instead express my gratitude through food.
These Chocolate Peanut Butter Buckeye Brownies include many of the foods I love most in the world: peanut butter, chocolate, brownies, and… is there even anything else?
Those are the only foods that matter, in my extraordinarily-humble (and not-at-all-biased) opinion.
Thank you again for your kindness towards me… And enjoy the buckeye brownies!!
I only wish I could make and send them to you for real!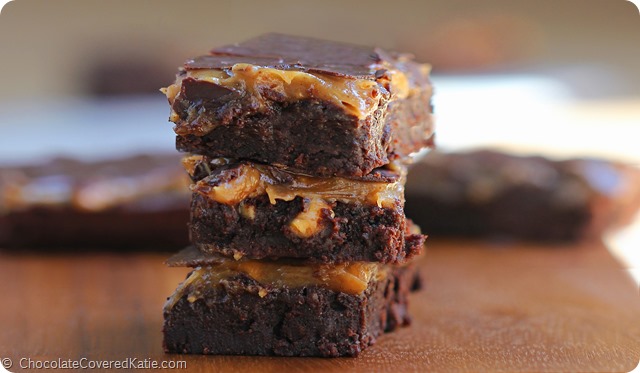 If you could choose just ONE favorite food to eat for the rest of your life, what would you choose?
Such a tough question! I'm not sure what my absolute favorite food would be! Oh wait… Yes I am.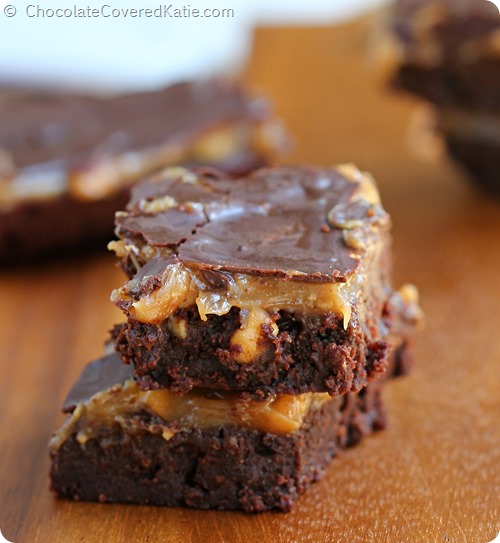 Oh wait… Yes I am.



Peanut Butter Buckeye Brownies
Brownie Layer:
1 cup plus 2 tbsp milk of choice (270g)
2 tbsp flaxmeal (11g)
1/2 cup plus 3 tbsp vegetable or coconut oil (110g)
1 tbsp pure vanilla extract (15g)
1 cup spelt, all-purpose, or Bob's gf flour (120g)
1 cup unsweetened cocoa or cacao powder (80g)
1/2 cup brown sugar or date sugar (115g)
1/4 tsp plus 1/8 tsp salt
1/2 tsp baking powder
only if using Bob's flour, add 1/4 tsp xanthan gum
1/3 cup stevia baking blend or regular sugar
2/3 cup mini chocolate chips, optional
Buckeye Brownies: Preheat your oven to 330F and grease a 9×13 pan. Set aside. In a large mixing bowl, whisk together all liquid ingredients with the flax. (Note: If baking with coconut oil, melt first and have all other liquid ingredients be at room temperature to prevent hardening.) In a separate bowl, thoroughly combine all remaining ingredients. Pour wet into dry, stir to combine, and pour into prepared pan. Bake 16 minutes. Brownies will look underdone when they come out but this is okay! Let cool, then refrigerate overnight and the texture will firm up nicely. DO NOT frost and eat until the next day, as the taste and texture will change while they set. (If you'd prefer a flourless option, you can use 1.5x my Black Bean Brownies as the base instead.)
Peanut Butter Layer:
1 cup peanut butter, or allergy-friendly alternative (230g)
1/2 cup milk of choice (120g), or more if needed
pinch stevia, or 2 tbsp pure maple syrup
1/8 tsp salt
Do this after the brownies have set: Bring the peanut butter to room temperature if it's been chilled, then stir all ingredients together until smooth. It will look thin at first, but keep stirring until it gets thick! Spread evenly over the brownies, then refrigerate at least 2 hours. Then make the chocolate, leaving the brownies in the fridge until the chocolate is already made:
Chocolate Layer:
1/4 cup cocoa or cacao powder (20g)
1 tbsp pure maple syrup (15g)
1/4 cup melted virgin coconut oil (38g) (Coconut-Free Option: You can just use melted chocolate chips for the top)
Stir together all ingredients until a thin sauce forms. If sauce is too thick, gently heat until thin. Spread evenly over the brownies, then immediately put back in the fridge to harden the coating. Once hard, you can cut the brownies. My trick is to cut brownies with a plastic knife, wiping the knife after every cut. Store leftovers in the fridge, or they are actually really good frozen as well!
Link Of The Day: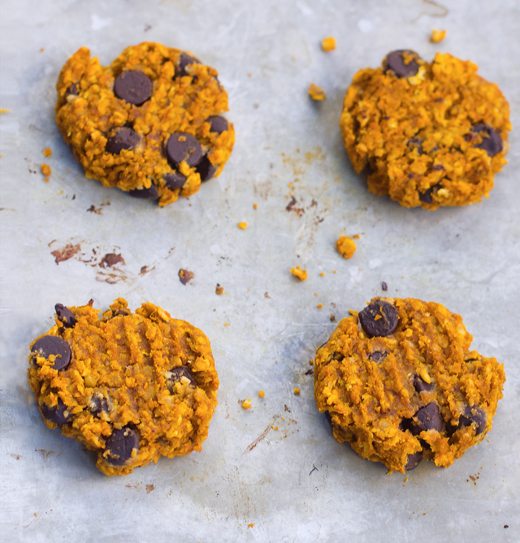 Pumpkin Chocolate Chip Cookies