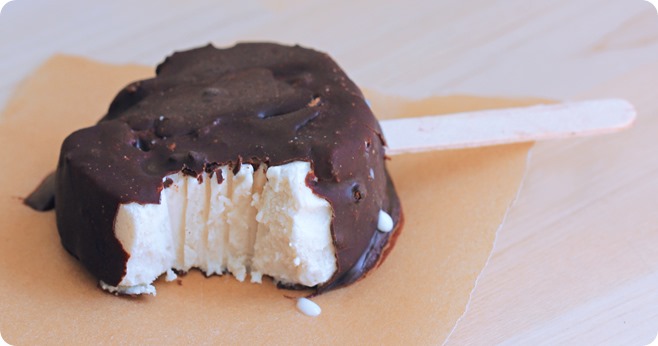 It's time for the next edition of Funny Searches that lead to Katie's Blog! People land on my website whilst searching for all sorts of funny things. Below are just a few of my recent favorites:
chocolate covered brussel sprouts
chocolate covered zebras
chocolate covered chicken nuggets
chocolate covered lo mein noodles
chocolate covered baby squirrels 😕
Not to mention chocolate covered spaghettios, chocolate covered fire ants, and chocolate covered Kate Middleton… although my all-time favorite is the person who found my blog upon googling "how to turn your boyfriend into a pig."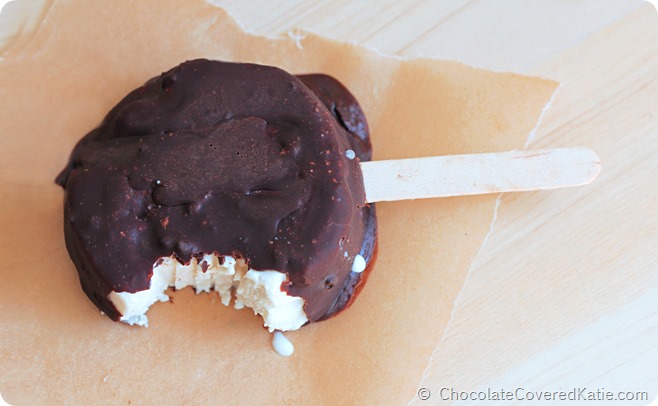 Today's chocolate-covered recipe will hopefully sound much more appealing than chocolate-covered baby squirrels.
(Sometimes I am scared for the world…)
The brilliant technique for how to make your own copycat Dove ice cream bars comes from one of my real-life friends, and it sounded so simple when she told me that there was no way I couldn't try it out. Any experiment involving ice cream is a good experiment to me.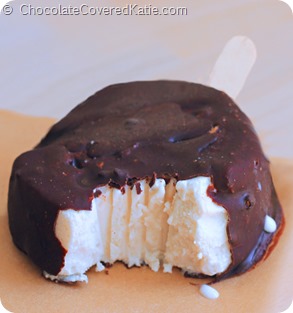 Copycat Dove Ice Cream Dream Bars
1 cup ice cream in any flavor (I used my healthy ice cream recipe)
1 paper cup (that holds about 1 cup) OR 4 or 5 large circle cookie cutters
sharp knife and cutting board
1/4 cup cocoa or cacao powder
1/4 cup pure maple syrup or agave
1/4 cup melted virgin coconut oil (Coconut-free version: use melted chocolate chips for the coating instead)
popsicle sticks, if desired
Pack the ice cream into the paper cup. (Or line a baking sheet with parchment paper, set the circle cutters on the baking sheet, and fill each with ice cream, smoothing the tops down.) Freeze until very cold and solid. If using the paper-cup method, make 3 even cuts in the paper cup to get 4 flattened circles (see photos below), adding popsicle sticks if desired, then immediately re-freezing the cut circles as you finish cutting the rest. (If using the cookie-cutter method, pop the cookie cutters off the ice cream, add popsicle sticks if desired, and re-freeze the ice cream.) While waiting for the ice cream circles to completely freeze again, make the chocolate coating by mixing together the cocoa, maple syrup, and coconut oil until a thin sauce forms. If sauce is thick, heat it gently until it thins. Have a parchment-lined plate ready to go, then take out one circle at a time, dip in chocolate, and immediately put back in the freezer.
Nutrition Facts & Step-By-Step Photos.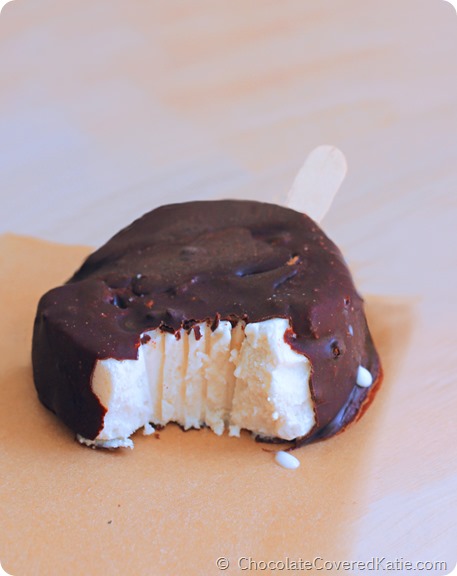 Questions of the Day: If you have a blog: Are there any funny searches people use to find your blog? If you don't have a blog: Have you ever tried a Dove ice cream bar?
Link of the Day: Chocolate Kale Brownies… and even more funny or scary searches that have led people to find my blog.