A moist and decadently rich chocolate poke cake recipe – this makes such a great addition to any party!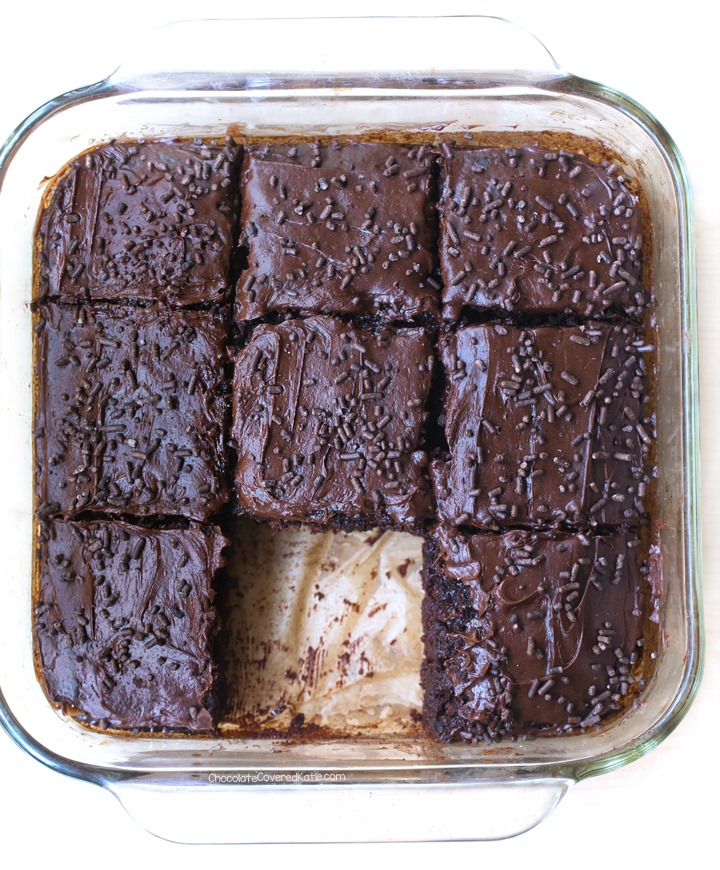 A few weeks ago, I received an email with such an incredible and exciting opportunity that my initial thought was, "There's just no way I'm not dreaming right now."
HERSHEY'S Kitchens asked if I'd like to be a guest chef on their website, creating a new recipe in partnership with them to highlight a few of their core baking products, such as the Simply 5 Chocolate Syrup. Having grown up with their original chocolate syrup (It was the only way my mom could get me to drink milk!), I was intrigued and happy to learn they now offer a version with just 5 simple ingredients and no high fructose corn syrup, artificial preservatives, or artificial flavors.
I knew exactly what I wanted to make first with the syrup: a homemade chocolate poke cake!
Originally popular in the 1970s, the idea of a poke cake is to press holes into the top and pour on a filling that soaks into the cake, adding extra moisture and flavor to each deliciously gooey bite.
Poke cakes have been making a resurgence in recent years and seem to be really popular lately at potlucks or barbecues, with anything from pudding, to caramel sauce, to fruit-flavored gelatin, to sweetened condensed milk being used as the filling.
You Might Also Like: Overnight Oats – 15 NEW Recipes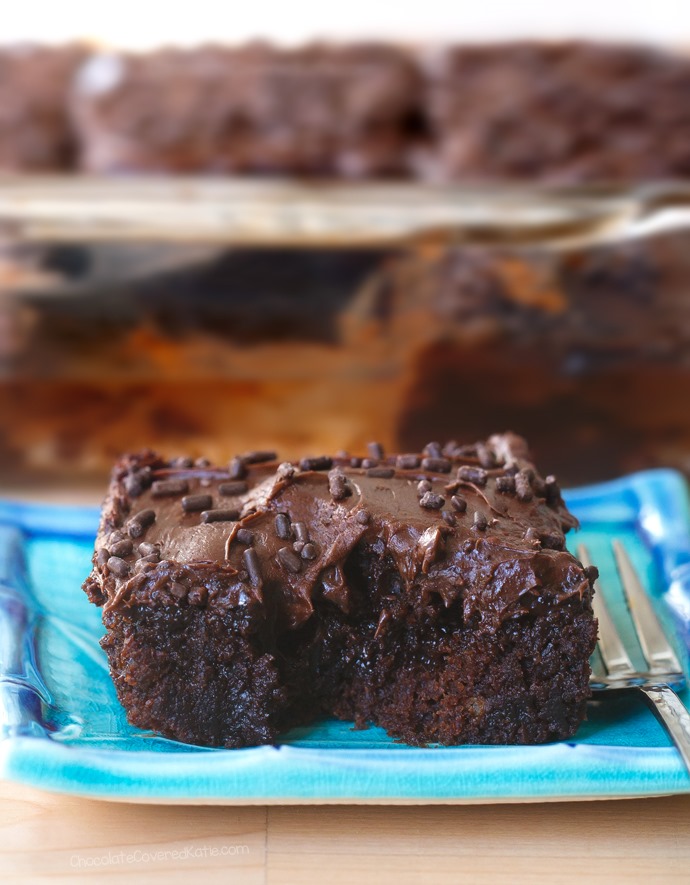 I made this chocolate poke cake over the weekend to share with a small group of friends, and as we sat on the balcony catching up and eating chocolate cake, I couldn't imagine a more perfect way to spend a Sunday afternoon.
Baking is something that has always made me ridiculously happy.
It's a creative outlet where I can use my imagination to transform everyday household ingredients into an endless array of magical possibilities, turning the chocolate desserts of my dreams into reality.
And one of my favorite parts of the baking process is sharing the results with others.
(The recipe video above now has over 1 million views on facebook!!!)
Tips For Success:
1. You can poke small or large holes into the cake. I decided my favorite way is to poke a larger number of smaller holes with a fork, which disperses the chocolate filling more evenly.
2. Check off each ingredient as you add it, to ensure you don't accidentally skip over an easy-to-miss item such as salt or baking soda.
3. When making a recipe for the first time, it's always a good idea to follow the recipe exactly—without substituting a different flour, sweetener, or cutting back on the salt, sugar, or oil—as even seemingly small changes can make a huge difference.
Once you know how a recipe is supposed to turn out, you can play around. Edible experiments are the best kind!
4. Be sure to have all ingredients out and read through the full recipe before starting.
5. As a general rule, baked goods are actually richer, sweeter, and have a much better texture the day after they are made, which is definitely the case with this cake and many of my other recipes.
If you can wait, I highly recommend not even tasting the poke cake until the next day.
Also Try These: Sweet Potato Brownies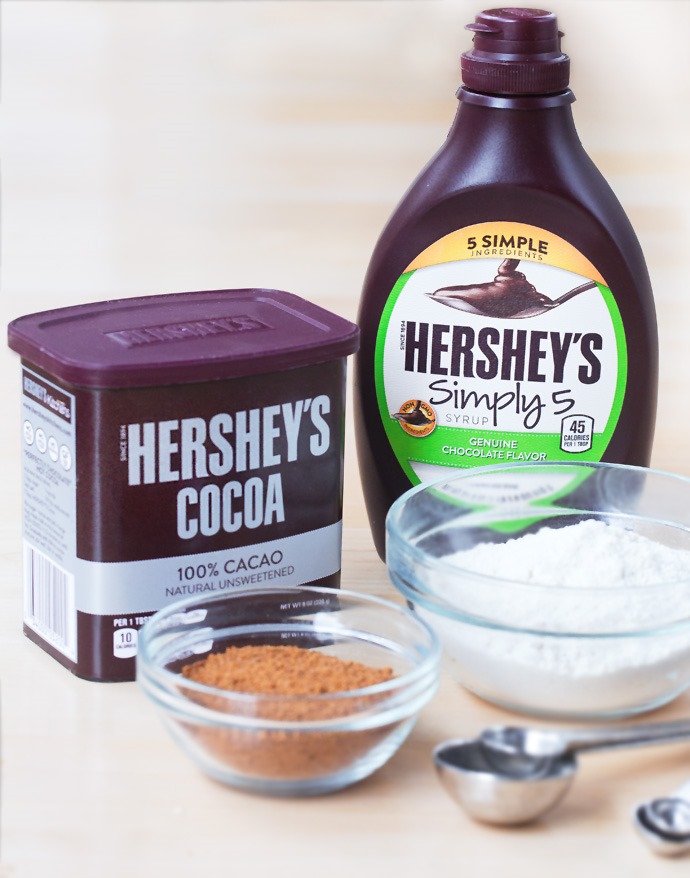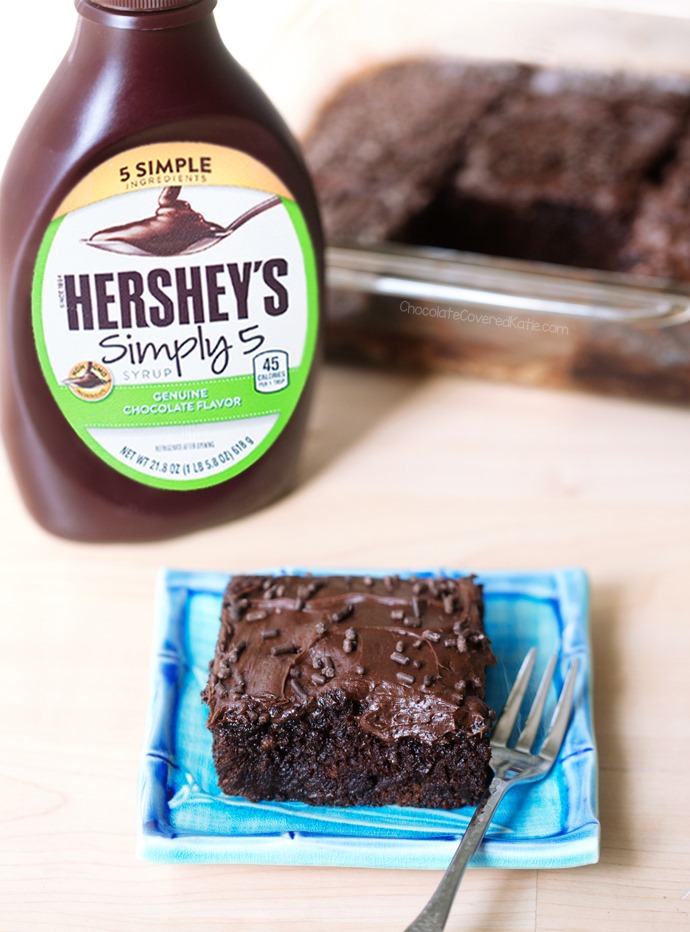 Why Should You Try A Poke Cake?
This was my first time making a poke cake from scratch, and I was surprised at how just the one little step could have such an enormous impact on the results – it is so much better than an ordinary chocolate cake!
The chocolate syrup gave the cake a soft and opulent center with an unbelievable richness. If you can find HERSHEY'S Simply 5 Syrup, I highly recommend it, because it can be used just like regular chocolate syrup yet has a much cleaner ingredient list (no GMOs, and just 5 ingredients: cane sugar, organic invert cane syrup, water, cocoa, and natural vanilla).
I also used HERSHEY'S Natural Unsweetened Cocoa to make this cake. It's vegan and 100% natural, as the only ingredient is cocoa.
I frosted this cake with my Avocado Chocolate Frosting, but the cake is so decadent on its own that you can honestly get away with skipping the frosting altogether and it will still be fantastic!

Chocolate Poke Cake Recipe
A moist and decadently rich chocolate poke cake recipe that's great for parties.
Ingredients
1

cup

spelt or white flour

6

tbsp

unsweetened cocoa powder

1/2

tsp

each: baking soda and salt

3/4

cup

granulated sugar,

unrefined if desired

1/4

cup

applesauce,

banana, or yogurt of choice

1/4

cup

oil,

almond butter, or allergy friendly sub

1 1/2

tsp

pure vanilla extract

3/4

cup

water
Instructions
Preheat oven to 350. Line an 8-inch pan with parchment, and set aside. In a large bowl, combine the flour, cocoa, baking soda, salt, and sugar. In a separate bowl, whisk all remaining ingredients except the syrup until evenly combined. Pour wet into dry, stir until just combined, and pour into the prepared pan. Bake on the oven center rack 25 minutes or until cake has risen and a toothpick inserted into the center comes out mostly clean. Let cool completely. Poke holes into the cooled cake with a toothpick or fork. Pour the syrup evenly on top, and let it seep into the cake. As mentioned earlier, if you can wait, I highly recommend not tasting until the next day… this cake is so much richer and sweeter after sitting for a day!

View Nutrition Facts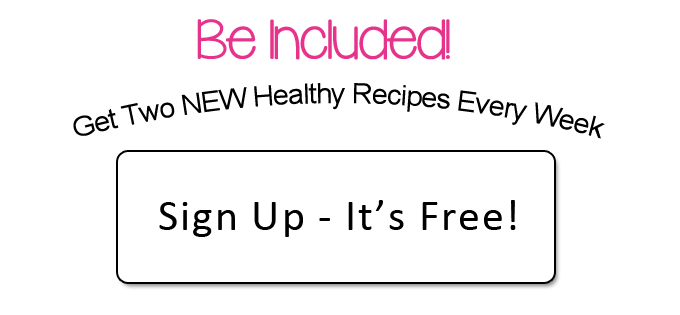 Trending Recipes Right Now: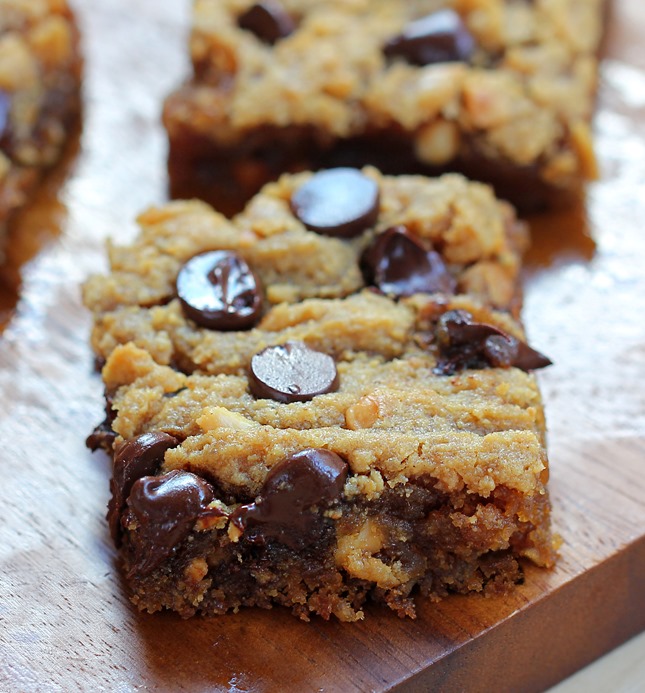 Chocolate Chip Peanut Butter Bars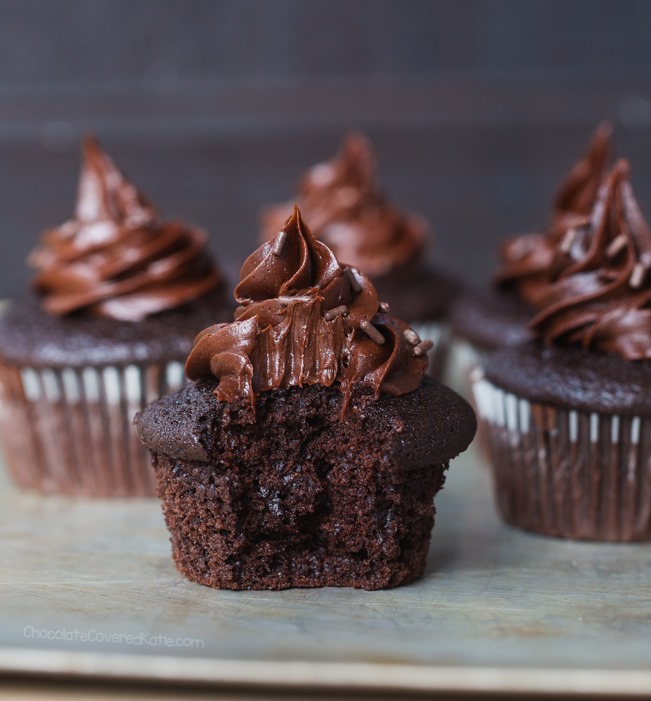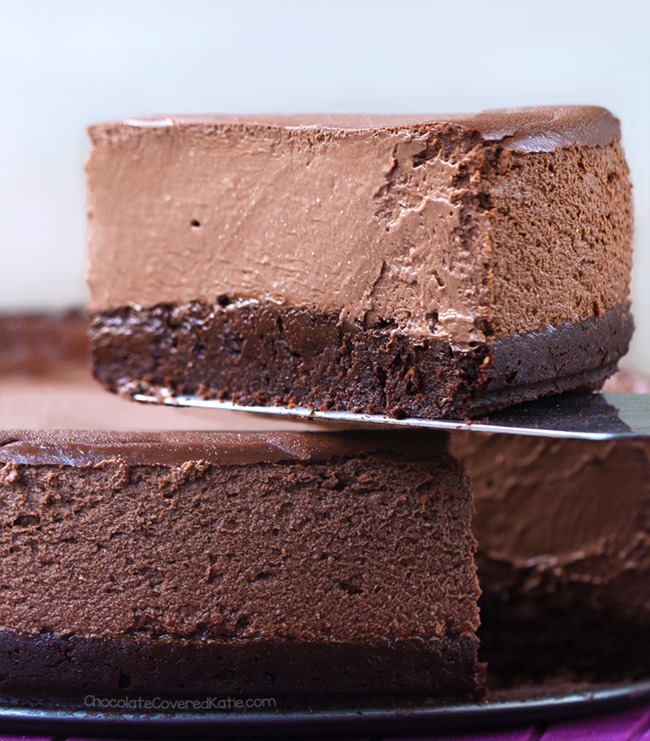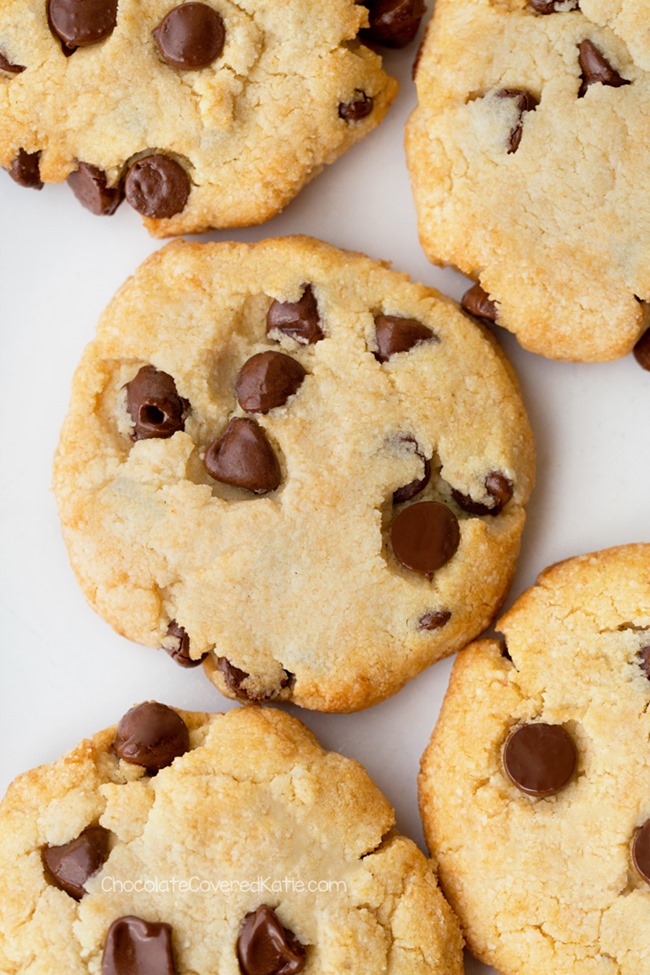 Thank you again to HERSHEY'S Kitchen for sponsoring this post. I was excited for the opportunity and had so much fun creating this recipe. If you try the poke cake, be sure to tag me @chocolatecoveredkatie on Instagram so I can see and like your photos!