EAT ME!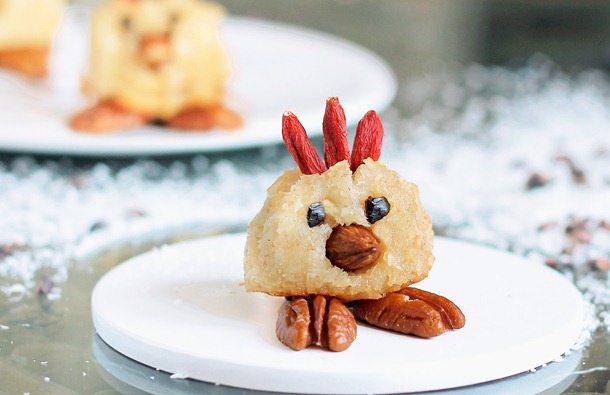 Do it!
If you haven't tried it, I highly recommend this macaroon recipe.
I know; you're probably rolling your eyes at me because I highly recommend a lot of things. But that's because every single recipe published on my site has been tested and approved by many people, not just me (and not just vegans or health-food eaters, either). I test the recipes on my family, my friends, their families… I will absolutely never post a mediocre recipe.
And more than one person has said this is the BEST macaroon recipe he or she's ever tasted, vegan or not. So do not be afraid to serve the following to even the pickiest of Easter guests: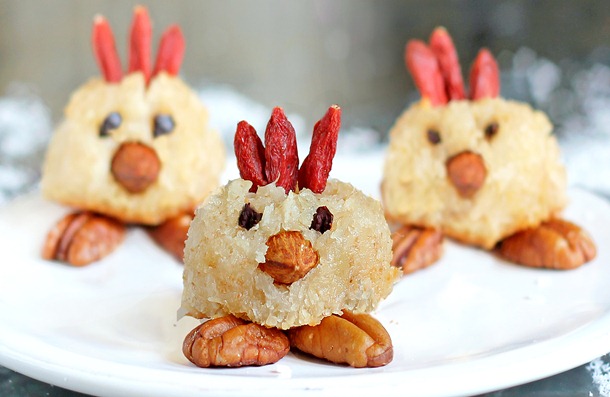 Coconut Cookie Easter Chicks!
Super-delicious, and super-adorable… although when my friend Allison saw them, she asked, "Katie, what's with the owl cookies?"
Owls?
Seriously??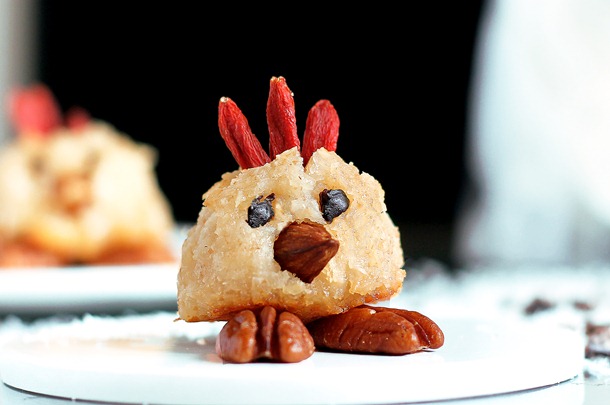 I am NOT an owl!!!

Anywhoos… I've re-posted the macaroon recipe below for your convenience, with the chick instructions listed at the end. The chick idea isn't mine; I saw it in a Taste of Home Easter magazine at the checkout counter. (If I remember correctly, the magazine version used licorice, jelly beans, and chocolate chips to decorate their chicks.)
Baby Chick Macaroons
(Makes 12-14)
Category: Healthy Cookie Recipes
1 cup shredded, unsweetened coconut (see below for a lower-calorie version)
1 tbsp whatever flour you wish (such as ww pastry or even coconut flour)
1/2 cup plus 2 tbsp lite canned coconut milk (or regular canned)
3 tbsp agave or pure maple syrup
1 packet stevia (or 1 more tbsp agave, and cut back on liquid)
1/4 tsp pure vanilla extract
tiny bit over 1/16 tsp salt
Combine all ingredients in a tall dish and microwave 3 minutes. (Or cook on the stovetop until it's firm enough to scoop out in ball shapes.) Scoop into balls on a cookie tray (I used a melon baller, but a spoon or ice-cream scoop will work.) Cook at 360 F for 14-16 minutes. (Or maybe even cook the balls in the microwave?? But I haven't tried this.) Let cool before removing from tray. Makes around 12-14 cookies.
For chicks: Once cooled, get creative with whatever ingredients you have on hand. I used pecans, almonds, cacao nibs, and goji berries. No one says you have to make chicks… you can make bunnies!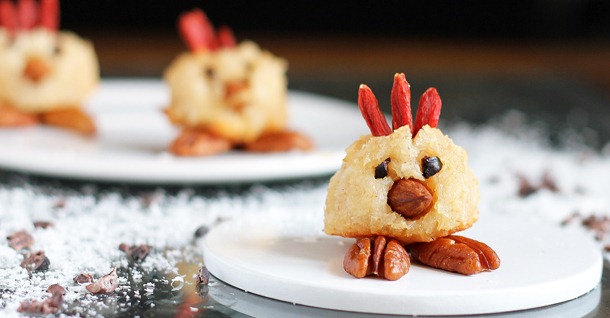 Or, um, owls.
This cookie-decorating project was so simple (and fun!) that I definitely want to make more macaroon animals. What about monkey cookies with pretzel tails? Or blending in spinach and making Easter cookie frogs?
I want to make friends for poor Fred the Frog.