You're going to think I'm crazy…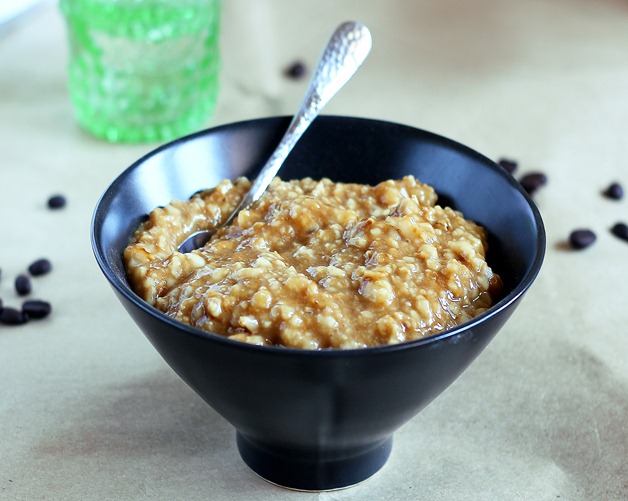 That's okay.
My grandma always said, "If they're laughing at you, at least you got someone to laugh."
I like making people laugh. So please laugh all you want at my crazy idea for Frappuccino Oatmeal… But give this recipe a chance and I bet you will be astonished at how delicious it is!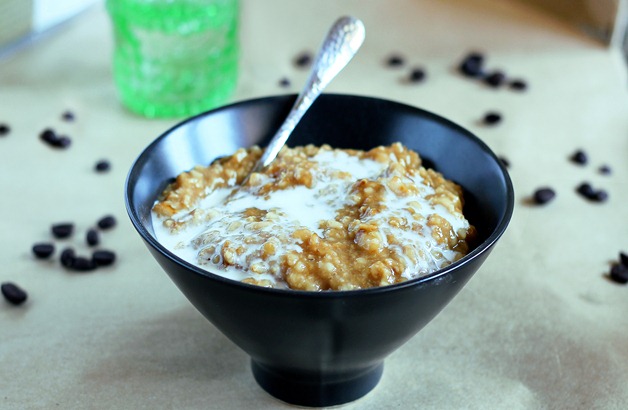 When Starbucks starts selling it in 5 years, maybe then you won't think I'm so crazy. 😉
Frappuccino Oatmeal
(can be gluten-free!)
Recipe from here: CCK Oatmeal Recipes
1 serving rolled oats (See nutrition link below, for all substitution notes)
1/2 cup milk of choice
1 cup water or more milk of choice
1/4 tsp salt (important to add before cooking)
1 tsp instant coffee granules (I use Mt. Hagen decaf.)
sweetener of choice
Microwave option: Combine first four ingredients in a large pyrex measuring cup, and microwave 4 minutes (watching during the last minute to make sure it doesn't spill over). Leave in the closed microwave 5 extra minutes, then transfer—uncovered—to the refrigerator to sit overnight and absorb the liquid. The next day, add the coffee, a tiny pinch more salt, and sweetener. Stir, and reheat if desired. (I actually like eating this cold!)
Stovetop option: Combine all ingredients (Cut the water back to 1/2 cup if you're not planning to let it sit overnight). Cook, stirring occasionally, until oats are soft and fluffy (or until they're still a little liquidy if you want to let it sit uncovered overnight in the fridge). If desired, chill in the fridge. Otherwise, serve and enjoy.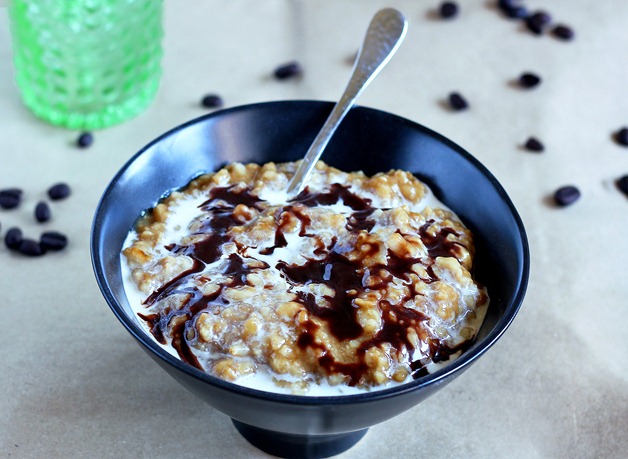 Topped with my favorite melted Homemade Chocolate.
Question of the Day:
Do you care about what other people think of you?
I used to. A lot. When I was in fourth grade, I completely gave up playing with Barbies just because some girls told me it was babyish. (I bet they secretly still played with Barbies, too!) In middle school, my friends and I practically lived in the bathroom, always checking the mirror to apply extra makeup and make sure our hair was perfect. (Rolls eyes at younger self.)
Thankfully I grew out of my awkward middle-school phase and gradually began doing my own thing and caring less and less what others thought about it. If people think I'm odd, that's perfectly fine. Being normal is so boring! 🙂