This soft and gooey chocolate chip cookie pie is sweetened naturally – with no refined sugar required, not even maple syrup!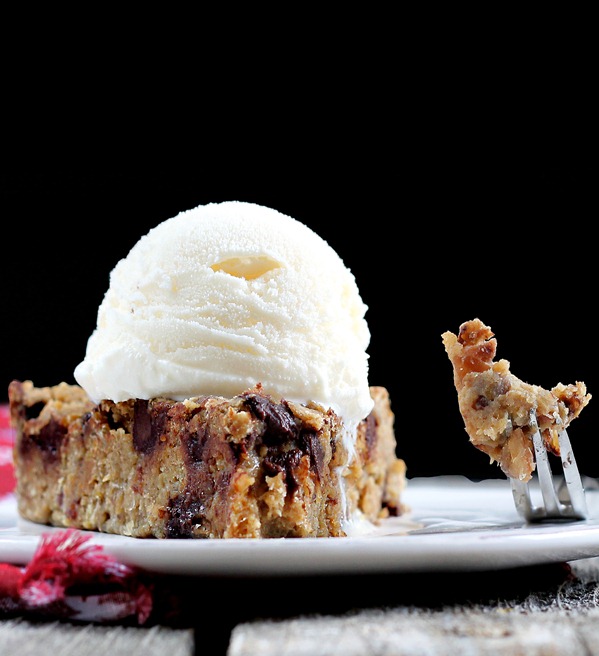 Happy Birthday!
To celebrate a birthday, one often eats pie.
But what do you eat when the birthday is for the pie, itself?
While it may seem odd to commemorate such an occasion at all, my deep dish cookie pie—which came into existence exactly one year ago—is no ordinary pie.
After all, the recipe was featured on the ABC 5 O'Clock News.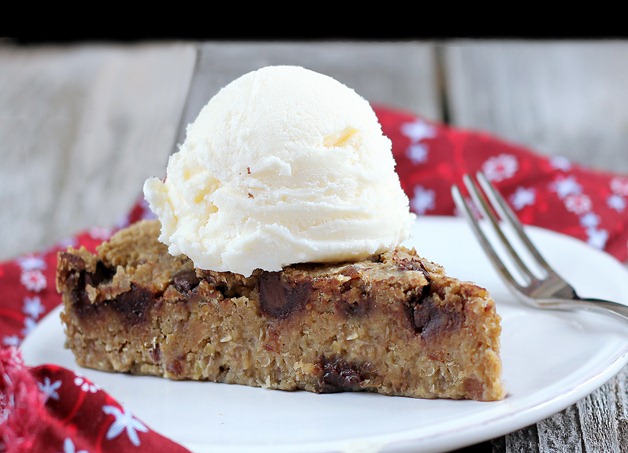 No, I didn't really celebrate the birthday of a pie.
I'm not totally strange (unlike my dad, who celebrates the birthday of his car…).
But many people have requested a sugar-free version of my deep-dish cookie pie; so finally, a whole year later, I'm posting the new recipe, heavily adapted from the original version—yet just as delicious!
Peace, love, and chocolate chips.
You Might Also Like: Easy Cinnamon Rolls – 4 Ingredients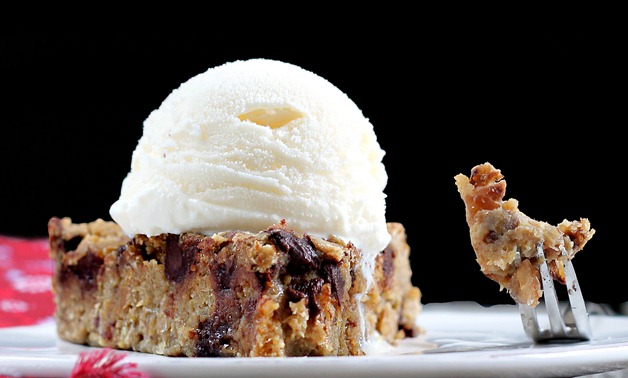 Have you tried the Deep Dish Cookie Pie yet?
Or any dessert recipe with beans: blondies, cookie dough dip, cookies, etc.?
Side note: The original recipe can be found here: Deep Dish Cookie Pie


For more recipes: 100 Sugar Free Recipes
No Sugar Chocolate Chip Cookie Pie
A soft and gooey chocolate chip cookie pie, sweetened naturally without any refined sugar.
Ingredients
2

cans

white beans or chickpeas, drained and rinsed well

1

cup

quick oats (or sub almond flour)

2

cups

pitted dates (300g)

1/8

tsp

uncut stevia

(or sub 1/4 cup sugar)

2

tsp

baking powder

3/4

tsp

salt

1/2

tsp

baking soda

1/4

cup

applesauce or mashed banana

2/3

cup

milk of choice

3

tbsp

oil (or sub 1/4 cup nut butter of choice)

1

tbsp

pure vanilla extract

1

cup

chocolate chips (or sugar free chocolate chips)
Instructions
Preheat oven to 350 F, and grease a 10-in springform pan (or two 8-in round pans). Combine all dry ingredients (except chips) in a large bowl. In a separate bowl, combine all wet ingredients. Put around 1/3 of the dry and 1/3 of the wet ingredients into a high-powered food processor like a Cuisinart (NOT a blender) and blend until super-smooth (where there are no date pieces to be seen). Scoop out into a bowl, and repeat the process twice more with the rest of the ingredients. (If you have an absolutely giant food processor, you can do it in two batches, as opposed to three.) Stir in the chocolate chips, and pour into the pan or pans. Bake 35-40 minutes (or 30 if you want it really gooey in the middle), then let cool at least 15 minutes before trying to remove it.View Nutrition Facts & Substitutions
More Healthy Desserts: