I've been quietly dating someone for the past two months. Since this is a recipe blog (and for privacy), I wasn't sure if I should even mention it on the site. However, his name might come up in the commentary or comment section, so I tried to casually introduce him a few posts back. (That turned out to be an awkward way to bring it up.)
I'm not really planning to elaborate much, unlike with my last relationship.
When I look back on those posts from a few years ago, I cringe with embarrassment at how I went on and on (and on) about "Sports Store Hottie." (Yes, I really did nickname him Sports Store Hottie for the blog. What was I, twelve??)
I know one question will come up, though: Is he a vegan? No, not at all. And yes there are some challenges when you're a vegan dating a non-vegan. But dining out isn't one of them; at least not in this case. It's easy to find things we both like at restaurants such as Pei Wei, Clay Pit, or Penne Pomodoro. Last night we made it really easy and just went to Whole Foods for dinner! Classy.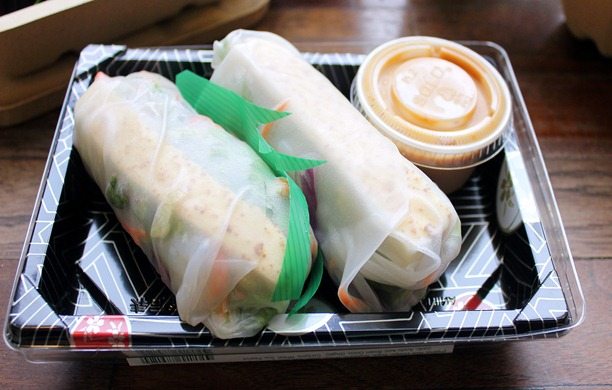 I started out with the veggie spring rolls. Their peanut sauce is my favorite part of the dish, and I could slurp it through a straw. Too bad that wouldn't be ladylike.
Ladyike is overrated.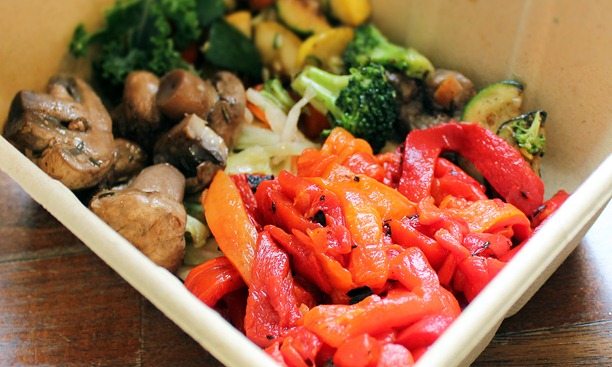 Above, a bunch of other random foods from the hot bar. There's quinoa hiding somewhere under the peppers.
No photos of the boy's dinner: I wasn't about to snap photos of his meal; I felt self-conscious enough taking pictures of mine! Also, his food was very un-vegetarian. And no, I don't have any secret plans to turn him into a vegan. I do, however, have some not-so-secret plans to get him to at least try tofu.
Unfortunately he already knows the secret in my Chocolate Bar Pie.
After dinner, we went over to the mall to catch a movie, but everything of interest was either sold out, had already started, or wouldn't start until much later. So we settled (settled?) for ice cream instead. Paciugos Gelateria (which has 40 locations across the US) offers at least two dairy-free flavors every day. Yesterday's flavors were Mixed Berry and Chocolate Banana.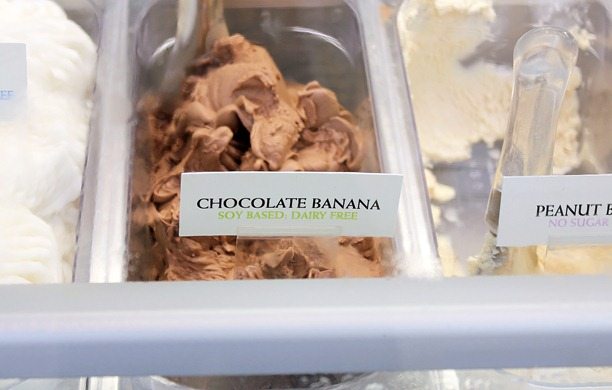 Obviously I went with the Mixed Berry. (Right…)
Question of the Day:
Have you ever been in a relationship with someone whose eating habits were completely different from yours?
I was already a vegetarian when I met my first boyfriend, so I've actually never been in a relationship where we've seen completely eye-to-eye in terms of eating. However, I don't think it's right for one person in a relationship to expect the other to change or compromise his or her ethics. If a guy respects you, he'll respect your right to hold different beliefs. And it's a two-way street.
*I'm not counting my middle-school "relationships." Sorry, but is it really a relationship when your mom drives you both to the movies and his dad sits two rows behind you and then takes you home? 😉
Link of the Day: