Fat free banana bread that does not taste fat-free.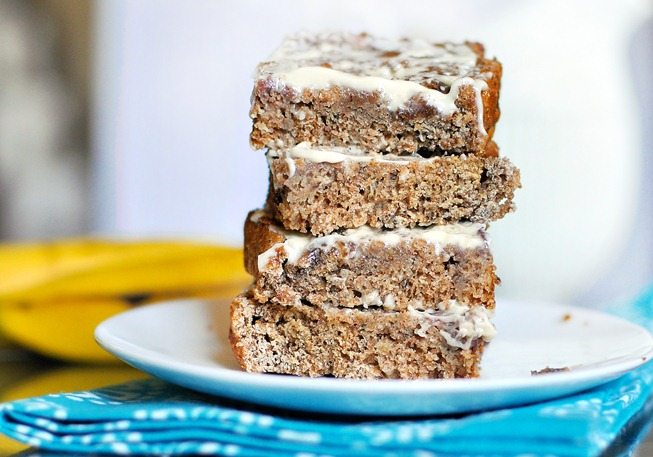 It is so soft and buttery.
I'm trying really hard not to say "moist" because I know everyone hates that word!
This bread actually wasn't supposed to be fat-free. In fact, I was quite upset upon discovering—midway through preparing the recipe—only about a teaspoon's worth of coconut oil lingered in my sad little jar. (Note to self: gather all ingredients before starting to cook a recipe. Will I ever learn?)
Since I'd already begun, I wasn't going to put the recipe on hold; my heart stomach was set on banana bread! Option one was to use olive oil. However, I worried the oil's strong flavor might affect the taste of my not-yet-tested banana bread recipe.
Option two was to make a Single-Serving Banana Bread.
But I really wanted a whole loaf. And I also wanted a new recipe so I could post about it, which is always more exciting than when I post about a recipe I've already published. Many lovely bloggers and readers assured me on twitter that fat-free would be fine. So I made a few changes and hoped for the best… I never imagined the results would be so good!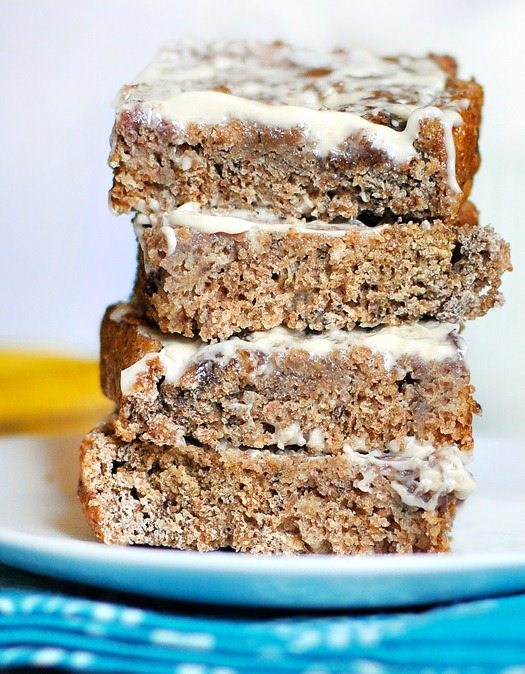 For maximum enjoyment: Eat this for breakfast, while still in your pjs!
Fat Free Banana Bread
(Makes 10-12 slices)
2 c spelt, white, or arrowhead mills gf flour
1 tsp baking soda
1/2 tsp cinnamon
3/4 tsp baking powder
3/4 tsp salt
1/3 c milk of choice OR oil
1 and 1/2 tsp pure vanilla extract
1/2 cup pure maple syrup, agave, or honey (Or, here's a Sugar-Free Version.)
1 and 1/2 tbsp lemon juice
pinch uncut stevia OR 1 tbsp additional agave/maple syrup
1 and 2/3 c tightly-packed, mashed banana (measured after mashing)
1/3 cup berries of choice, or more banana (I actually used 1 full cup of sliced strawberries. The resulting bread was extremely gooey, but I loved it that way!)
Preheat oven to 350 F. Combine dry ingredients, and mix well. In a separate bowl, combine wet ingredients and mix into dry. (Mix by hand, and don't overmix.) Pour into a greased loaf pan and cook for 35-50 minutes, depending on how gooey you want it. (Tip: If the top is cooked but the inside is still gooey, put tin foil over the top and continue to cook.) After removing from the oven, let cool for ten minutes before slicing. After the first day, this bread is best stored in the fridge. Or cut into slices and freeze for later.
Nutrition Information at a Glance:
 130 calories
0 grams of fat
0 mg cholesterol
Fiber depends on the flour you use
Add around 20 extra calories for the Polka-Dot Banana Bread.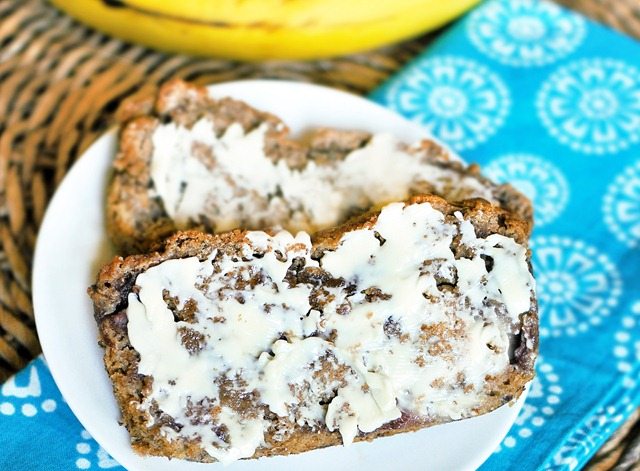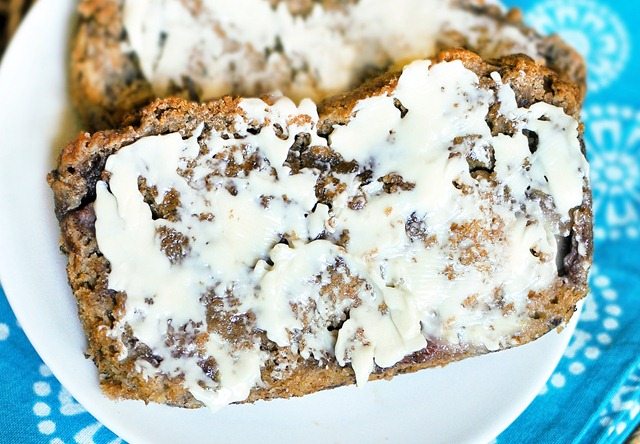 Question of the Day:
Do you ever lower the fat in a recipe or substitute applesauce for the oil?
I know many people are conscious of fat, so I try to offer lower-fat options whenever possible in my recipes. Yet, my own diet is actually pretty high in fat. I think "fat" has gotten a bad name. It sounds so negative, and society likens it to the devil. But, especially if you're young and healthy, cutting out healthy fats (such as oils and nuts) can wreak havoc on your organs, skin, and hair.
As for this particular banana bread? It really does taste wonderful on its own. However, my slice didn't stay fat-free for long. I painted that baby in a nice, thick coat of peanut butter. It was delicious!