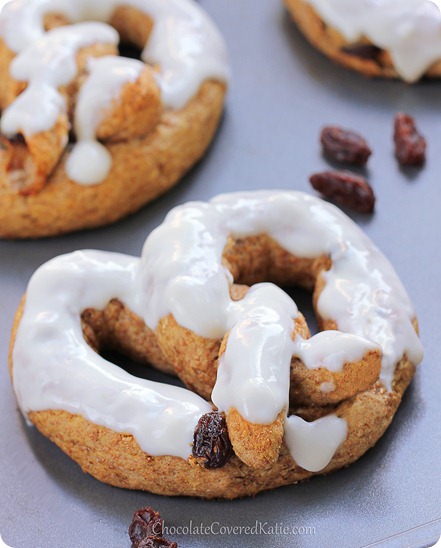 Some things are meant to be devoured:
Chocolate mousse pie
Crème brûlée
Fresh summer watermelon
I'd add Ryan Gosling to the list, but it would probably get me into trouble on this blog… 😕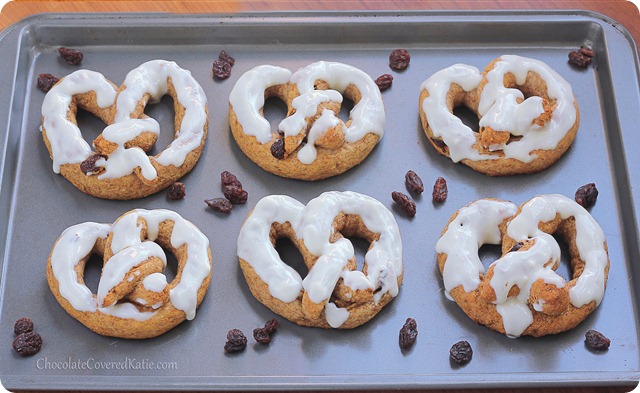 Glazin Raisin pretzels are definitely meant to be devoured – they're like a cinnamon roll, but better because there's less dough and much more sugary-sweet glaze.
Everyone knows the glaze is the best part.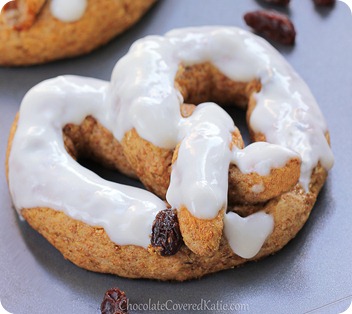 Glazin Raisin Pretzels
1 cup milk of choice (240g)
1 tsp sweetener (sugar, agave, honey, etc. Not xylitol or stevia, as it won't feed the yeast.) (5g)
1 tbsp yeast (9g)
2 1/2 cups whole-wheat or all-purpose flour (or a combination) (315g)
1 tsp salt
2 tbsp brown sugar or coconut brown sugar (30g)
2 tbsp butter spread (like Earth Balance or Smart Balance Light)(30g) or firm coconut oil
1/2 cup raisins (80g)
1/3 cup baking soda (80g)
Extra flour, as needed
Heat the first two ingredients in a measuring cup to around 110 degrees F. Sprinkle the yeast on top, and let it sit 5 minutes. If your yeast is good, it will bubble. Meanwhile, in a large bowl, stir together the flour, salt, and the 2 tbsp sugar. (Do not use xylitol.) Cut in the butter spread or oil, using a fork or a stand mixer. Then stir in the raisins. Thoroughly combine this mix with the yeast mixture, using your hands or a stand mixer, then knead dough on a floured surface or in the bowl for 5 minutes, adding more flour as needed to keep it from being too sticky to knead. (I mixed dough in the bowl and added a total of 6 tbsp extra flour by the end of the 5 minutes.)
Lightly grease the mixing bowl. Set dough in the bowl, cover the bowl with a towel, and put the bowl in a warm place (such as an oven on "bread proof") for 50 to 60 minutes or until it's doubled in size. Preheat the oven to 350 F and lightly grease a baking tray. In a long and shallow container or dish, dissolve the 1/3 cup baking soda in 3 cups of warm water, then set aside. Get out the risen dough: punch the dough to deflate, then form evenly-sized pieces (8-10 large pretzels or 16-20 smaller ones). Roll each section of dough as thinly as you possibly can (the thinner the better), then twist into a pretzel shape. Dip each into the baking soda water, shake to dry, then arrange the pretzels on the baking tray. The baking time will vary, depending on whether you're using whole-wheat or  all-purpose flour; pretzels are done when they have turned golden-brown and you can smell them (about 15-18 minutes).
Glazin Raisin Glaze:
1/4 cup yogurt of choice, such as So Delicious Coconutmilk Yogurt (65g)
pure stevia to taste, or 2 1/2 tbsp powdered sugar
up to 1 tbsp milk of choice, as needed for a thinner glaze (I used 1 tbsp) (15g)
1/8 tsp pure vanilla extract
Stir together all ingredients. Apply glaze to each pretzel directly before serving, or use glaze as a dip instead.
Click for: Glazin Raisin Pretzel Nutrition Facts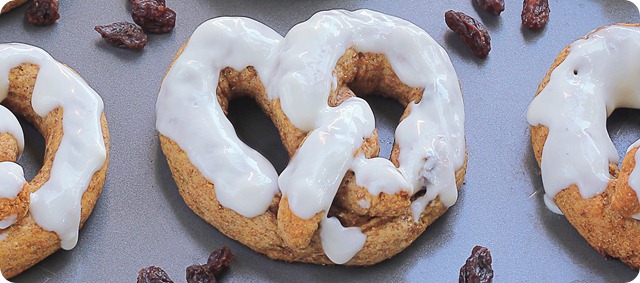 Link of the Day: