America can learn a lot from my dog.
He loves to exercise, and his favorite foods are carrots and kale stems.
(Of course, my dog also eats dried worms and barks when nobody's there… so maybe he's not quite as smart as he seems.)
Do you exercise with your pet?
Although Molly enjoys her daily walks, she's much too slow (and old) to run. But Henry lives to run! Sometimes, especially on my rest days, I'll take him out for a short jog (20-30ish minutes?). Yesterday, we went out for an evening jaunt, after which we both refueled. My post-run meal: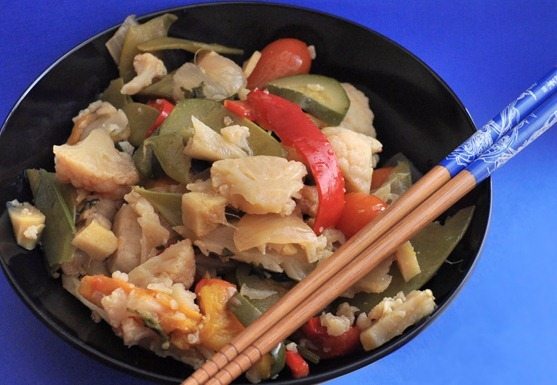 I added water chestnuts this time, as well as extra fresh ginger. I *heart* fresh ginger!! The fun background is actually courtesy of a piece of scrapbook paper. Luckily, the one shot came out well; I was too hungry to mess around with taking tons of photos! With my curry, I tried a new product: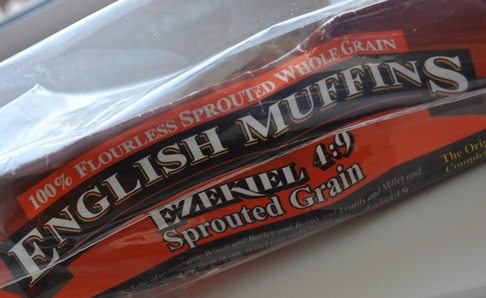 Because I find Ezekiel bread to be on the dry side, I figured their English Muffins would be no different. Therefore, I've avoided purchasing these in the past. But the store was out of Rudi's, and I really wanted an emuff. Twas fate!
These muffins are the antithesis of dry! I didn't even use the Soggy Muffin Trick! As it turns out, I like 'em even better than Rudi's.
Normally, my post-workout cravings are for sweet, breakfast-y foods, such as oatmeal, pancakes, or chocolate.  (Wait, chocolate's a breakfast food? Um yes; yes of course.) But that's probably because I usually run in the mornings. Yesterday, I was craving dinner. So the curry and squishy, soft muffin were perfect.  Henry gnawed on something a little more… tough: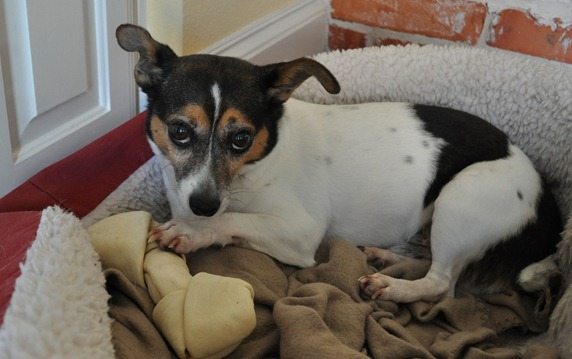 Yum yum yummy. Great for re-fueling from vigorous running barking at mailmen. (Poor mailmen.) His look says, "Don't you dare steal my rawhide." No worries, Henry-man. It's all yours!
.
Question of the Day:
What are your favorite post-workout things to eat?
Lately, I've been eating a lot of Blueberry Muffin Bowls.
Regardless of the time, I always crave carbs, post-workout. Hopefully I'll never crave rawhides!